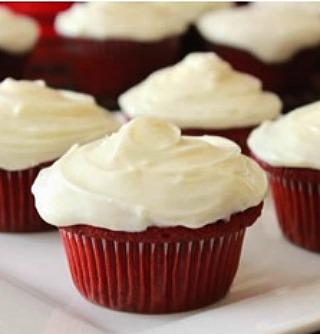 Source: Paula Deen
Nothing says quintessential dessert like red velvet cake. In fact, red velvet cake is to a Southerner what Kryptonite is to Superman (ok, perhaps a bit dramatic but you get an idea how much we Southern folks love our red velvet cake). Over the years there have been many variations…but I'm all about keeping this perfect dessert true to its classic form. Southerner or no, upon consumption, these cupcakes will have you talking in a Texas twang…
Cupcake Ingredients:
2   large eggs, room temperature
1 cup buttermilk, room temperature
1 1/2 cups vegetable oil
1 teaspoon cocoa powder
1 teaspoon salt
1 teaspoon baking soda
1 1/2 cup sugar
2 1/2 cup all-purpose flour
2 tablespoon red food coloring
1 teaspoon white distilled vinegar
1 teaspoon vanilla extract
Cream Cheese Frosting:
1 pound cream cheese, softened
2 sticks butter, softened
1 teaspoon vanilla extract
4 cups sifted confectioners' sugar
Directions For The Cupcakes:
Preheat the oven to 350 degrees F. Line 2 (12-cup) muffin pans with cupcake papers. In a medium mixing bowl, sift together the flour, sugar, baking soda, salt, and cocoa powder. In a large bowl gently beat together the oil, buttermilk, eggs, food coloring, vinegar, and vanilla with a handheld electric mixer. Add the sifted dry ingredients to the wet and mix until smooth and thoroughly combined.
Divide the batter evenly among the cupcake tins about 2/3 filled. Bake in oven for about 20 to 22 minutes, turning the pans once, half way through. Test the cupcakes with a toothpick for doneness. Remove from oven and cool completely before frosting. 
Directions For The Frosting:
In a large mixing bowl, beat the cream cheese, butter and vanilla together until smooth. Add the sugar and on low speed, beat until incorporated. Increase the speed to high and mix until very light and fluffy. Frost cooled cupcakes and enjoy!
Makes 24 cupcakes