This recipe for a Classic Acai Bowl has only three ingredients and is so delicious! You're missing out if you haven't jumped on this easy breakfast trend. This post is sponsored by Silk.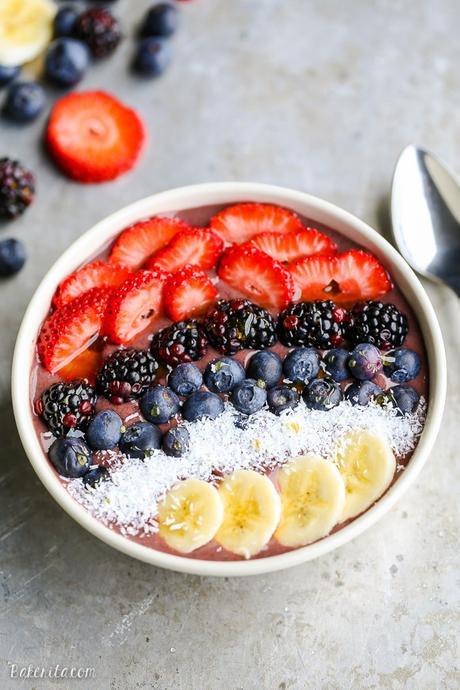 Are you on the acai bowl bandwagon? I've been acai bowl obsessed for a loooong time now – they've been a favorite of mine since I first discovered the Sambazon acai bowl cafe in Cardiff way back in high school. Now, you can find them all over in San Diego, but there were still no places near me to get them in Washington, so they became a visiting home treat.
When I went to Kauai last month, my sister had already scouted out a favorite acai place by the time I had gotten there. I must say, she chose well – they were soooo delicious! Acai is a big deal in Hawaii and you can find roadside stands offering an assortment of smoothies, fresh produce, and acai bowls pretty much everywhere.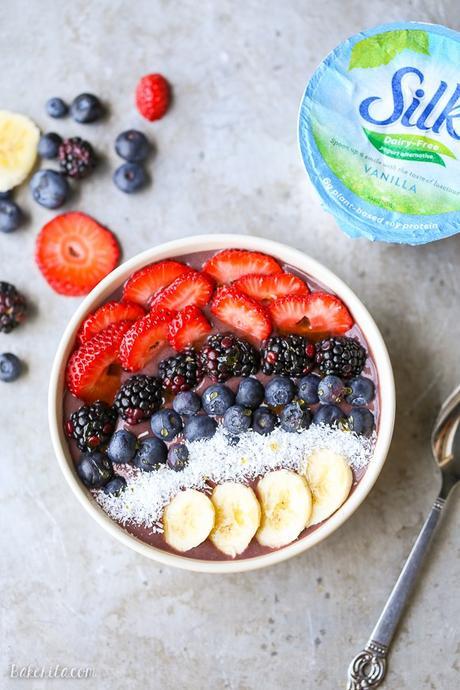 My delicious Hawaii acai sparked a craving, and when I got back to Seattle, I wished as I always do that there were acai places up here. I looked it up and lo and behold, one had opened on my street a few months back. Needless to say, Fit Bar has fulfilling all of my acai needs these past month…but they've also been getting a lot of my $$$!
So, I decided it was time to take matters into my own hands and make acai bowls at home, fully customizable, with all the flavors and toppings I want. I can't believe I waited so long to make them myself! It took maybe three minutes and only used three ingredients. Seriously, so easy.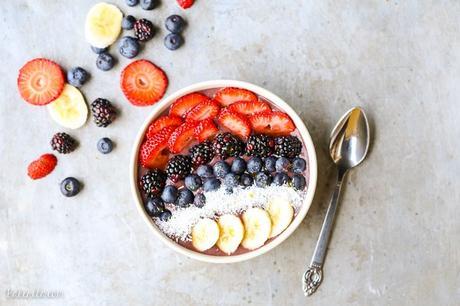 You'll have to scout out some frozen unsweetened acai blend packets. Mine were in 100g packets, which is the perfect amount to make one bowl. A frozen banana adds natural sweetness and makes the mixture super creamy. Finally, Silk Dairy Free makes the mixture super creamy.
I used the vanilla flavor and you could definitely taste the vanilla, which I really enjoyed. If you want the Dairy Free to play a more mild role, you can totally use the Silk Dairy Free Plain flavor. Both the plain and vanilla are available in the new 24 oz. packaging! (Haven't tried Silk Dairy Free yet? Take the #TasteTheGoodness challenge!)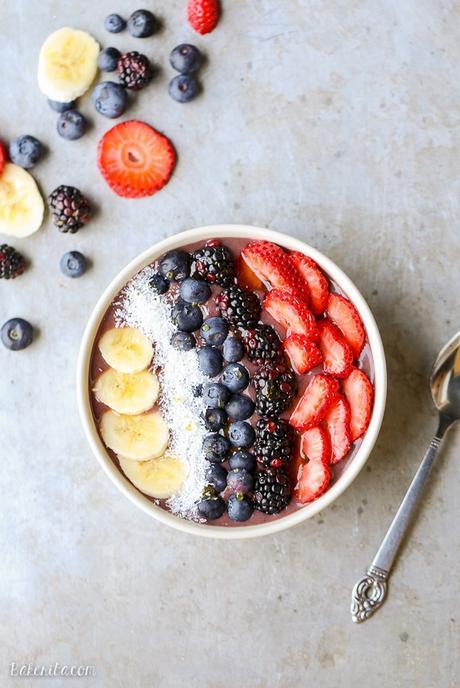 Just add the three ingredients to a blender and blend away until you have a thick and creamy acai blend! Pour it into a bowl, top with any and all the toppings you want, and go to town. I love berries, granola, and coconut on my acai bowls, and peanut butter or almond butter is usually a welcome addition too :) this breakfast treat is seriously guilt free but will definitely leave you feeling refreshed and satisfied. Enjoy!
Facebook | Instagram | Twitter | Pinterest
Remember to #bakerita if you try the recipe!
Classic Acai Bowl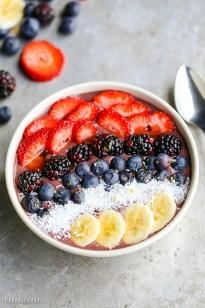 Save
Print
Prep time 5 mins Total time 5 mins   Author:
Rachel Conners
Serves:
1 bowl
Ingredients
1 (100g) packet frozen acai berry blend (I used the unsweetened version from Sambazon)
1 banana, frozen
¼ cup Silk Dairy Free
Fresh berries/coconut/granola, to top
Directions
In a high-powered blender, combine the acai berry packet, frozen banana, and ¼ cup Silk Dairy Free. Blend until completely smooth.
Pour into a bowl and top with berries, coconut, and/or granola.
Notes Silk Dairy Free can be substituted with Greek yogurt or dairy-free milk. 3.5.3208

This post is written by me on behalf of Silk. Click here for a coupon. As always, all opinions are my own. Thanks for supporting the brands that support Bakerita!
There's more where that came from!
Chocolate Peanut Butter Granola
Green Chile Corn Muffins
Cheesy Turkey Pesto Rolls
Banana Crumb Cake (Dairy Free)
Paleo Banana Nut Muffins
Almond Coconut Butter Granola