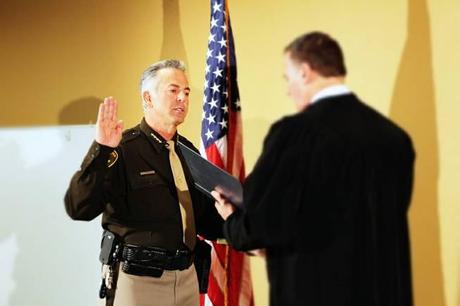 Clark County Sheriff Joe Lombardo, sworn in last month, is on record wanting to scuttle the long-standing handgun registry in Las Vegas. (Photo: LVMP)
Guns dot com suggested by George Jefferson with the following comment: "While it is likely that background checks will pass in Nevada,we still hope for positive change."
Las Vegas area gun owners may soon be able to disregard the county's 67-year-old blue card program, the only one of its kind in the state, which requires registration of handguns.
Implemented in 1948, when the area was frequented by notorious East Coast mobsters such as Lucky Luciano and Meyer Lansky, Clark County's mandatory handgun registry survived a 1989 preemption law by being grandfathered, effectively making it the only place in Nevada that requires gun registration. However there is a new sheriff in town and he is ready to pull the plug on the program.
"I believe that it's a redundant system," Sheriff Joe Lombardo told media last fall while he was a candidate for his current office.
With Lombardo now in the driver's seat, the powerful Republican Speaker of the state Assembly, John Hambrick, has filed legislation to run in the relic of Vegas's bad old days.
Hambrick's bill, AB 127, would homogenize gun laws in the state, striking language that exempts Clark County's gun registry. Currently the county, with some exceptions, mandates that all handguns with a barrel less than 12 inches be registered within 72 hours of being purchased by an area resident. Those who move to the county and stay more than 60 days likewise have to obtain a blue card – known as such by its color – from police. Registration involves a cursory background check and is without fees to the gun owner.
A similar effort in 2013 brought opposition from both Henderson Police Department and Las Vegas Metro leaders who felt the registry of some 1.2 million handguns is a valuable investigative tool for law enforcement. Even if the local police agree with the sheriff this time around, there are still other factors at play.
Further, community groups have already gone on record opposing any move to discontinue the registry.
"Is it helping them solve crimes because that was the end goal?" asked Jocelyn Torres with Progress Now Nevada Action prior to AB 127's introduction. "Is it helping them solve crimes that are happening in our community? I think we would need a little more research, more hard numbers from them showing why they would want to get rid of it."
Some interesting points:
1. counties, and presumably cities, can be exempted from state law.
2. mass confiscations did not happen in Clark County.
3. the gun registration has helped in solving crimes.