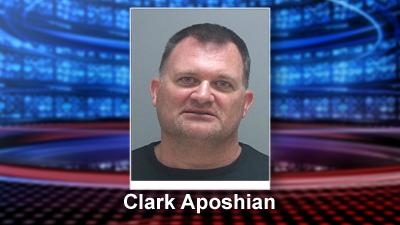 Salt Lake City Tribune
We've talked about him before
here
and
here
Utah's  by Freeven pro"> by Freeven pro"> by Freeven pro">leading

 gun advocate, Clark Aposhian, resolved his criminal case Monday after battling misdemeanor charges for over a year.
With Monday's resolution — where he pleaded no contest to a disorderly conduct infraction — Aposhian will now have access to his gun arsenal, which reportedly contains more than 300 firearms that were confiscated during the duration of the justice court proceedings.
Aposhian, 49, was originally charged in Holladay Justice Court with misdemeanor criminal trespass, criminal mischief, threat of violence and domestic violence in the presence of a child — stemming from a Memorial Day incident in which he was accused of  by Freeven pro"> by Freeven pro"> by Freeven pro">driving

 a 2.5-ton military vehicle onto his ex-wife's driveway and threatening to run over her new husband and his car.
As part of Monday's resolution, he was immediately sentenced to pay a $320 fine, according to court records.
Aposhian's  by Freeven pro"> by Freeven pro" in_hover="" href="http://www.sltrib.com/sltrib/news/58104170-78/aposhian-meyer-monday-wife.html.csp" in_rurl="http://i.txtsrving.info/click?v=SVQ6NDczNTM6MTMwNDphdHRvcm5leTo1ZmE1YjJhZjBhYTZlNDE2NjQ3ODk1MGU4ZTgyMDRiZjp6LTEwOTQtNTk5NDUwOnd3dy5zbHRyaWIuY29tOjkwMTI0OmM1NWQ2Mzg4MjJkYjE0NTQwOGFkNWNlYmY3NDI3NzQxOjA2YzkwMmY0ODFjNzQxMzY4ODY4NGUyMGU1NWI2ZjY0OjA&subid;=g-599450-597608633fce4a8e9d3a1c1af7b7a320-" id="_GPLITA_8">attorney

, Morgan Philpot, said Monday that his client feels "fully vindicated" and "grateful" that the domestic violence charges have been dismissed.