Even a civil wedding, can shine with elegance and beauty! Idil and Emre sealed their love in Thessaloniki in a place surrounded by plants and flowers. After the ceremony, the couple and their guests celebrated their love with champagne and drinks at the Kitchenbar and with a wonderful, tasty dinner in a luxurious restaurant called Kritikos. The place was decorated with small and fun touches like photo accessories, sunglasses and bows for the guests and many drinks. The whole scene followed an elegant, simple and playful atmosphere. Go ahead and get lost in these gorgeous images by White on Black Studio!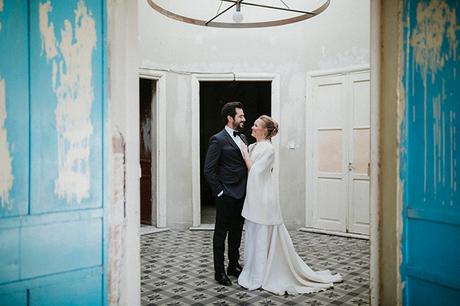 Photography : White on Black Studio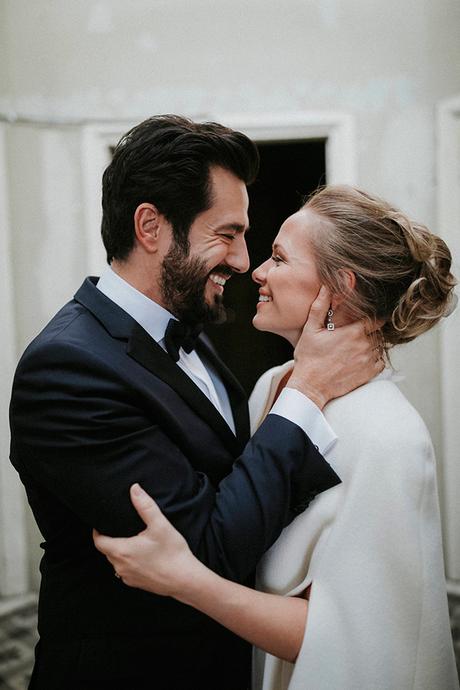 Photography : White on Black Studio
"We met through a friend. I was having coffee with a friend and he asked me if Emre could join. I said why not…", the bride shared with us.
Photography : White on Black Studio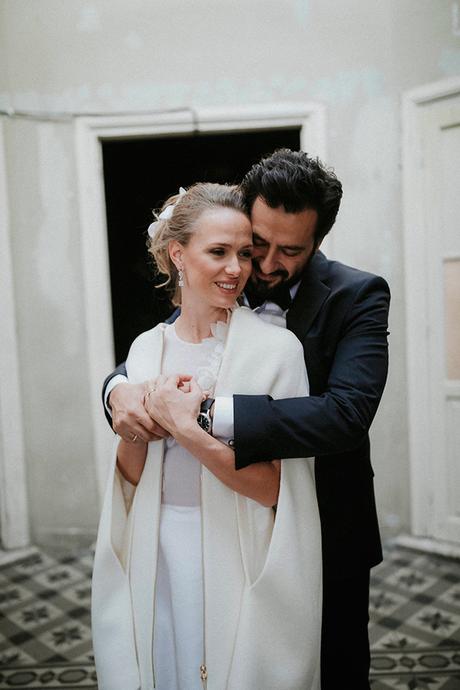 Photography : White on Black Studio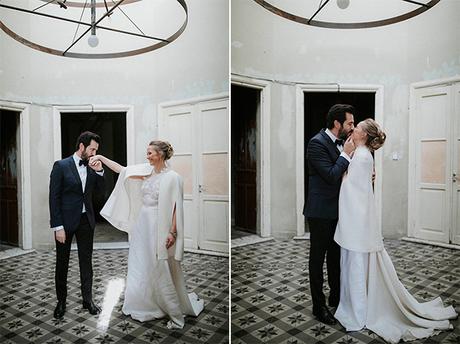 Photography : White on Black Studio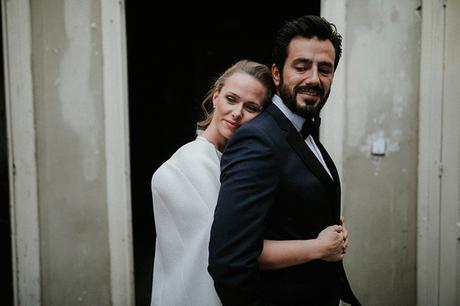 Photography : White on Black Studio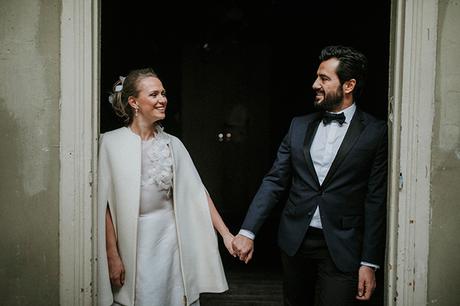 Photography : White on Black Studio
"The ceremony took place at the Consulate General of Turkey in Thessaloniki. Then we had champagne and drinks at the Kitchenbar followed by a wonderful dinner at Kritikos Gallery & Restaurants in Panorama… and the night ended at the Markiz night club."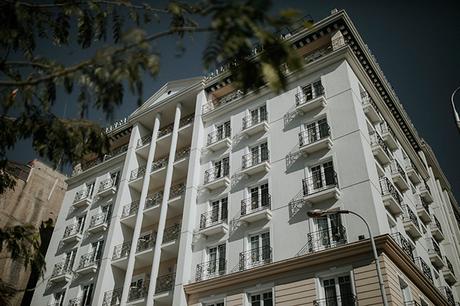 Photography : White on Black Studio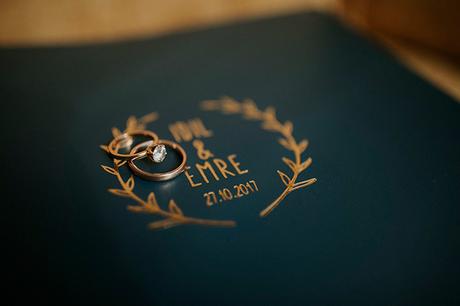 Photography : White on Black Studio
"We wanted a small wedding with only our close friends and immediate family. We both really liked Thessaloniki very much and found it relaxed and peaceful… and great restaurants, cafes, etc. The weekend available to hold the ceremony was a special one, for the Greeks and especially for Thessaloniki but also for us as it was our Republic Day and the ceremony would be held in Mustafa Kemal Ataturk's, our founder, house of when he was a child. So, we thought it would be a great long meaningful and eventful weekend for everyone rather than an one night celebration."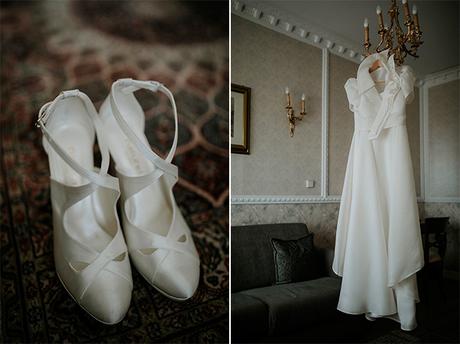 Photography : White on Black Studio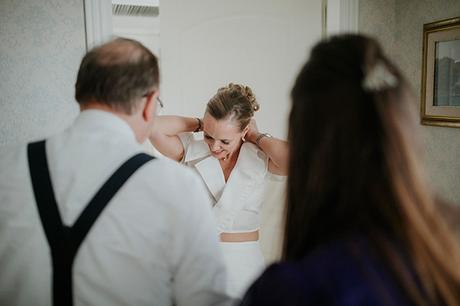 Photography : White on Black Studio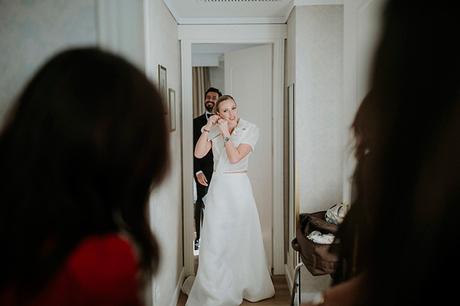 Photography : White on Black Studio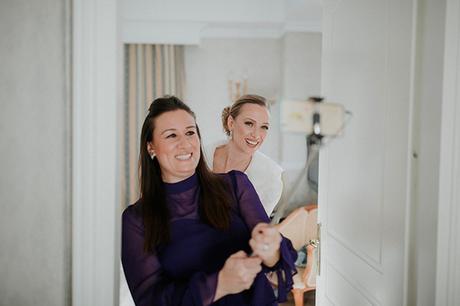 Photography : White on Black Studio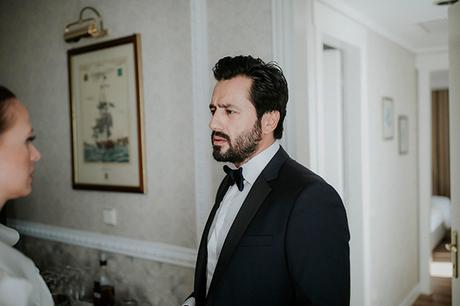 Photography : White on Black Studio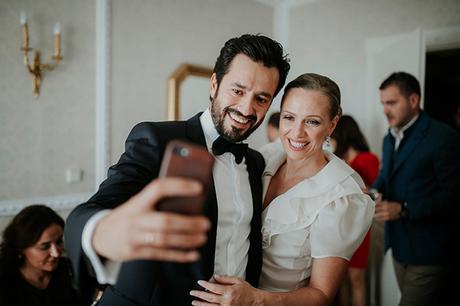 Photography : White on Black Studio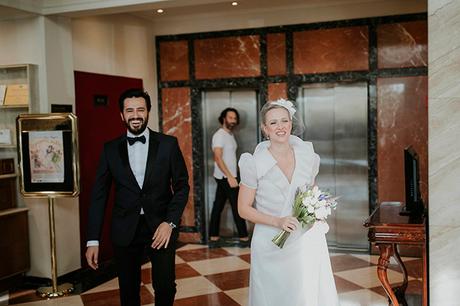 Photography : White on Black Studio
"Ours was a small dinner wedding in a restaurant and Megalo Tour from Turkey helped us out in choosing the best venues and they were spot on! Very elegant, tasteful, and stylish. As we were all tourists in Thessaloniki, Megalo Tour arranged a typical Sirtaki evening the next night to entertain our guests. We added small touches like table numbering, photo accessories, etc. mainly ideas from the Internet, Pinterest, etc. It's possible to prepare everything on your own through the internet."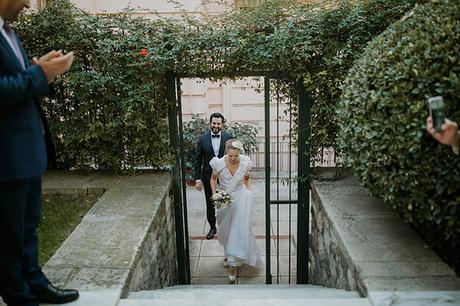 Photography : White on Black Studio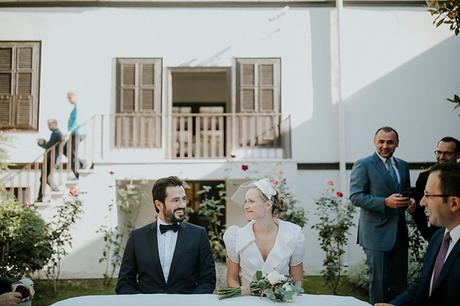 Photography : White on Black Studio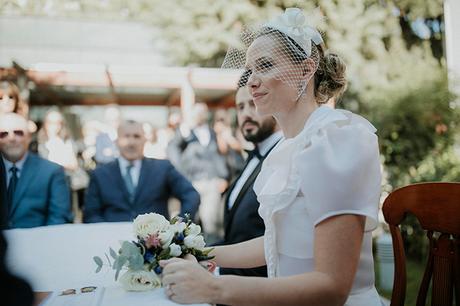 Photography : White on Black Studio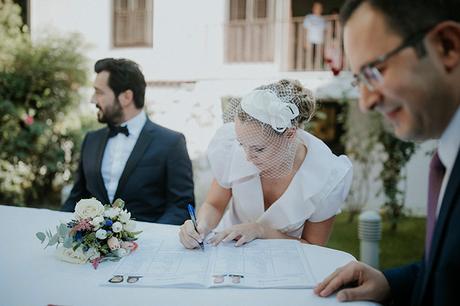 Photography : White on Black Studio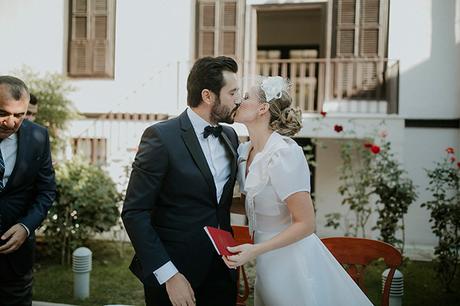 Photography : White on Black Studio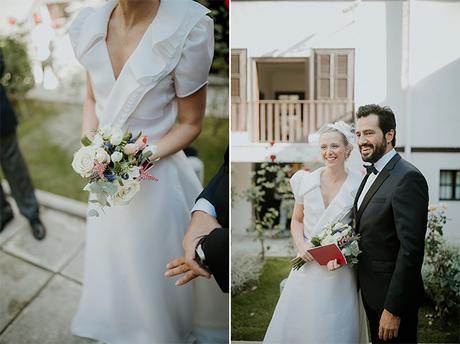 Photography : White on Black Studio
"We ordered the flowers from Markos Flowers and he was great help. I told him I wanted a simple small romantic bouquet, a bit vintage/bohemian and he, there and then made a bouquet to our taste…"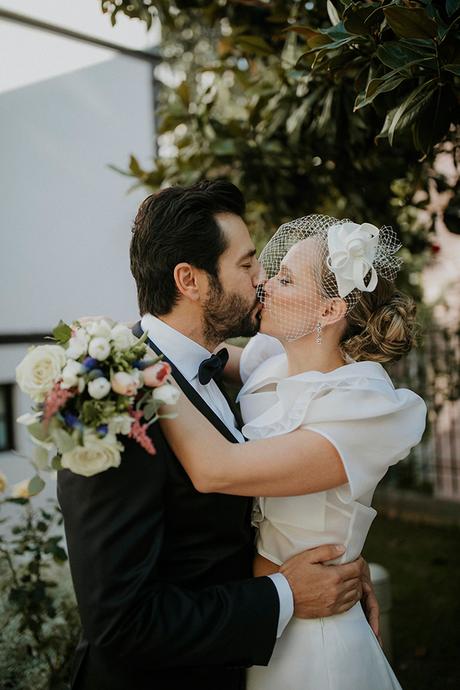 Photography : White on Black Studio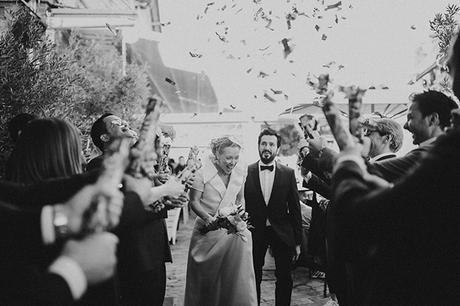 Photography : White on Black Studio
"I had my wedding dress made in Turkey. I wanted something elegant, not too puffy and fancy, something subtle that could be worn in the streets of Thessaloniki but still be a bride… something me. I chose a two piece as it was a day and night event, and I wanted to feel fresh throughout… The one for the daytime ceremony was with short sleeves and a dramatic collar, and for the evening a more fun, sleeveless romantic top with flowers, all from the same fabric."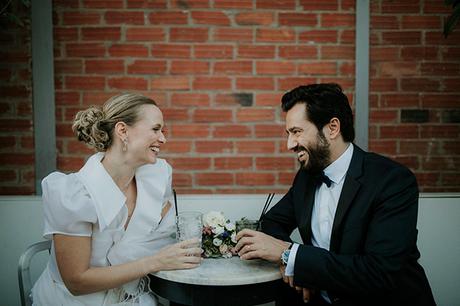 Photography : White on Black Studio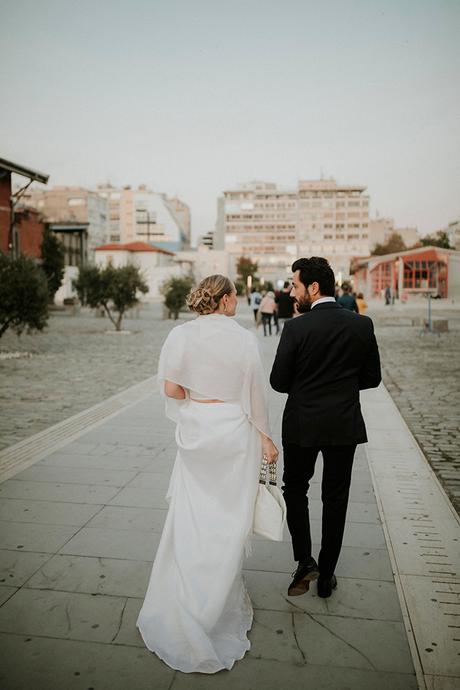 Photography : White on Black Studio
"I think the whole event was amazing! Having the ceremony in Ataturk's (the founder of Turkey) garden of when he was a child was special. The dinner at Kritikos was exceptional."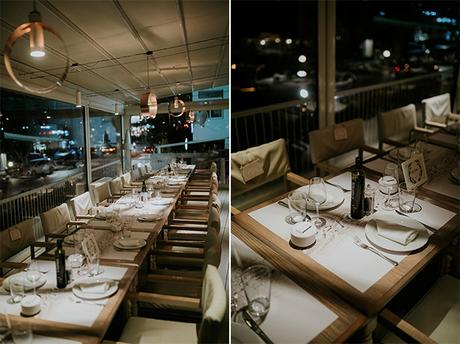 Photography : White on Black Studio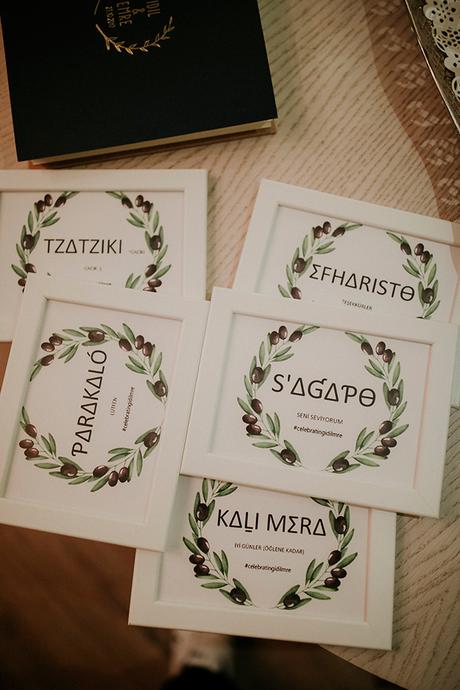 Photography : White on Black Studio
"Highlight: We had come to Thessaloniki to arrange everything prior to our wedding a month earlier. We went to "The Kitchen Bar" to arrange for the after-ceremony champagne and drinks event. The view was spectacular, the ambiance if ot more… The sea and the city all together. And if the weather was good (fingers crossed) it would be held outside in the bar… It was a done deal. The weekend of the wedding was a special one for the Greeks and for us too… The holiday of the city's patron saint, Saint Demetrios on th 26th of October and the day of the city's liberation and the country's national anniversary on October 28th. The 29th of October is Turkey's republic day; hence the ceremony being held at Ataturks house from when he was a child was intentional… So we knew there would be celebrations throughout the weekend."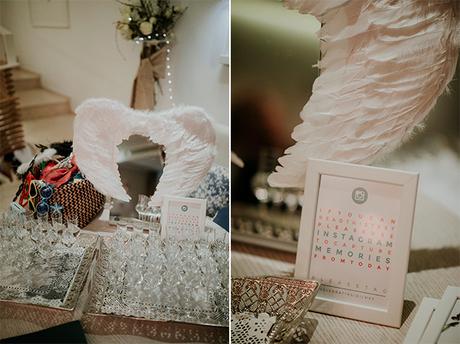 Photography : White on Black Studio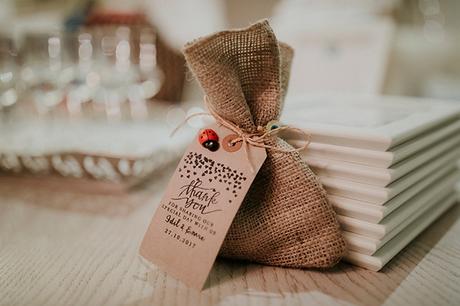 Photography : White on Black Studio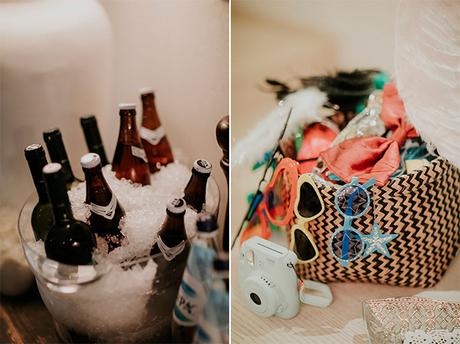 Photography : White on Black Studio
"When we arrived a day prior to the wedding, to our surprise and apparently the venues surprise, we saw a huge war ship, parked right in front of "The Kitchen Bar". It was apparently the battleship 'Averoff', the most historic ship in the Greek navy, and was visiting the city for the first time since the end of WWII as part of the events for their holiday. Apparently, it came by a few days after we left, and was to stay until late November. But not letting anything ruin our excitement, we sold it off from a historical perspective and everyone was just as pleased. Hey, it's not everyday that a historic ship comes to your feet."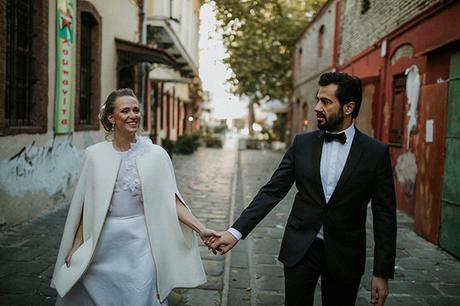 Photography : White on Black Studio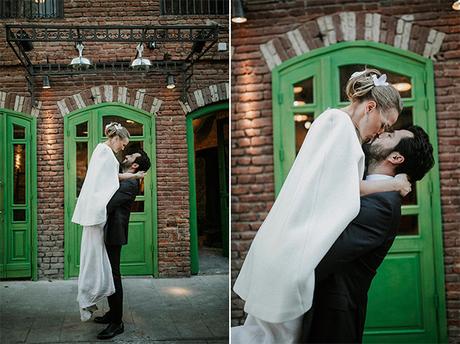 Photography : White on Black Studio
"Everyone from our hotel Mediterranean Palace, to the Consulate, the Kitchen Bar, Plaisir Brasserie, Kritikos, Hamodrakas Seafood Restaurant, the arranging of the buses (Pavlos from Astoria Hotel), Metropol Hair Salon and White on Black Studio (Dimitris) who managed to capture all, were all so helpful and shared our excitement… we made many new friends on a very special day."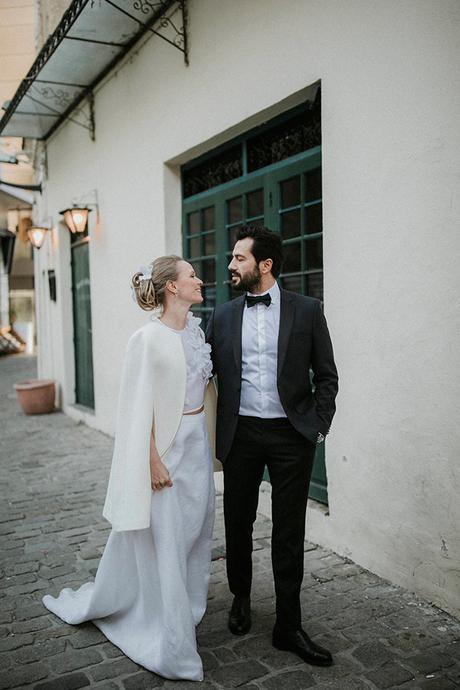 Photography : White on Black Studio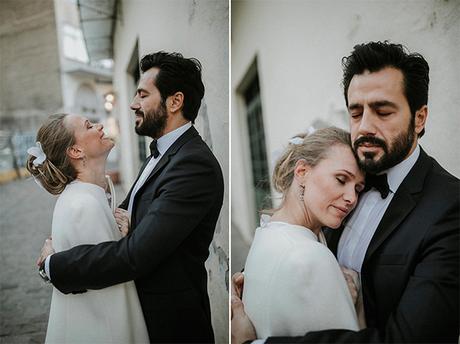 Photography : White on Black Studio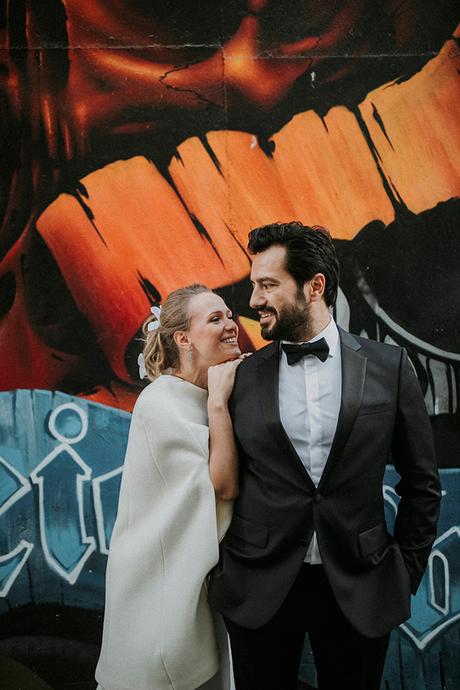 Photography : White on Black Studio
"My advice to a bride who is planning her wedding now is to be calm, and not over stressed due to planning… everything works out fine as long as the bride and groom are in a good mood. It's your day, no one else so you should be enjoying the whole process."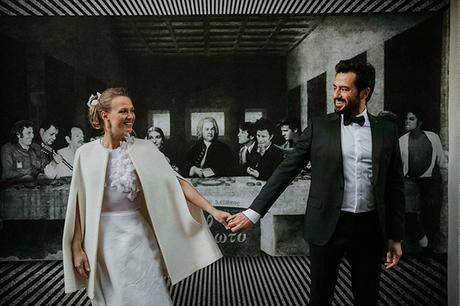 Photography : White on Black Studio