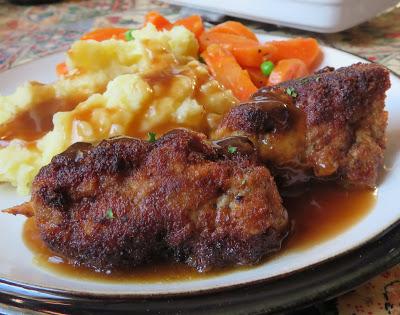 I was sitting here yesterday morning doing Christmas Cards and I was trying to think of what my first Christmas memories were of myself and my sister.  I am three years older than my sister, and I wasn't exactly very happy when my mom brought her home from the hospital.  I wanted my mom to take the baby back, probably because I was used to being on my own and the baby was taking up far too much of my mothers attention.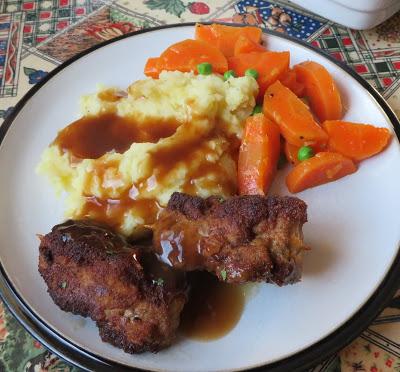 For a week the only glimpses of my mother had been through a hospital window when my father had taken me to the hospital to see her and then to have her come home only to be accompanied by this small squealing attention getter was not exactly what I had been hoping for.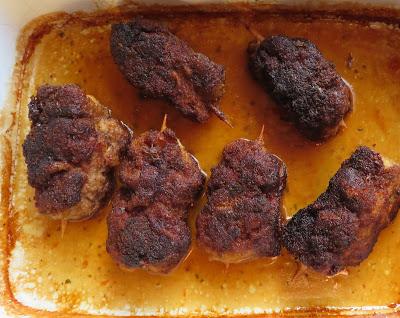 It was only when my mother explained that if the baby went she would also have to go as the baby needed someone to take care of it that I relented and decided the baby could stay.  Little did I know then that my mother had brought home to me the best and most beloved friend that I could have ever had or wanted.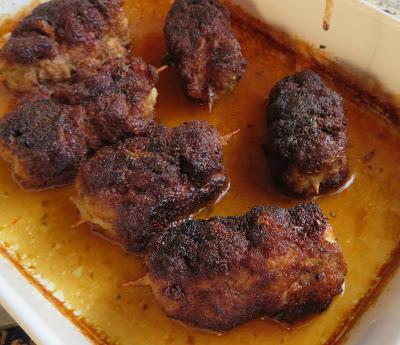 My life has been enriched and richly blessed through the years by this marvelous woman that I am lucky enough to be able to call sister  . . . Cindy . . .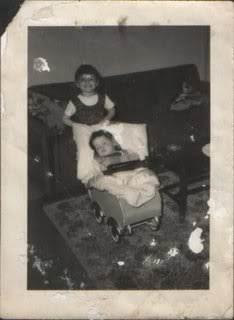 I love her so very much.  It was she who taught me how to crochet.  In fact she taught both my mother and myself. I am not sure where she learnt how, but she came home and taught us. We spent several hours together one afternoon learning together. It is a skill  thatI have always been grateful for.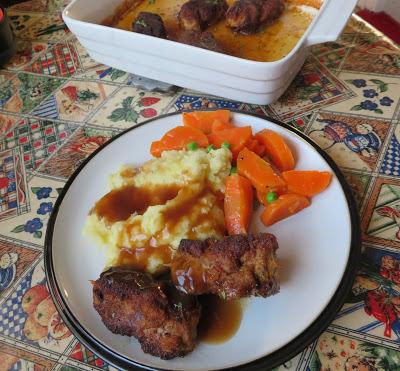 Through the years we have shared many loves and experiences with each other.  We both love to craft and to create things with our hands.  Some of my happiest memories are of those we spent together manning craft tables filled with our wares at craft sales . . .  the best part of which was getting to spend a whole day with each other without any children or husbands nipping at our heels.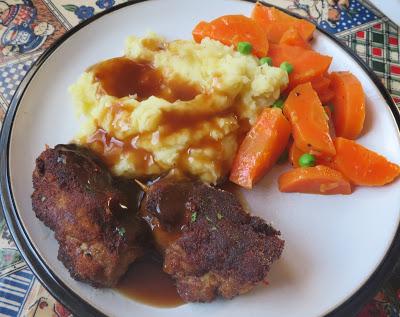 We both love bird watching and nature. We have often compared notes through the years of different birds we have seen and have sat and watched them together . . . .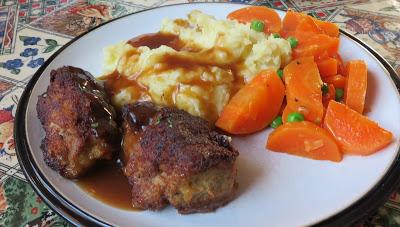 I have fond memories of us having discovered an old discarded orchard filled with apples and blackberries and wild raspberries and picking large containers of them so we could make jam.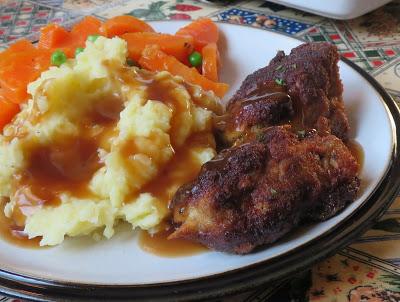 Everything my sister does is done with great skill and expertise and she is good at all that she does. I have always considered her to be the great baker in our family with cakes that rise and pastry that is as light as a cloud, whereas I was more of a savoury cook.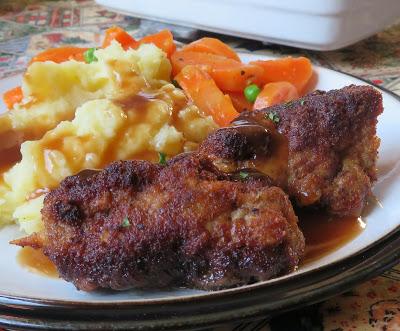 But one thing was certain, we both loved to create, cook and bake delicious meals and foods for our families to enjoy.  At a time when smaller families were most common, we both had what was considered somewhat larger, me having five children and she four . . .  even my brother had four.  I think we all just have hearts for family and home.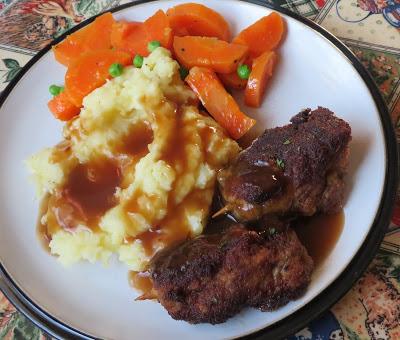 One thing my sister and I have done a lot of through the years is sharing recipes.  Some of my favourites come from her, like her
Portuguese Gumdrop Cake
, her
Zucchini Casserole
, her
Stove Top Mac and Cheese
and this one . . . City Chicken, which isn't really chicken at all, but cubes of pork threaded onto wooden skewers, breaded, fried and baked until tender and juicy and incredibly delicious.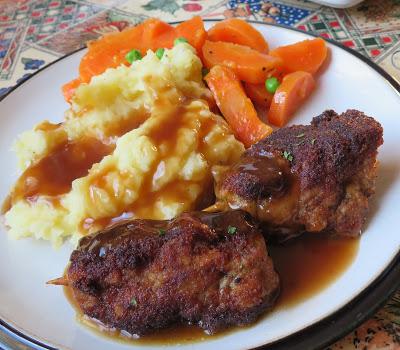 It was a recipe she got from her late MIL and it was one of her then husband's favorite meals . . .  she shared it with me and it became one of ours.  These kinds of recipes are my favorite kind of recipes  . . .
Recipes that are handed down and shared and that become a part and a parcel of the fabric of your family.  So whilst this tasty dish has nothing to do with Christmas or Christmas memories, or even chicken  . . . .  it has plenty to do with family and the love that most family's have for and share with each other. 
Yield:
4
Author:
Marie Rayner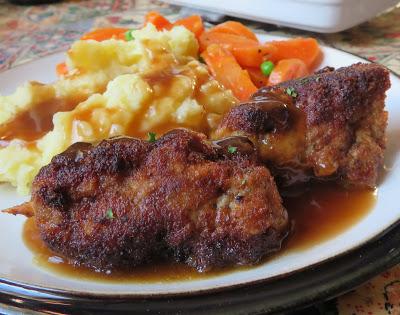 City Chicken
This is an old, old recipe I got from my sister back in the 1970's. It was a favorite of her in laws. It isn't chicken at all but beautifully tender pieces of pork.
ingredients:
1 1/2 pounds of pork tenderloin, cut into 1 1/2 inch cubes
salt and black pepper to taste
2 free range eggs, beaten lightly in a shallow bowl
180g seasoned dry bread crumbs (1 1/2 cups) in another shallow bowl
oil for frying
6 to 8 wooden skewers, about 5 to 6 inches in length, pointed on one end
120ml chicken stock (1/2 cup)
instructions:
How to cook City Chicken
Preheat the oven to 180*C/350*F/ gas mark 4. Have ready a shallow casserole dish large enough to hold all of your skewers in one layer.
Trim and season the pork cubes with salt and pepper. Thread the pork onto the skewers, leaving a portion of the skewer bare at the end for holding.
Roll the pork skewers into the beaten egg and then roll them into the bread crumbs to coat completely. Set them on a plate as you go along.
Heat about 1/4 inch of oil in a large skillet. Working in batches as required (over-crowding the pan will cause the oil to cool), brown the pork skewers on all sides. Transfer the skewers to the casserole dish when browned. Make sure there is some space between each one. Pour the chicken stock in between the skewers. Cover tightly with foil and bake in the preheated oven for 30 minutes. Uncover and bake for a further 10 minutes to help crisp the breading.
Serve hot with mashed potatoes, gravy and a vegetable on the side.
Did you make this recipe?
Tag @marierayner5530 on instagram and hashtag it #EnglishKitchenCreated using
The Recipes Generator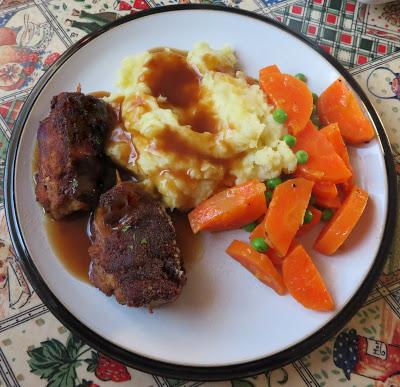 I love simple meals like this.  Just the meat, some gravy, piles of fluffy mash and some peas and carrots on the side.  The only thing missing was my sister. Oh but I wouldn't have given to be able to sit down and enjoy this with her.  Maybe one day  . . .