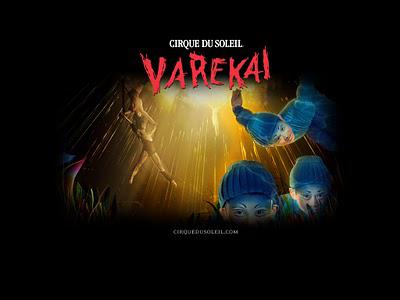 For the first time in its history, Cirque du Soleil will visit Manila with its live touring production "Varekai," premiering June 22, 2011 for a limited engagement under the blue-and-yellow Grand Chapiteau (Big Top) to be built at the Luneta, across Quirino Grandstand.
Tickets are now on sale through the online box office at www.hoopla.ph or www.cirquedusoleil.com. For inquiries, call tel. no. 7750939, 8810947, 0919-4508125 and 0917-4436463.
The word "Varekai" (pronounced ver·ay·'kie) means "wherever" in the Romany language of the gypsies, the universal wanderers. Written and directed by Dominic Champagne, this production pays tribute to the nomadic soul and to the spirit and art of the circus tradition.
"Varekai" emerges from an explosive fusion of drama and acrobatics, in stunning displays of skill and power set against innovative music and sets, interwoven with vivid choreography that speaks to all in the universal language of movement. The pendulum of time sweeps backward, paying tribute to the ancient and rare circus traditions of Icarian games, water meteors and Georgian dance. "Varekai" then catapults to the future with revolutionary twists on such acts as Russian swings, body skating and triple trapeze.
"Varekai" introduces an international cast of more than 50 artists representing several nationalities: Argentina, Australia, Azerbaijan, Belarus, Brazil, Canada, China, France, Georgia, Germany, Hungary, Italy, Kazakhstan, Mexico, New Zealand, Russia, Serbia, Spain, South Africa, Sweden and Ukraine.
From a group of 20 street performers at its beginnings in 1984, Cirque du Soleil is now a major Quebéc-based organization providing high-quality artistic entertainment worldwide with some 5,000 employees, including more than 1,200 artists from close to 50 different countries.
Cirque du Soleil has brought wonder and delight to close to 100 million spectators in 300 cities on five continents. In 2010, Cirque du Soleil will simultaneously present 21 shows throughout the world. The company has received such prestigious awards as the Emmy, Drama Desk, Bambi, ACE, Gémeaux, Félix, and Rose d'Or de Montreux. Cirque du Soleil International Headquarters are in Montreal, Canada.
Hoopla Inc. is the local promoter of Cirque du Soleil. It is the first company to bring Cirque du Soleil to the Philippines.
Manila Hotel is "Varekai's" presenting sponsor. This will serve as its launching event in a series of build-up activities for the hotel's forthcoming 100th anniversary celebration culminating in October 2012.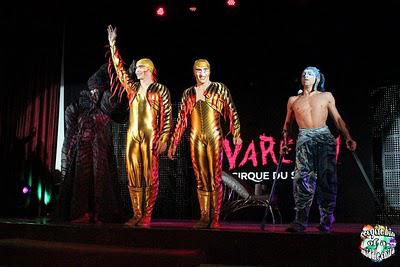 Performance schedule
• Wednesday, 22 Jun 11, 7:30 pm
• Thursday, 23 Jun 11, 7:30 pm
• Friday, 24 Jun 11, 3:30 pm / 7:30 pm
• Saturday, 25 Jun 11, 3:30 pm / 7:30 pm
• Sunday, 26 Jun 11, 1 pm / 5 pm
• Monday, 27 Jun 11, no show
• Tuesday, 28 Jun 11, 7:30 pm
• Wednesday, 29 Jun 11, 7:30 pm
• Thursday, 30 Jun 11, 7:30 pm
• Friday, 1 Jul 11, 7:30 pm
• Saturday, 2 Jul 11, 3:30 pm / 7:30 pm
• Sunday, 3 Jul 11, 1 pm / 5 pm
• Monday, 4 Jul 11, no show
• Tuesday, 5 Jul 11, 7:30 pm
• Wednesday, 6 Jul 11, 7:30 pm
• Thursday, 7 Jul 11, 7:30 pm
• Friday, 8 Jul 11, 7:30 pm
[Photo 2 by Recycle Bin of a Middle Child]