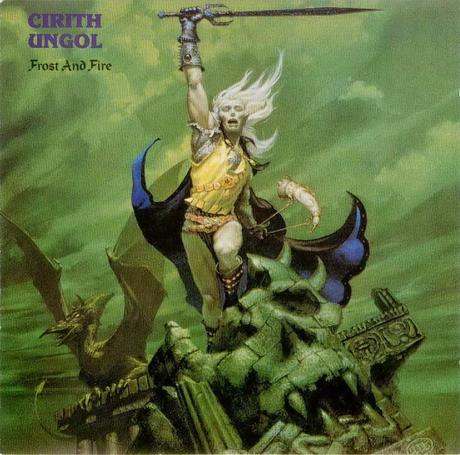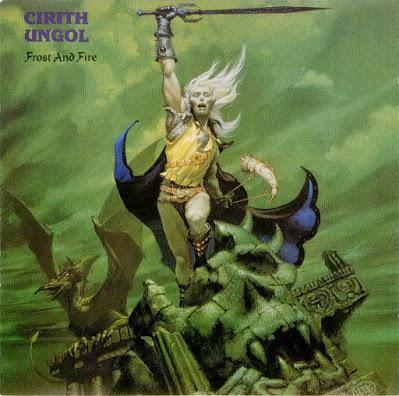 Hear me waveriders!Praise be to other more experienced listeners who offer guidance to unknowing music fans like myself!If it wasn't for the enthusiasm of Pete Pardo, the main man behind website/youtube channel Sea Of Tranquility, I would still be ignorant of the glorious heavy metal band
Cirith Ungol
.Thankfully I watched SOT's video on youtube detailing "Classic Early 80's American Metal", during which Mr. Pardo laid out his case for why people should seek them out.In case you couldn't guess, his words piqued my interest and I started listening to their first album,
Frost And Fire
.
Why oh why did it take me this long to discover Cirith Ungol?!?!I've wracked my brain trying to determine whether or not I'd heard of or read about this band in the past.It's possible that since I read The Lord Of The Rings trilogy a long, long time ago my mind is simply recalling the lair of Shelob, but the mists of time are thick and opaque.Regardless, I'm fully aware of Cirith Ungol the band now and I want to tell as many people as I can about this music!
Right, so what does this band sound like?Allow me to extrapolate.The title track opens the album and from the jump the listener is slapped upside the head with a wicked combination of early Rush mixed with the dual guitar assault of Judas Priest and a doomy overall sound like Black Sabbath.The bass is prominent in the mix and the two guitarists seamlessly weave in and out of each other's musical airspace.Oh yeah…there's also one other aspect that truly sets Cirith Ungol apart.That would be the vocals of Tim Baker.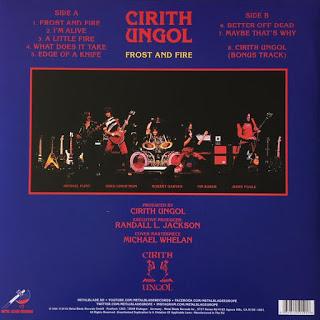 To reference that SOT youtube video once more, when I heard Mr. Pardo describe Tim Baker's voice as "either love it or hate it" I was driven to find out for myself which camp I fell into.Sure enough, I love his vocals!I love his delivery, which to my ears has an almost conversational quality.Much of the time it sounds as if he is inadvertently singing to the listener while imparting his fantastical message. Also the timbre of his voice is definitely unique.I compare him with a mid-range Rob Halford, but Mr. Baker's voice has more abrasive grit.
As far as song highlights on Frost And Fire, there are seven that really grab hold of the listener.Those are tracks one through seven.And yes, there are only seven songs on this album (not counting the live bonus track on my reissued copy)."Frost And Fire", "I'm Alive", "A Little Fire", "What Does It Take", "Edge Of A Knife", "Better Off Dead", and "Maybe That's Why".Every song rocks!Every song is memorable!This album embodies all killer, no filler.
Waveriders would you do me a favor?If you've never heard of Cirith Ungol would you take a minute of your valuable time and listen to the first song off of Frost And Fire?If you're anything like me you'll know within one minute whether or not this band is to your liking.Who knows?Maybe you'll involuntarily listen to the rest of the album because you think it sounds so righteously awesome!I know exactly how that goes.Till next time friends.
-Penfold