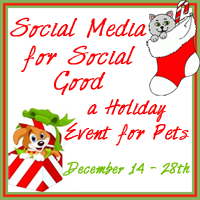 Here's you last chance to win cash for yourself and your favorite animal charity. Previous ways to enter this contest have been to "Like" Facebook Pages and to "Follow" Twitter accounts. Today's method of entry is to join the "Circle" of Google+ pages listed in the Rafflecopter below.
If this is the first time you're hearing about this contest, you can still go back and enter it through the Facebook "Likes" and Twitter "Follows". You have through December 28th to enter the contest through any of these three methods.
The winner will be selected at random from all entries over the course of the contest. The winner will recieve $112 and the winner can also select an animal charity of their choice to recieve $213. The winner must have a PayPal account in order to accept the prize. If you don't have an account you can sign up for one should you win.
This "Social Media for Social Good" contest is being put on by Two Little Cavailers and Pamper Yourself in Pink. Since they're running the contest, the participating bloggers are also eligible to win. If the Shelter Shack wins, our charity of choice is Canine Lifeline. So who is your animal charity of choice? Tell us in the comments section.