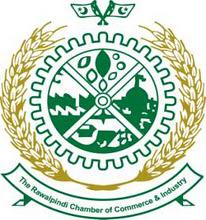 Image: www.rcci.org.pk
In July 2010, with the support of a CIPE small grant, the Rawalpindi Chamber of Commerce and Industry (RCCI) established an Information Resource Center to provide its members with better access to reliable information about business opportunities. Since then, students and entrepreneurs have been using the Center for a wide range of services and learning opportunities.
While initially some RCCI members were reluctant to use the Center's services due to lack of awareness of what was offered, they have recently begun to take full advantage of this resource. In addition, since the Center was launched, RCCI has been receiving more regular general inquiries, and has seen membership increase from about 2,700 to over 3,100 – approximately 15 percent increase in membership with respect to the pevious year.
Launching the Center has benefited RCCI in many ways, including:
·   Facilitating regular activities: The publications and facilities available at the Information Resource Center are also used for training programs and seminars regularly conducted in the Chamber.
·   Time savings: Thanks to the technology on offer at the Center, with a computer, scanner, fax machine, photocopier and printer, and an electronic database, RCCI is able to process requests for information 15 to 20 minutes more quickly than in the past.
·   Business processes: Members are using the facilities at the Center for their business purposes, including printing and faxing. Previously, members could scan approximately 30 documents per hour, which has now increased to 50 documents per hour.
·  Regional business activity: Members are using the Center's library resources to increase their business literacy and increase productivity by finding the right information at the right time.
·   Personal development: Students from partner universities frequently visit the Center to read books on business topics, helping them in their professional development.
·   Increased visitation: Door count and circulation figures have increased significantly compared to last year. On average, 15 to 20 members and students visit on a daily basis, approximately 30 percent more than in the previous year.
RCCI's Information Resource Center is thus playing a pivotal role in Rawalpindi, both by increasing the visibility of the Chamber, as well as helping members build their businesses using timely information.