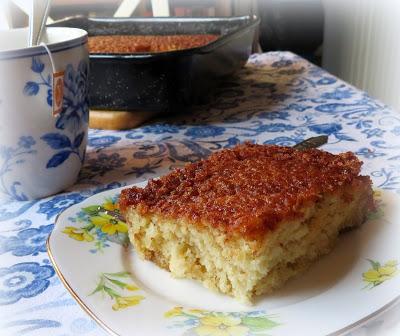 This is a cake recipe I have been eye-balling for quite some time now.  It closely resembles other cake recipes that I have seen, called Cinnamon Flop Cake, Amish Cinnamon Cake, etc.  I have tried a few of those and they didn't turn out very well, which is why I have waited so long to bake this one.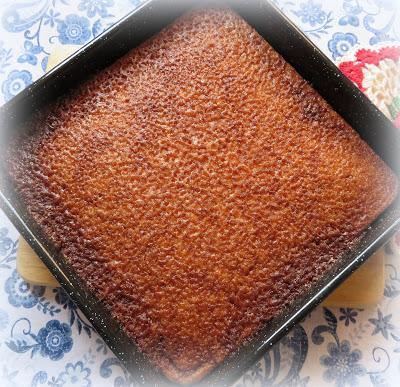 With no eggs and not a lot of fat . . .  I  had my reservations about it . . . but the photo in the cookbook looked really good . . .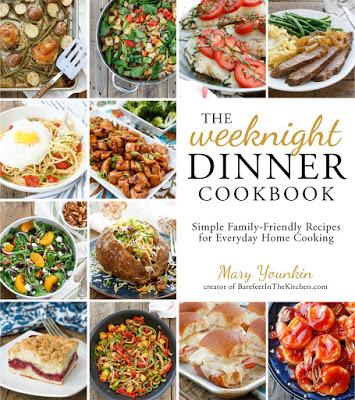 It comes from this cookery book, written by Mary Younkin, creater of
Barefeet in The Kitchen.com
.  You can also find her recipe, with pics,
here.
Its a great blog and this is a fabulous cookbook.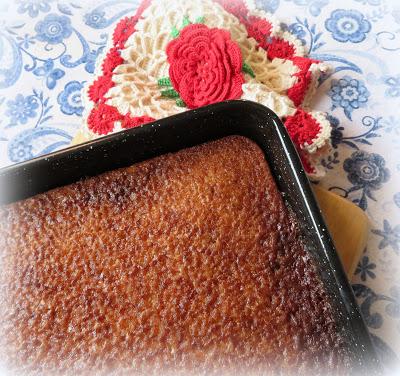 It looks really good and I think you will realize why I wanted to bake it.  I love Cinnamon and I adore Cinnamon Toast.  Today I decided to take a chance and I baked it.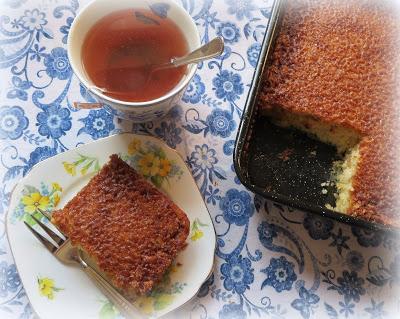 This has to be one of the easiest cakes I have ever baked.  It uses things I always have in the house and there are gluten free options for people who can't do gluten.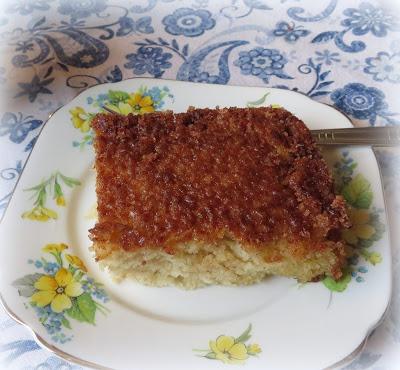 The cake itself is quite moist and flavourful.  No eggs needed . . . say what!  Yep no eggs . . .  and only 2 TBS butter.  So relatively low fat.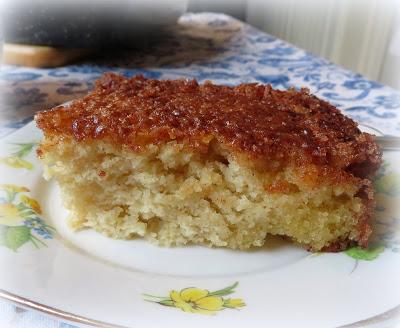 Just look at the lovely texture.  I served it plain with a hot drink.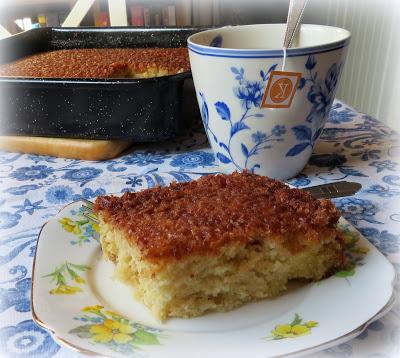 But sliced fruit would go really well with it.  She shows it with sliced strawberries.  I am thinking that any crushed berries would go well, or sliced peaches, pears, etc.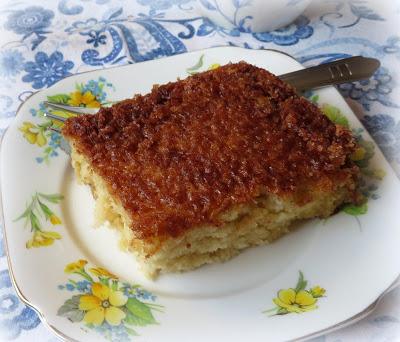 You bake the cake first and then when it is almost done, you pour a butter/cinnamon/sugar mixture over top and bake it for ten minutes longer  . . .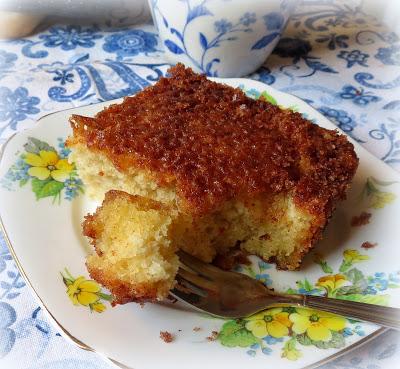 The result of that is a crisp cinnamon sugar coating . . .  almost like a cinnamon creme brulee topping . . .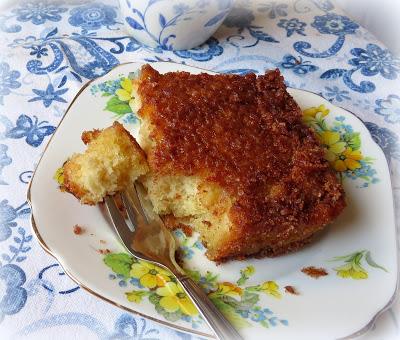 Ohhh, I just had a thought, this would be excellent during strawberry season along with crushed berries and a dollop of whipped cream . . .  will be doing this again then for sure!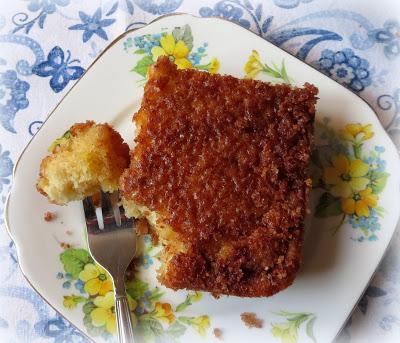 In the meantime we have enjoyed it just as it is  . . .  plain . . .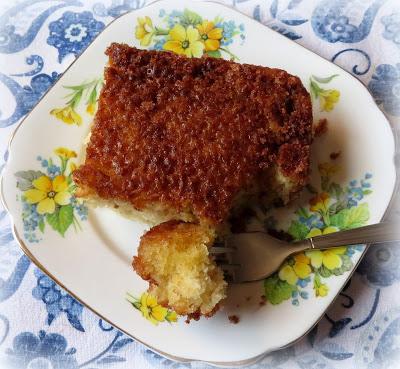 Todd enjoyed a nice big piece of it with a hot cup of vanilla tea . . .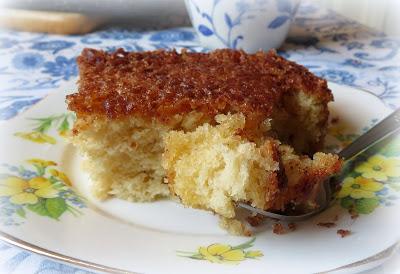 Actually I had cut this piece originally for him to enjoy. I was going to just have a tiny taste . . .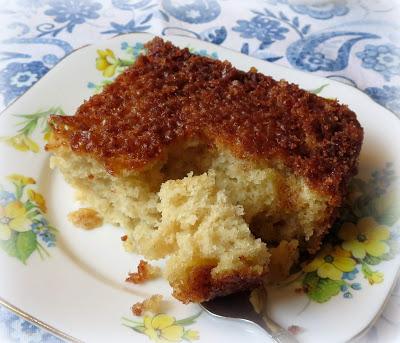 Just a tiny smidgen so I could write about it . . .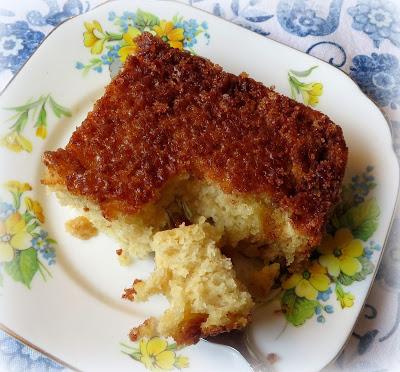 However it was so good that I ended up eating half the square of cake before I knew it and then had to cut him another piece.  Yes, it
IS
that good!
Yield: 9
Author: Marie Rayner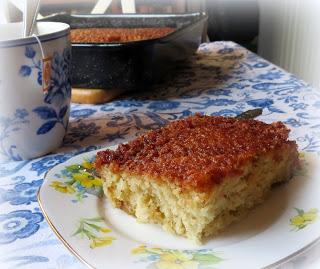 Cinnamon Toast Cake
prep time: 10 mins
cook time: 35 mins
total time: 45 mins
This is a lovely moist cake with a cinnamon toast crunch that bakes on top. There are no eggs, and there are gluten-free options. Adapted from a recipe from the Weeknight Dinner Cook Book by Mary Younkin.
ingredients:
280g plain flour (2 cups)
190g sugar (1 cup)
2 tsp baking powder
1 tsp salt
240ml milk (1 cup), room temperature
1 tsp vanilla extract
2 TBS butter, melted and cooled to room temperature
For the Topping:
120g butter, melted (1/2 cup)
95g sugar (1/2 cup)
1 TBS ground cinnamon
instructions:
Preheat the oven to 180*C/350*F/ gas mark 4.  Butter a 9 inch square baking tin really well.  Set aside.
Whisk together the flour, sugar, baking powder,  and salt.   Whisk together the  milk, vanilla and melted butter. Add to the dry ingredients and beat together until smooth. Pour into the buttered tin and bake for 25 minutes.
While the cake is baking stir together the topping ingredients until smooth.
Remove the cake from the oven after 25 minutes and pour the cinnamon mixture evenly over top of the cake.  Return to the oven for an additional 10 minutes.
Gluten-free sub for flour:
185g brown rice flour (1 1/4 cups)
65g tapioca starch (1/2 cup)
45g potato starch (1/4 cup)
Created using
The Recipes Generator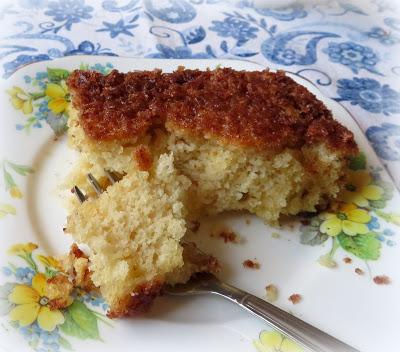 Oh, yes, I am pretty naughty when it comes to cake. Its a real weakness of mine.  I really have no willpower when a cake is involved . . .  mores the pity.  Bon Weekend!