I had a request earlier this afternoon for an apple pie recipe.  I gladly agreed to make one and post it, because I have this BIG box of apples sitting in my kitchen just begging to be used.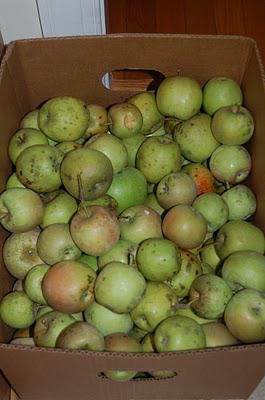 I'm sure my husband's co workers will be thrilled to find out that they're having apple pie for breakfast tomorrow, lol!  My kids will be equally thrilled when they see the mini apple crescents I made for them out of the left over pie dough.  Even if you've never made pie dough from scratch, this recipe is very simple!  You can do it, I'll even show you how ;)  Follow me, we'll do this together...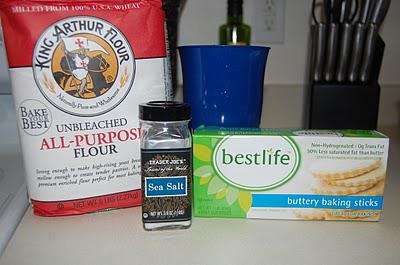 Grab your sea salt, all purpose flour, butter, and fill a cup with iced water.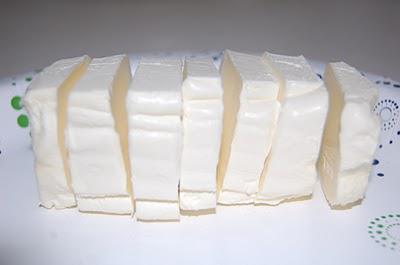 Grab 1/2 c. of butter (1 stick of butter) and cut it up into piece.  Make sure that your butter is chilled, the colder the butter, the better.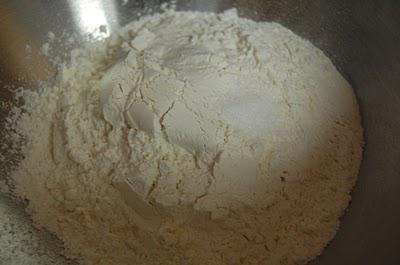 Toss 1 1/2 c. all purpose flour, and 1/4 tsp. sea salt into a mixing bowl.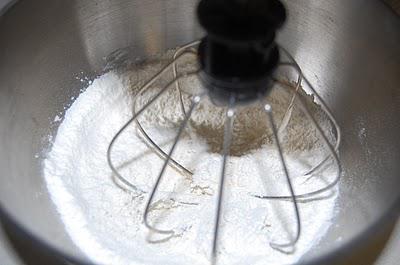 Start mixing your flour and salt, 1 piece at a time start mixing in your cold butter.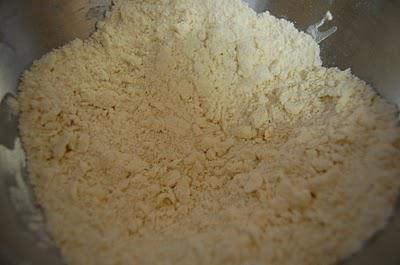 Mix your ingredients until it resembles loose sand.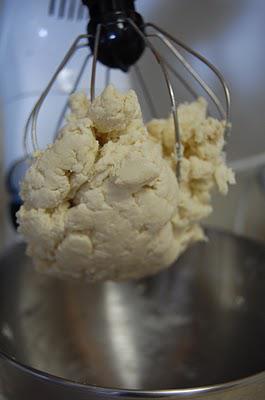 Measure your ice cold water that's been sitting in the cup into 1/4 c.  Don't put any ice into the measuring cup.  Slowly add your water into your mixing bowl, 1 tsp. at a time.  Mix your dough until it forms a ball.  Immediately stop mixing, place in plastic wrap, and allow to chill in the refrigerator for 3 to 4 hours.  Overworking your dough will cause your crust to be hard once you bake it, and putting too much water will cause a chain reaction of having to add more flour, water, flour...you get the picture.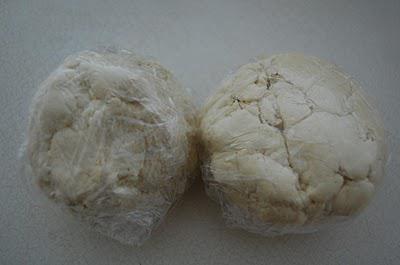 I made 2 balls of dough, because I wanted to also place lattice on top of my pie.  If you want  to make more then 1 ball of dough, I would recommend repeating the steps above instead of doubling the recipe. While doubling recipes is a great and easy way to multiply the amount of food you make, baking is an exact science.  Pies are straight forward and easy to make, but they are also very easy to mess up.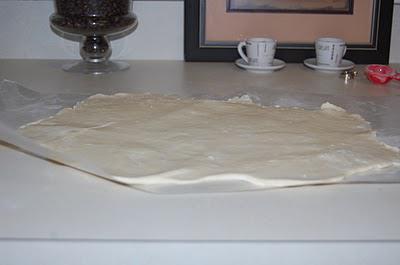 Once your dough is ready to go, place a sheet of wax paper down on your counter.  A sweet lil' tip for keeping your wax paper from sliding all over the place while your rolling out your dough, is to sprinkle a few drops of water underneath the wax paper.  The water will keep the paper on the counter.  Sprinkle a dusting of flour on your wax paper, and place your dough on the flour.  Lightly sprinkle flour on the top of your dough and begin to roll out your dough.  Quickly roll in a 1/4 in. flat circle.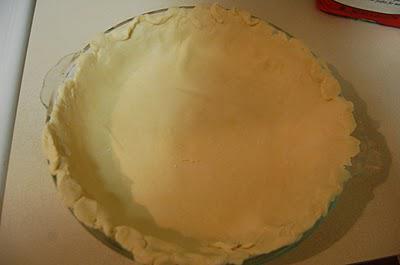 Once you have your pie crust all rolled out, gently place it in the pie pan.  If you're only using 1 pie crust, fold the areas of the dough that are hanging over the sides of the pie pan, and fold the dough under itself.  Place your pie pan in the refrigerator to chill while you move onto prepping your apples.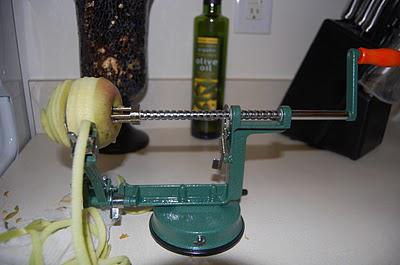 Moving onto our pie filling, grab 8 Fuji apples, wash, peel, and core them.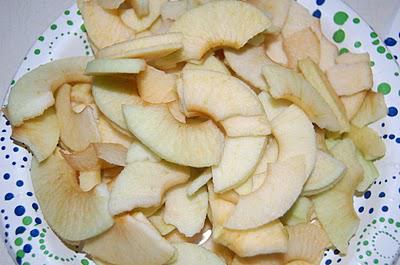 Cut your apples into small pieces and set aside.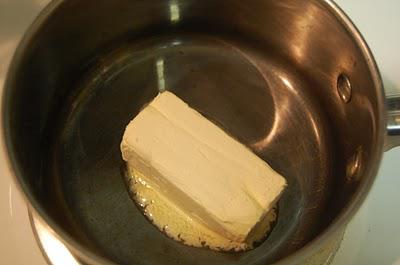 Meanwhile preheat your oven for 425 degrees F.  Next, melt 1/2 c. butter in a sauce pan over low heat.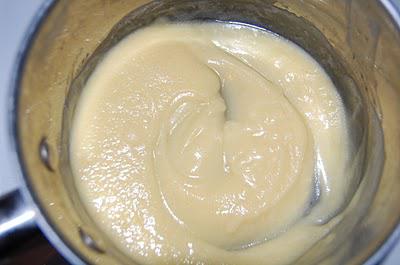 When your butter is completely melted turn heat to medium, place 3 tbsp. all purpose flour into your sauce pan, and mix to make a paste.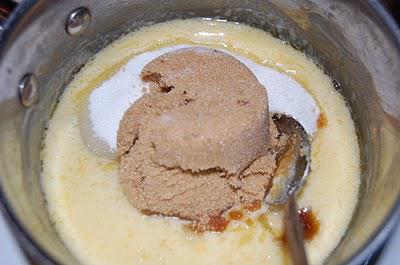 Pour in 1/4 c. water, 1/2 tsp. nutmeg, 1/2 c. white sugar, and 1/2 c. brown sugar.  Bring to a boil, and then reduce to lowest heat setting to simmer.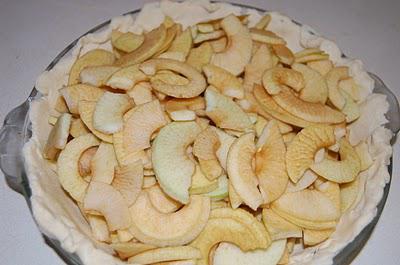 While your sauce is simmering, place your apples in the pie crust.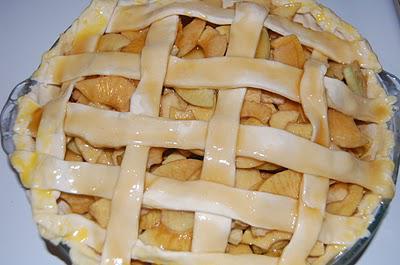 If you're going to use a 2nd crust to make lattice do that step while your sauce is simmering.  Once the sauce has simmered for 5 minutes (stir occasionally), gently pour sauce over the entire pie.  Brush an egg wash (1 egg beaten and applied with a pastry brush) over the edges of your crust.  Place your pie in the oven for 35 minutes, placing a loose foil tent over the pie during the last 10 minutes to avoid overly cooked crust edges.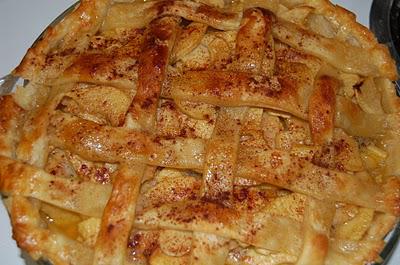 Sprinkle with cinnamon, and allow to cool for 1 hour.  Well, you did it!  Good job!  Now go eat that beautiful pie with your family, friends, or give it away to someone you love =)
Pie Crust Ingredients:

1 1/2 C. All purpose flour

1/4 tsp. salt

1/4 c. ice water

1/2 c. butter

Apple Pie Filling Ingredients:

Pie crust

8 Fuji apples 

1/2 c. unsalted butter

3 tbsp. all purpose flour

1/4 c. water

1/2 c. white sugar

1/2 c. packed brown sugar

1 tbsp. cinnamon 

1/2 tsp. nutmeg




Egg Wash:

1 egg