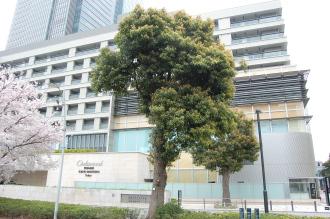 Cinnamomum camphora (01/04/2015, Tokyo, Japan)
Position: Full sun
Flowering period: Spring
Soil: Moist, well drained
Eventual Height: 30m
Eventual Spread: 40m
Hardines: 8b, 9a, 9b, 10a, 10b, 11
Family: Lauraceae
Cinnamomum camphora is an evergreen tree with a spreading habit. Its glossy dark green leaves are ovate with entire margins, up to 12cm long 6cm broad and smell of camphor when crushed. Its new leaves appear purple/ red in April to May. Its trunk may achieve a diameter of up to 3m. Its pale grey/ brown bark is rough and vertically fissured. Its white flowers are small, star shaped and appear in loose clusters. Its blue/ black drupes are spherical and up to 1cm across.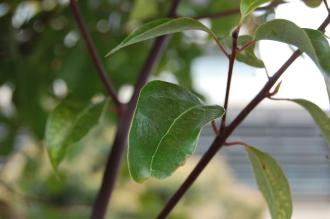 Cinnamomum camphora Leaf (01/04/2015, Tokyo, Japan)
Cinnamomum camphora, commonly known as Camphor Tree, Camphor Laurel or Camphorwood, is native to Japan, China, Taiwan, Korea and Vietnam. This tree is the source of the crystalline substance Camphor. This tree has become a noxious weed in parts of east Australia. It has also been classified as a category 1 invasive species in Florida, USA. In its native habitat it grows as part of mixed tropical and sub tropical forest woodlands.
The etymological root of the binomial name Cinnamomum is derived from the Greek kinnamomon meaning 'cinnamon'. Camphora refers to the chemical constituent Camphor, which this tree contains.
The landscape architect may find Cinnamomum camphora useful as a large specimen tree. Care should be exercised when specifying this tree as it may become invasive if the climate is warm and wet.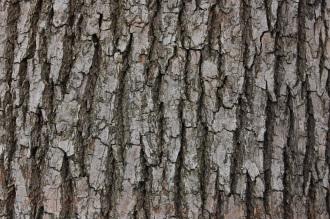 Cinnamomum camphora Bark (01/04/2015, Tokyo, Japan)
Ecologically, Cinnamomum camphora is of little value to UK wildlife.
Cinnamomum camphora prefers moist, fertile, well-drained soils. It tolerates most pH of soil.
Cinnamomum camphora requires little maintenance.