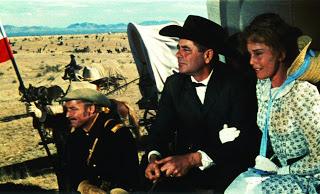 Cimarron (1960) serves as a bridge between Anthony Mann's '50s "adult Westerns" and his historical epics. A remake of the 1931 Best Picture winner, it's an ambitious but distended Western that can't match its large-scale pretensions.
Ex-cowboy Yancey Cravat (Glenn Ford) and high-born wife Sabra (Maria Schell) travel west to join the Oklahoma Land Rush of 1889. Yancey establishes a newspaper empire in Osage, battling outlaws and railing for social justice while drifting from his wife. After fighting in the Spanish-American War and helping settle Alaska, Yancey returns home, promising to settle down. Instead he exposes crooked oil contracts,
The 1931 Cimarron is a wheezy fossil bolstered by spectacle. Mann's take isn't different in that regard, restaging the Land Rush in an epic action scene. Robert Surtees' widescreen frames the enthralling action, with land-mad homesteaders racing on chargers, wagons and bicycles, the landscape crowded with rushing horses and violent spills. Set to Franz Waxman's rousing score, it's as engrossing a set piece you'll find in any Western.
But this spectacular scene occurs 40 minutes into the film. What could top it? Certainly not the hodgepodge of disjointed episodes that follow: shootouts, lynchings, political debates and domestic squabbles, amounting to little. Supporting players exit abruptly; Yancy's adventures in Cuba and Alaska occur off-screen, leaving us to fret with Sabra. Cimarron offers clunky monologues and haphazard ellipses rather than smooth storytelling.
Cimarron matches patchy plotting with weak characterization. Yancey defends Jews and Indians and battles oil companies, while drifting apart from his family. Mann and writer Arnold Schulman lay on the irony without giving Yancey a core: his friendship with an ex-flame (Anne Baxter) provides more humanity than his activism or marriage. Sabra grows obsessed with fitting in to society, diminishing her likeability. When she finally takes charge in the final act, it's too late to affect us.
Glenn Ford's passive likeability makes for a dud protagonist. Maria Schell fares better, evolving from callow bride to tough matriarch. The supporting cast is wildly variable: Anne Baxter gets a choice role as Yancey's ex-lover; David Opatoshu is a Jewish shopkeeper, Charles McGraw a scurvy bigot. Russ Tamblyn's energetic bit as an outlaw ends almost before it starts. An impressive roster of character actors offer support: Mercedes McCambridge, Harry Morgan, L.Q. Jones, Edgar Buchanan, Royal Dano.
Anthony Mann's ambition often outraced his abilities; even his best films occasionally creak with overreach. Cimarron's sketchy plot and feeble characters might fit a soap opera, but are fatally diminished in an epic Western.