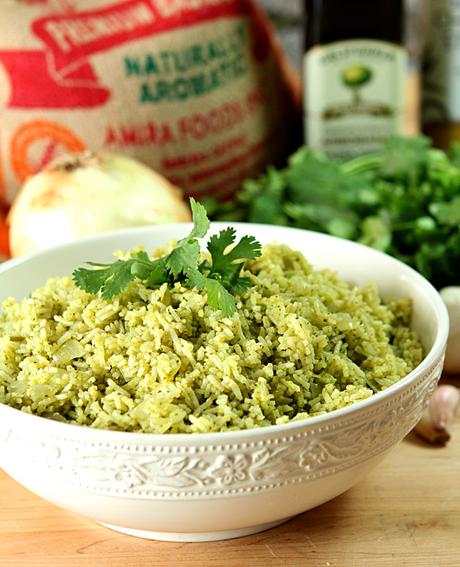 I first made this Cilantro and Serrano Pepper Mexican Rice to take to a friends Mexican themed barbecue many, many years ago. It is unbelievably good; so good that I kept 'tasting' it so much that I had to make a second batch for the party...oops! I don't quite remember a dish that I've had as many requests for, it's really that good. Don't let the seeming innocuousness of the ingredients fail to impress; it is the combination of those perfect ingredients that makes a dish that I can not stop eating. This Cilantro Serrano Mexican Rice is absolutely addictive; bet you can't taste just one bite either!
I've included it this week as my contribution to the Food Network's #SensationalSides that we're doing for summer dishes. This week it's all about foods that are perfect for a picnic and we have one big last hurrah this coming Labor Day weekend. I love it for outdoor events, there is nothing to spoil and it's meant to be served at room temperature, so this Cilantro and Serrano Mexican Rice dish is ideal for a barbecue or picnic.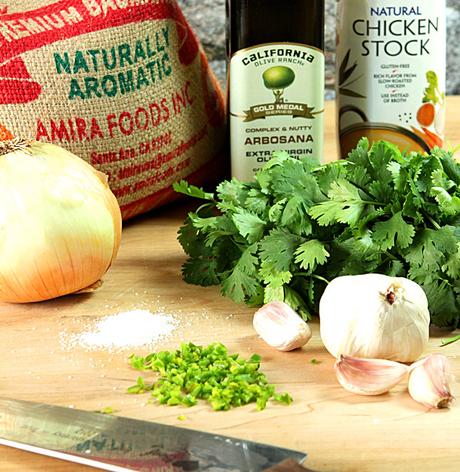 When I posted this recipe several years ago; the photo I used was one of the last photos taken by an old point and shoot camera and I was tired of cringing whenever I saw it. I love this dish so much and wanted a photo that was more appealing since it is seriously one of my favorite dishes. Although the ingredients are pretty simple and not especially beautiful; trust that this dish is AMAZING.
When my friend's Sandy and Ansh joined me for dinner last summer I made this rice for us and expected to do a re-shoot then. Except we ate too much of it. So another do-over later and finally I've got something I can live with (until a couple of years from now right?). I don't fashion myself as a food photographer by trade but I know that my photography has improved over the years and some of the dishes on this blog deserve better than I first gave them...this one especially.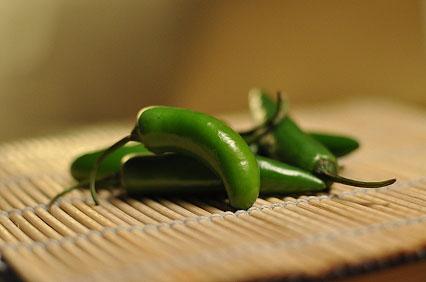 One word of caution when making this most excellent dish; be very careful when working with the Serrano peppers in this recipe. Serrano peppers have a higher Scoville Heat unit than milder jalapeno chiles so either wear gloves or do what I did...except for removing the inside membrane and seeds with a paring knife I used my mini Cuisinart to finely chop the pepper. They are so strong they it actually hurts when I breathe in the fumes but used in a small quantity they are absolutely necessary for the end result flavor of this dish. Funny thing...it's not hot at all; they just combine with all the other ingredients and the flavor is an absolute necessity.
The first time I used them without gloves, I must have rubbed my eye several hours later and it still burned. I've heard that it's wise to use extra caution with gloves as well if you think you will be holding an infant as the Capsaicin on your fingers can burn their gentle skin. One trick I've learned? Capsaicin is oil soluble...rub your hands with a bit of oil before washing them and it should bind the capsaicin to the oil and wash it away. Ever put a pepper in your mouth that burned too much...try rubbing some butter inside your mouth to do the same thing!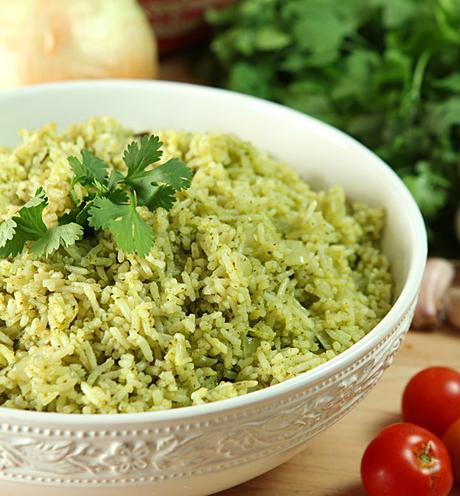 Do try it, it is seriously the BEST Mexican rice dish I've ever had. Take my word for it and oh...just to be safe? Double the recipe from the getgo and then start tasting away!
Serves 8-10 Servings
15 minPrep Time
25 minCook Time
40 minTotal Time

Save Recipe
Ingredients
1 1/4 cups (packed) coarsely chopped fresh cilantro
2/3 cup olive oil
5 tablespoons white wine vinegar
2 garlic cloves, peeled
1 teaspoon ground cumin
1 teaspoon minced seeded Serrano chile
1 tablespoon olive oil
1 large white onion, chopped
4 garlic cloves, minced
1 tablespoon minced seeded Serrano chile
2 cups long-grain white rice
3 1/4 cups chicken broth
3/4 teaspoon salt
Instructions
Place all dressing ingredients into food processor and blend until smooth.
Heat oil in a large saucepan over medium heat.
Add onion, garlic, and Serrano and sauté until the onion is translucent, 7-9 minutes.
Add rice and stir 2 minutes.
Mix in broth and salt; bring to boil. Reduce heat to low; cover and cook until rice is just tender and broth is absorbed, about 15 minutes.
Remove from heat. Let stand, covered, 5 minutes.
Transfer rice to bowl; cool to barely lukewarm, stirring occasionally, about 1 1/2 hours.
Add Cilantro Dressing to rice and toss to coat. Season with salt and pepper. (Can be prepared 2 hours ahead; let stand at room temperature.)
Notes
http://www.creative-culinary.com/cilantro-serrano-mexican-rice/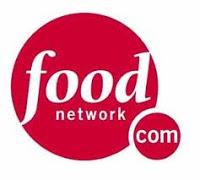 Some more great dishes for your last summer hurrah!