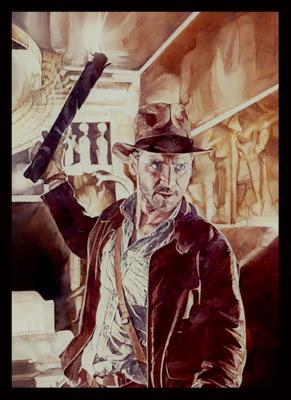 Sweet Painting Lady: Ciara McAvoy Resurrects the Art of the Movie Poster
By Alex Simon
"Art is not just a part of my life. It IS my life. It gives me breath. We are eternally entwined." This is the mantra of Scottish artist Ciara McAvoy, a painter renowned for her stunning oil work, which the Glasgow-born artist has used to create some of the most iconic movie posters in modern times. Inspired by her French grandfather, a pre-WW II portraitist who gained fame at Montmartre, McAvoy's interest in drawing and painting film-related subjects began after her first viewing of Star Wars as a child.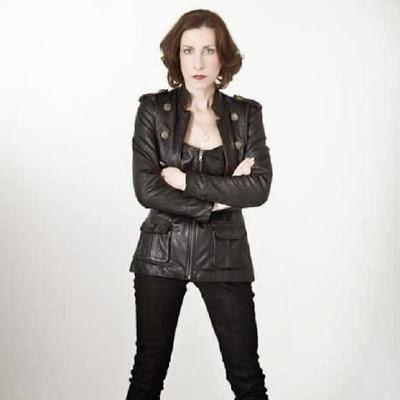 "I started drawing at eight and painted and sold my first oil, entitled Cops, when I was only twelve years old, so I guess I can say that I was born to be an artist," McAvoy recalled in a 2014 interview with David Bateman of STV Glasgow. In an age when the artist's brush has been replaced by the computer keyboard, McAvoy celebrates the analog artistry of old by creating all of her commissions by hand. "I'm part of a growing group of artists and collectors who believe in the future and importance of hand-drawn art as part of movie promotion," McAvoy said.
Influenced by legendary names in the movie poster trade such as Amsel, Drew Struzan, John Alvin, the brothers Hildebrandt, and Tom Jung, McAvoy works almost exclusively in oils for her movie posters. However, she has built a broad repertoire of skills in other media (acrylic, watercolor, graphite, charcoal, and pastels) as well as storyboarding, animation, character design, and matte painting. She studied at L'École Nationale Supérieure des Beaux-Arts de Paris, where she obtained her Diplôme Supérieur d'Art Plastique (D.S.A.P). Later, she expanded her artistic skill set to include costume design and historical fashion, which now play an integral supporting role in her posters and illustrations. She describes her modus operandi as "photorealism applied to movie posters."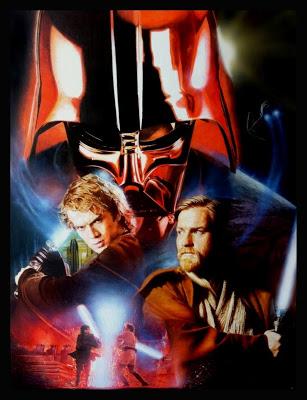 "I think a great movie poster is like the setting on a beautiful diamond ring or the package on an elaborate gift, which for potential fans is the movie itself," McAvoy said. "A beautifully wrapped present gets people excited to open it up and see what's inside. That's what really great film art, in terms of movie posters, aspires to do, and should do if the artist is at their best."
Coming off wins at the prestigious Davey Awards and the 44th Annual Creativity International Print & Packaging Design Awards, McAvoy was lauded with five awards at the 2015 Communicator Awards, held in Beverly Hills, California in April. McAvoy received recognition for her work on posters for  "Star Wars Revenge of the Sith," "X-Men" and "Filth." She is elated to have her illustrations recognized again.
Some of the most notable films for which she has created promotional images include box office classics such as Indiana Jones and the Last Crusade, Legend, Robin Hood Prince of Thieves, Interview With The Vampire, Star Wars: The Empire Strikes Back, Sherlock Holmes, Mission Impossible, Star Wars: Revenge of the Sith, X-Men: First Class. Indie titles include Filth, starring James McAvoy (no relation), Imogen Poots, and Joanne Froggatt (Downton Abbey). Recently, Ciara McAvoy was commissioned to design an alternative poster for director Paul McGuigan's upcoming Victor Frankenstein, also starring James McAvoy and Daniel Radcliffe.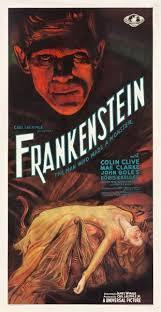 The discarded 1931 Frankenstein poster that sold for $358,000.
"Victor Frankenstein is a masterwork I simply had to pay tribute to; Mary Shelley's Frankenstein is one of those time-honored subjects that has not only stood the test of time but has spawned fifty-plus films—many of them great classics—since 1910. Of course, along with those classic films come the gorgeous, memorable—not to mention highly prized—movie posters. For example, an original poster from 1935's The Bride of Frankenstein went for a record-breaking $262,000 at auction last year and just last month a discarded 1931 Frankenstein movie poster was sold for $358,500 at Heritage Auctions."
McAvoy admits that one of the major highlights of her career, was the day she was contacted by LucasFilm, who wanted to commission her work. It was all born out of a sense of frustration with where movie poster art was headed. "After movie posters had become a simple digital photo, I starting trying to improve the design and give a second life to advertising campaigns stuck in the new, uninventive, often uninspiring rut of photos," McAvoy remembers. "Since my movie art was good, the movie theater directors started to stick my posters on their walls and I began to seriously consider a career in the movie poster industry. I sent my work to movie magazines and almost immediately got published. A few years later, Lucasfilm contacted me and ask for my portfolio. Obviously that day was rather a good one!" Some of McAvoy's original work adorns the walls of Rick McCallum, producer of the second Star Wars Trilogy.
McAvoy also remembers how the Victor Frankenstein project came to light. "Now, there's a great story behind this poster, too. An incredible thing happened at the start of the project; I was invited to have a look around during filming in Longross Studios, a film and television production facility near Chobham to get a feel for the movie. This never happens! I was shown sets, costumes, make-up, etc. and had some wonderful chats with the director and actors while they were shooting one night. James McAvoy even ended up showing me some picture albums of various scenes so that I would have something to work with. Honestly though, I think he felt I needed a little help since my initial composites mixed up McAvoy's and Daniel Radcliffe's outfits," she says with a smile.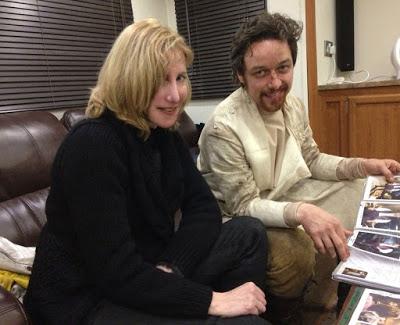 Ciara with actor James McAvoy, still in make-up as the titular character in the upcoming Victor Frankenstein.
"To prevent security leaks, no one was granted access authorization to the movie set photos, so home I went with nothing but my cherished memories and vivid images imprinted in my mind's eye. I'm known for my realistic detail work—usually conjured up by my imagination—but this time I had the opportunity to apply my unique style by accessing my memories of the set details. It was the critical ingredient to my Victor Frankenstein poster, the key to "unleashing my final creation" and immortalizing Victor, the complex man and crazed mastermind behind the 'monstrous figure that holds unimaginable terror for anyone in its path,' the one we all know and love as Frankenstein."
Ciara McAvoy is currently concentrating on her next film poster project, Enemy of Man, starring Sean Bean, Rupert Grint and directed by Vincent Regan.