I know I have to write about this when my teeth sank on this bread.
It was like a random shower of childhood memories, flowing back on me when I smelled the inviting aroma and the oily feel of the fried bread waiting for me to take a bite while it's hot. Memories like the time when my Mom first introduced me to this old school treat. I was a gradeschooler then, right just after my classes, my mom picked me up and we went straight to the mall and had some hearty dinner. Little did I know she's taking me in for a surprise treat -- a yummy dessert.
Dulcinea

has not been on my favorite list since I was still only a kid then. Usually I would go for the greasy-haven fast food chains rather than those posh restaurants. But when Mom took me to

Dulcinea

, it made me a different person. It made me realize I have to discover and explore a lot of culinary journey than my favorite fried chickens.
I may be the luckiest kid in the world for having such a sweet Mom, taking me for a special treat that time!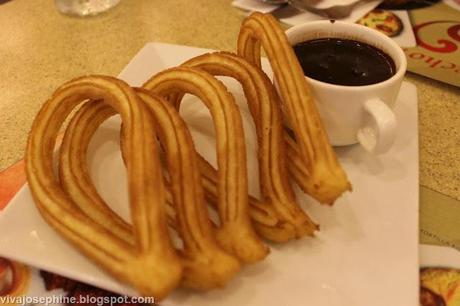 Dulcinea's Churros con Chocolate
Made out of twisted bread and formed into a loop then fried to achieve the desired crunchiness. Churros originally came from the Spanish recipe as a pastry-based snack. Usually they eat it for breakfast and comes with a dipping sauce like chocolate or cafe con leche.
For me, Dulcinea has the best and perfect churros recipe. It may look simple. It may smell simple. It may be cooked as simple as frying. But the taste is extravagant. It's awesome. For just

Php98

 for a five-piece looped bread matched with Spanish chocolate, you'll never go wrong for this.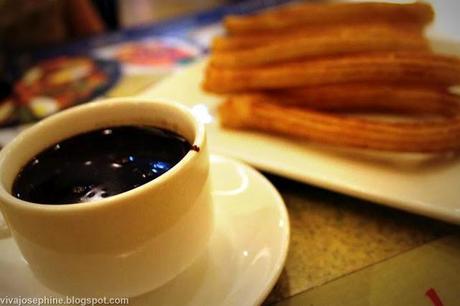 The Spanish chocolate has a bittersweet taste. Not too sweet and not too bitter, just the right amount of concoction of whatever they put it in there that made me crazy for this heaven-sent snack. This rich and moist chocolate dipping sauce is the perfect dipping sauce for this kind of bread.
I asked Le boyfriend to try this old school treat my Mom used to make me crave for more and as what I expected, he loved it too! He gave it a two thumbs up, thanking me for this surprise and well, for footing the bill :| nonetheless, this treat goes to our favorite munch list!
Perfect when eaten while it's hot! :)
Dulcinea
North Wing, SM Mall of Asia, Bay City
Pasay City, Metro Manila
Philippines
(02) 836-8496
Visit other Dulcinea branches near you!