Contributor: Henry T.
Written by Chris Fedak
Directed by Robert Duncan McNeill
Not only was this final hour of "Chuck" wonderfully emotional, but it had to be a lot of fun for long-time fans like myself. I have never hidden my affection for this show during its run — even during its intermittent rough spots — and the finale played all too well on that sentiment. "Chuck vs. Sarah" had an action sequence that mirrored a similar one in the pilot by Bryce Larkin. "Chuck vs. The Goodbye" has a multitude of nods to the show's early seasons and I thought it was a hoot to try and spot all of them. They definitely saved the best for last, as evidenced by the final epic performance by Jeffster! to send the show off in a manner befitting of what made it work for five seasons.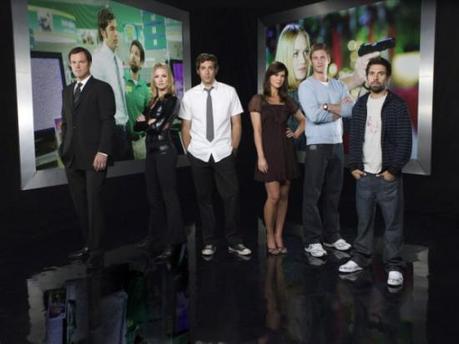 Everything about this final hour fit so well. Chuck and Sarah work together as a team to first get the Intersect glasses from Quinn, which proved difficult, and then come up with a plan to use the glasses to fully restore her lost memory. From the slight change to how Chuck first met Sarah in the Buy More, to the hilariously clever return of the Wienerlicious store, to Chuck using the Irene Demova porn virus to disable yet another bomb, it was a surprisingly fluid way to honor the show's past.
There were, of course, funny twists to it all, such as Chuck firing a gun and disabling Casey's helicopter. Or Jeff and Lester saving the day on two separate occasions, yet they cannot get Big Mike to believe their admittedly outlandish story. "Chuck" balances the emotional and dramatic with the comedy better than most other shows that try it. We are so familiar with these characters that it makes all of their choices that much more believable. Chuck still can't kill anyone, and is such a fundamentally good person that he isn't willing to let a lot of people die just so his wife can return to him. That's why he chose to use that final Intersect download on himself rather than Sarah. He can't live with the consequences of using it on Sarah, and I doubt Sarah would as well.
The coda for the series in the episode's final ten minutes may have laid on the syrup a bit thick, but the various endings for each character feel earned. Casey goes after Verbanski, leaving Morgan and Alex to be the caretakers of his apartment. Ellie and Captain Awesome also move out to Chicago, furthering their careers with Mary Bartowski to babysit Clara whenever she wants. I liked Mary's brief appearance here, by the way. She doesn't get in the way of the plot and provided one of the episode's funniest moments when Ellie and Awesome walk in on her holding a big gun. Jeffster! even continues as a possible superband in Germany.
As for Chuck and Sarah, their story doesn't end in the house like I expected, but at the beach setting that echoes the end of the pilot episode. It's a poignant ending, a simple one, where Chuck tells Sarah the story of their life together. It's the core story of the entire series. Even if it's not explicitly said that her memory was fully restored, I like to think that final kiss did exactly the trick.
Unlike so many other series finales over the years, I was not really worried about the ending of "Chuck." I think it was the fact that the show never had high expectations. The nods to prior seasons could have made the two hours feel like altered highlights of the entire series, but it really did not feel that way. The writers were able to tell the story they always wanted to tell, and their enormous effort was aided by a network that did them no favors at all during its run. That fact makes it all the more amazing that "Chuck" lasted as long as it did. They said goodbye in a proper manner, and went out on their own terms. It wasn't exactly the happy ending for Chuck and Sarah that I was looking for at the beginning of this season, but it was a very assured ending, and that was the best anyone could ask for with this show.
Grade: 10/10
(Season 5 Final Average: 7.9)