The Plainfield Patch reports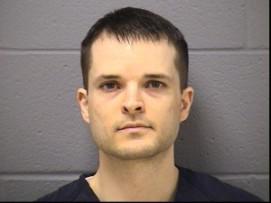 The Oswego man accused of staging the deaths of his wife and children to look like a murder-suicide spent an hour at a Plainfield shooting range the night before the murders, Will County court records show.
Newly released documents show Christopher Vaughn spent a half-hour at Mega Sports, a gun store and shooting range on U.S. 30 near Renwick Road, according to story published by the Sun-Times Media. The gun he allegedly used to shoot targets at the range was the same one found beneath his wife's feet on the day of the shooting, June 14, 2007, the story said.
A commenter named Grandpa Mike had this observation.
Am I the only one that sees an uncalled for inference to Mega Sports as somehow abetting his behavior the day after using their facilities ? How does mentioning Mega Sports in the story in any way relevant to his actions ? Just asking ...
Here's a fairly recent article on the trial.
What's your opinion? I think the fact that he went to the shooting range the night before helps describe what kind of guy he was. He was a cold-blooded normal-looking gun owner. Definitely a member of the illustrious
Famous 10%
, wouldn't you say?
Please leave a comment