This Christmas I've decided to do something a little different, on the lead up to Christmas I'm going to be posting different festive baking recipes each week. I absolutely love baking and just started getting into cake decorating.  I'm not the most artistic person but I'm eager to learn & practice.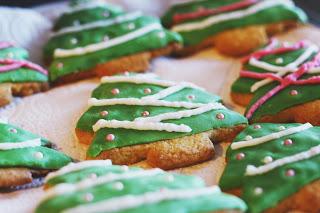 My first recipe and decorating tutorial is on Christmas tree short bread.
I bought myself some cookie cutters especially to make festive shortbread but unfortunately they didn't arrive in time so as an alternative I printed out a tree shape off the internet and cut each shape by hand which can be very time consuming. It's a nice alternative to cookie cutters if you would like a custom shape, shapes can vary transferring to a baking tray so take care.In this tutorial I used Designer Icing by Dr Oetker as my local shop had sold out of icing sugar so I will be doing a tutorial using icing sugar and piping bags next time.So for this tutorial if you don't have cookie cutters you can follow what I did,What you'll need:Equipment:
2 Large Bowls

Rolling Pin

Spatula

Knife/Cookie Cutters/Stencil

Scales

Baking Tray
Ingredients:
6oz Self raising flour 
4oz Unsalted butter
2oz Caster sugar
Green ready to roll icing
Dr Oetker designer icing 
Fun cake sprinkles

Short Bread Recipe 
Start by weighing the caster sugar followed by flour then finally the butter, this will prevent the other ingredients from sticking to the bowl.


Start mixing all of the ingredients inside the large mixing bowl. I'd recommend using your hands, as it will be easier to combine the ingredients; continue to do this until it resembles a large firm ball.

You can now transfer the dough onto a flat surface for rolling.
Begin to  roll out the dough to the desired thickness insuring it's all the same throughout otherwise thinner areas will cook quicker than the thicker parts causing them to burn and cook uneven.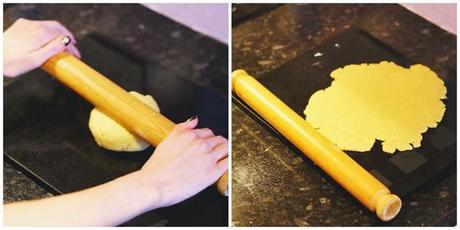 You can now begin drawing the shape onto the dough. Place the stencil onto the dough and carefully cut around the shape using a sharp knife, when creating more shapes keep them as close together as possible so you can get as many shapes as possible out of the rolled out dough.

When transferring the shapes to the baking tray, pull and cut away the excess dough and carefully transfer the shape onto the baking tray using a spatula. Be careful if not using a cookie cutter as the shape might change using a spatula.
Once on the baking tray, you can neaten the edges using your fingers.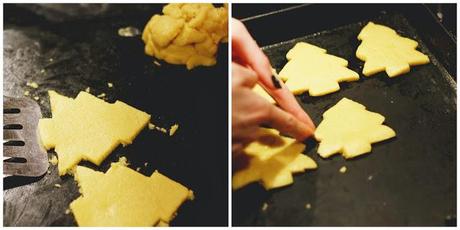 kneed the excess cuts back together into a ball and repeat the above steps until as much of the dough is used as possible.
Preheat your oven to 180C. Sprinkle your short bread shapes with some caster sugar then transfer your baking tray to the middle shelf and cook for approx. 15-20 minutes. Check on the shortbread after 15 minutes and remove them from the oven when they appear to be a light golden brown colour, if they appear a darker brown then they are beginning to burn.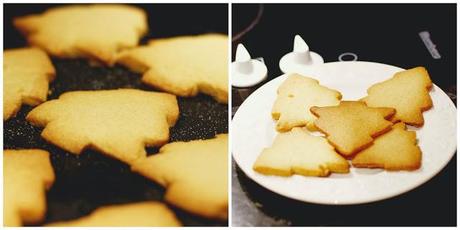 Once you have taken the short bread out of the oven, carefully transfer the shortbread onto a cooling rack or plate and leave them to cool throughout until completely cold.
Decorating your shortbread shapes:
Sprinkle a clean work area with caster sugar ideally icing sugar to stop the icing sticking.
Take your green ready to roll icing and using the same technique, roll out and cut round the same stencil you used to cut the dough. I chose to cut the base off the stencil however this is optional.

After cutting out each shape carefully transfer onto the shortbread shapes, positioning them centrally and carefully push around the edges to get the desired fit.

Proceed to do this until each of the short bread shapes are covered.
You can now begin decorating each of the short bread shapes using a combination of decorative icing and sprinkles.
For my shapes I used a plain nozzle which came with the designer icing by Dr Oetker to create my tinsel decoration.
Holding the tip of the nozzle close to the short bread gradually squeeze the icing container and slowly move your hand to create the desired pattern, moving too quickly can cause the icing to stretch resulting in undesirable patterns.

To create my baubles I used pink and white sprinkle balls carefully pressed into the icing evenly.
Once decorated place your shortbread shapes into a fridge to set.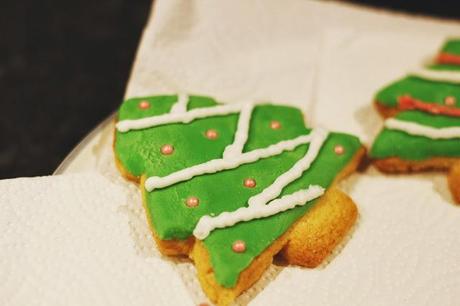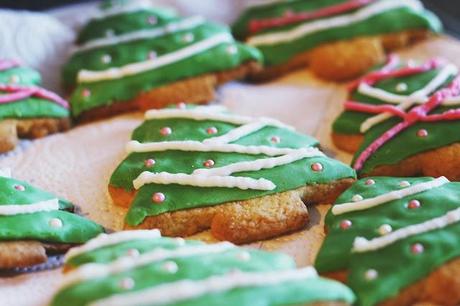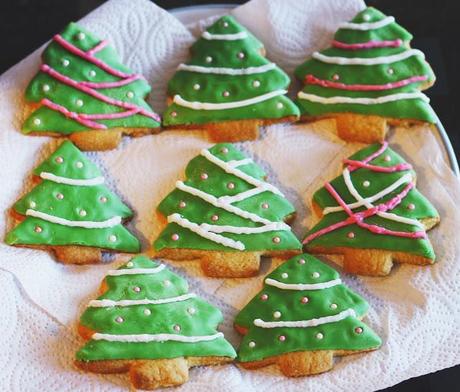 I know I'm not the best at cake decorating at the moment but practice makes perfect :) I really enjoyed making the short bread and I can't wait to share lots more recipes and tutorials with you this Christmas :)
 Thanks so much for reading!