They're boxes and boxes of Christmas tree decorations adorning your floor. The carols are playing in the background as you unpack your endless collection of colorful ornaments, ribbons and, of course, the tree topper. You're ready to take on the task of decorating your Christmas tree! For the past few years, I've very happily taken on the role of decorating the tree myself and I have the most enjoyable few hours seeing the progression of my work. Every year it seems that I've added more and more to my collection of growing ornaments. For me (and I'm sure for some of you), the biggest challenge of decorating a Christmas tree is to string those lights around it! Everyone has their own way of doing this. I seem to always be re-arranging them and still it isn't always perfectly symmetrical. The best way to string the lights is to run them up from the trunk and back down toward the trunk on each branch. When the lights are near the center of the tree as well as on the edges, it gives your tree depth. Everyone loves a well-lit tree, because it's so shimmery and bright.
Once the lights are strung, you're ready to begin hanging the ornaments and other accessories onto the tree. How do you envision your tree looking? You can choose one color or a combination of colors. Make sure that most of the ornaments are in the colors that you have chosen as a theme. A designer's tip: let the paint colors on your walls determine the choice of colors for your tree.
Consider using ornaments in a variety of shapes and sizes. Besides the classic round balls, you can use icicles or stars. There are so many varieties for you to choose from. By using different types of ornaments, you're giving the tree added depth while using fewer ornaments. Huge ornaments are great for hiding bare spots in your tree. Just don't use too many of them, as this will overwhelm the tree. Add a finishing touch with ribbon garlands, feathers, or sparkly branches in a spiral pattern. This will enhance the look of the tree, add color, and hide those bare spots.
Once you've decorated the tree branches, don't forget the skirt and tree topper, which are important finishing touches! A classic tree topper is a star or an angel. If you'd like to try something new and different this year, try a giant bow ribbon. For the base of the tree, use a traditional skirt or some pieces of leftover fabric sewn together. Just make sure whatever topper and skirt you choose ties in with theme of your tree.
For this post, I've put together a small collection of trees that I like. I'm a borderline minimalist, so I like a Christmas tree that is fairly simple in its design; it shouldn't distract too much from its surroundings.
How beautiful is this silver-themed tree? It enhances the room so beautifully. I love that fur tree skirt.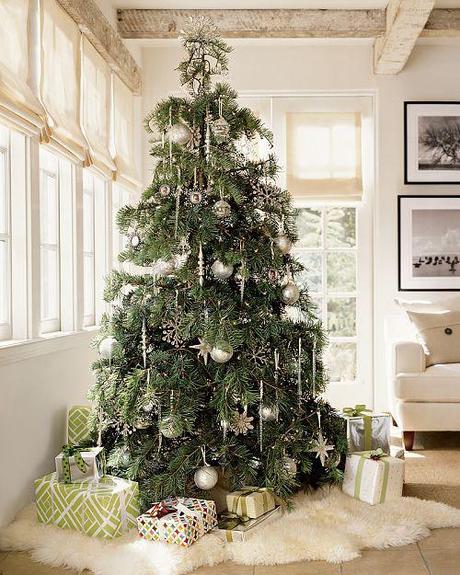 Via:
This gold-themed tree is just spectacular! It has a big bow ribbon for the topper using the matching ribbon.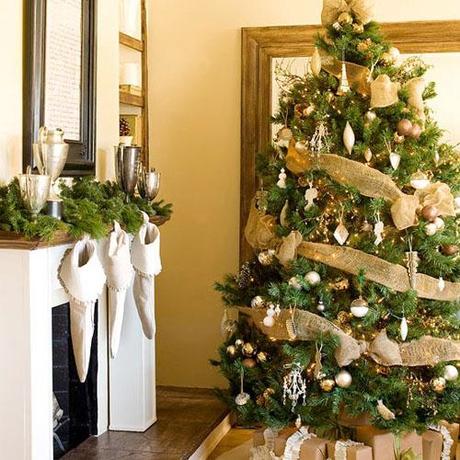 Try a color scheme that's totally different than the traditional red and green, such as blue and silver. I see a lot of blue tree ornaments in stores these days.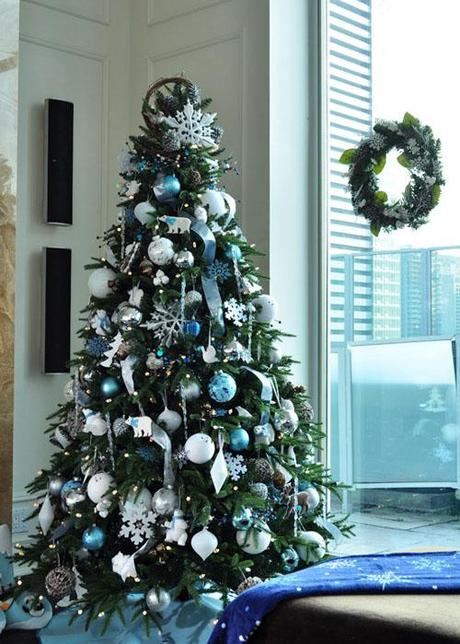 Christmas wouldn't be the same without kids and their looks of awe and anticipation. If you have kids, take them into consideration when decorating your tree. Give it a whimsical touch, using their favorite toys or stuffed animals. If they're old enough, involve them in helping you decorate. Just remember to put out a glass of milk and cookies for Santa!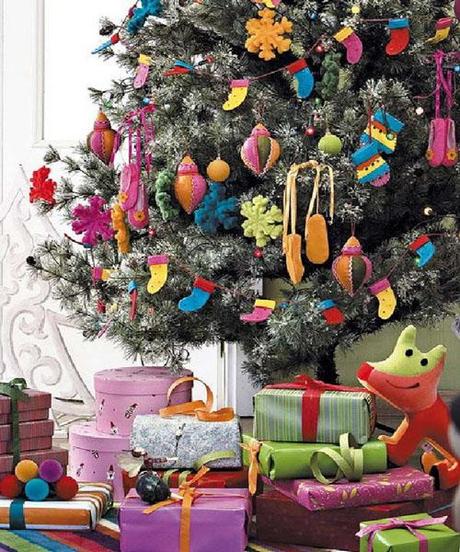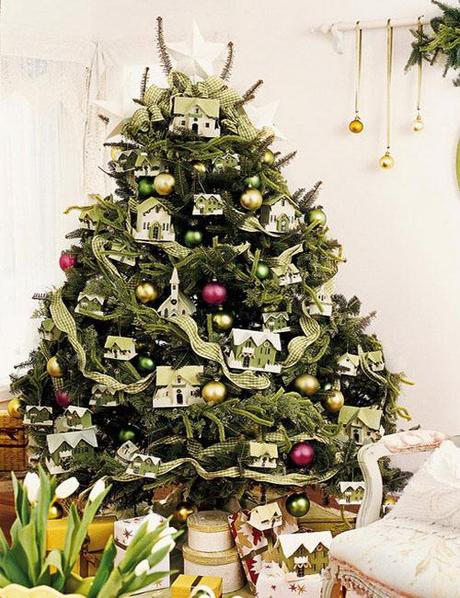 Via:
Hopefully, this post has given you some helpful ideas on how to decorate your tree this year.
I did ours this past Saturday and I think it looks fabulous. I'm still looking for a tree topper to replace our angel that broke last Christmas.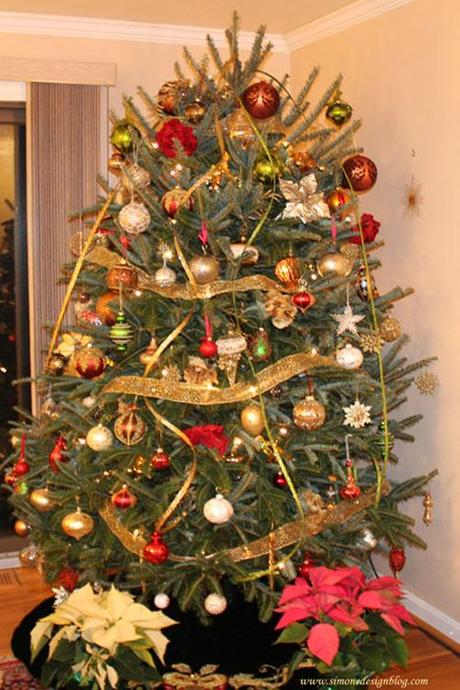 Happy Decorating!
Simone