Get creative yet healthy with fresh ideas this season. Let's see how to make Raw Christmas Cookies that look amazing, taste amazing and more importantly are totally healthy…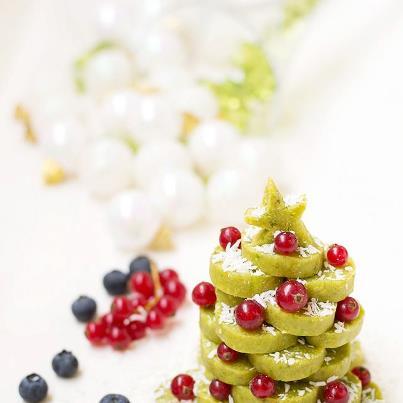 Ingredients
1 1/4 cup raw pistachios
2 tablespoon coconut flakes
1/3 cup melted coconut oil
1/3 cup honey or agave
1/4 teaspoon salt
Preparation
1. Clean the pistachios from their outer shell and blend them into flour.
2. Mix everything in a big bowl using a spatula.
3. Roll into a salami form using some plastic foil and put in the fridge for 24 hours.
4. Using a sharp knife cut into small cookies. If you have some small cookie cutters you can also shape them differently.
5. Serve garnished with coconut flakes and fresh fruits.
Thanks to Nadia Petrova via A New Earth
Happy Holidays!