Have you been feeling the cool breeze of Christmas early in the morning already in your locality? The smell of near-Christmas blossoms and sweet-smelling pine trees in some areas have really reminded us that the most awaited season that kids and adults are looking forward to. Christmas is really indeed approaching.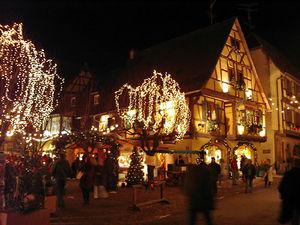 Image via Wikipedia
And speaking of Christmas, wouldn't this be the great time to plan ahead how would you spend it? You might have taken the option to stay at home with your family and friends and have quality time together; but that would be too typical. If you want to some chances to do something extraordinary for a special occasion like Christmas, you are recommended to take your family with you and travel abroad. For a destination, you might want to go to French-speaking countries. Who knows, perhaps you will also find it interesting to learn French as well.
Going to countries where French language is widely spoken does not only guarantee you of a perfect holiday destination but a "once-in-a-lifetime" opportunity to learn a new language. Perhaps French is not really the kind of language that you are dying to learn. It may not also be the language of your interests. But since this language is widely spoken in prominent European places like Paris, Lyon, Montpellier, and Switzerland, taking this opportunity to acquire the language makes it a suitable option to take. You can even choose their language schools if you really want to.
Paris, Lyon, Montpellier, and Switzerland are few of the many places where French is used as a native language. Other places also include Antibes, Nice, and Biarritz. Aren't these places interesting to you? If you love to travel especially to European vicinities then surely you would love to come here particularly on Holiday seasons. During this time, you will not only get the chance to enjoy Christmas in a new ambiance but it will also give you lots of beautiful sceneries and tourist spots that you will love to witness.
Besides, when you learn French, even if you don't necessarily have to take it too seriously, it will also be very useful when you stay in these places during vacation. You see, when you at least learn basic French sentences and phrases to the people in there, when they find out that you are a tourist, they will greatly appreciate that you bridge the language barriers. Yes, yes; some people in there speak English, but since you will be staying in a French-speaking place, wouldn't it be appreciating if you speak the language of the people there?
So don't hesitate the opportunity. This Holiday Season, grab the chance to make it a Christmas so dearly spent without being stingy. It's you and you're family that will enjoy, right? It will only happen once a year; take them to a wonderful learning during holidays.