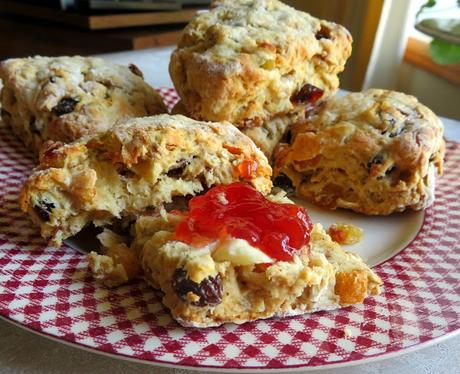 I adapted todays recipe for Christmas Oat Scones from one I found in a cookbook of my sister's that her youngest son gave to her. It is called the Irish Cooking Bible.  It has some really good recipes in it.
So many that I decided to get a copy for myself. I know. But nobody can accuse me of having too  many cookbooks now. The recipes all looked really great in it. These scones were the very first recipe in the book!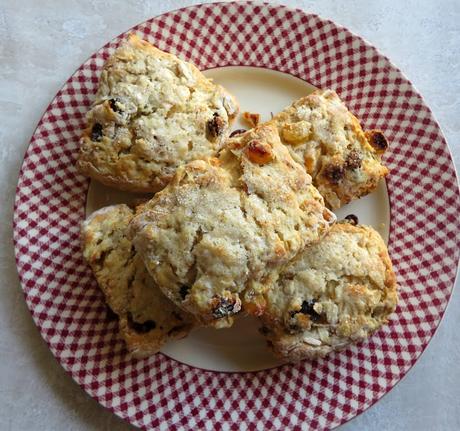 They were called Irish Oat Scones.  They are filled with oats and raisins.  The recipe said that it made 30 scones, but I can tell you, if it made that many they would be very tiny scones.
I made ten. I also decided to amp them up a bit for the holidays.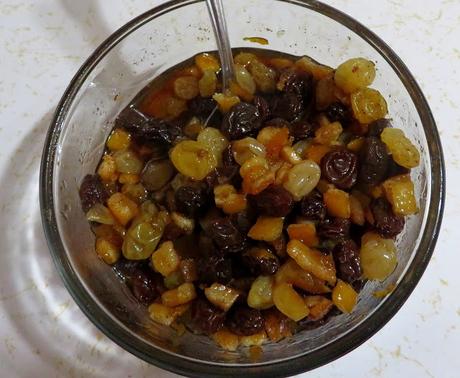 Earlier this week I had made some Quick Mincemeat following a recipe I found on
David Lebovitz
. It looked fairly simple and I was wanting to make some mincemeat tarts for Christmas and was worried I couldn't find suet to make my own mincemeat.
It didn't use suet.  I made it but it is not really the same as regular mincemeat. This wouldn't make good tarts. I think it could really only be used as an addition to other things, like a fruit crumble.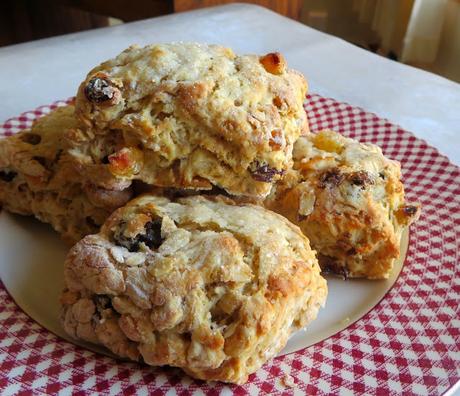 I also felt however, that it would work well insead of the raisins asked for in these scones.  I decided it would add a really festive touch to them.  
I was totally right! 
It worked perfectly in them.  It is a tiny bit spicy and filled with dried vine fruits and candied peel and . . .  umm . . .  brandy.  A bit naughty, but it cooks out.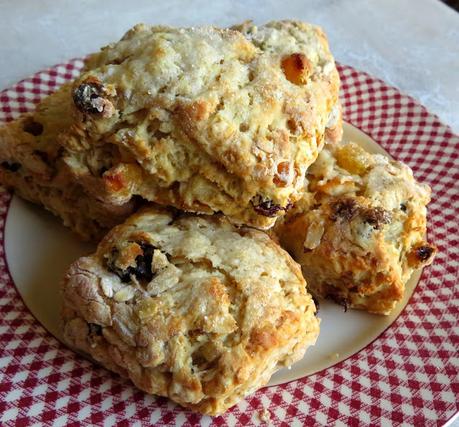 David's Quick Mincemeat is not saucy like ordinary mincemeat, which is why it works well. It is basically dried fruit marinated in brandy and some spices..
DO NOT try to use regular mincemeat in this. I don't think it would work very well at all. If you are wanting festive flavours, plump up the equivalent of dried fruit in some orange juice with some cinnamon, nutmeg and cloves, and then drain it before adding it to the scone mixture.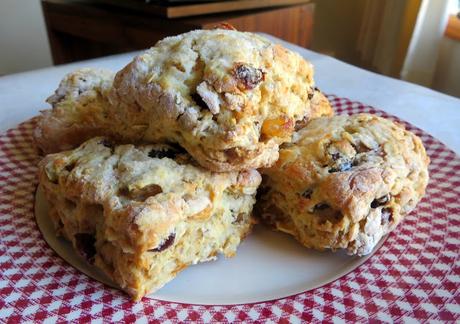 You only need one cup of dried fruit, so I would use 3/4 cup of raisins (Golden and regular) and then measure out 1/8 cup dried currants and 1/8 cup chopped candied peel.
I think those proportions would work well.  I would use 1/2 tsp cinnamon and 1/4 tsp each ground cloves and  nutmeg. You could also add some grated orange zest.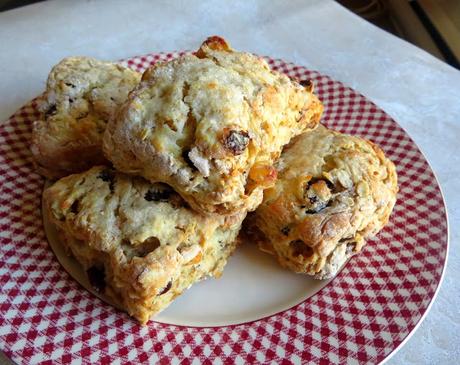 These are wholesome and hearty because of the oats. I love oats in baked goods.
Do use the old fashioned oats if possible. I think quick oats would not be very suitable and you would get somewhat mixed results.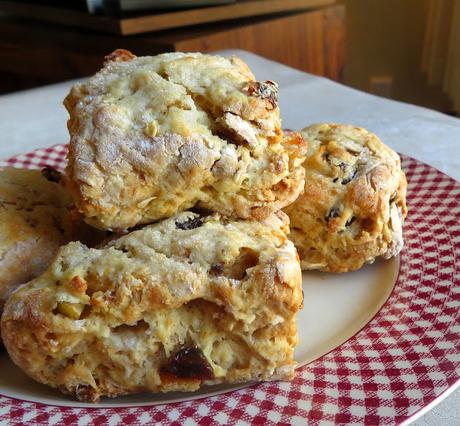 Again, the biggest challenge I had with these was photographing them. I found myself running around the house like a blue arsed fly trying to find the right spot.
I finally dug out a TV Tray from downstairs and set them up on there. I then carried the tray all over trying to find the right space.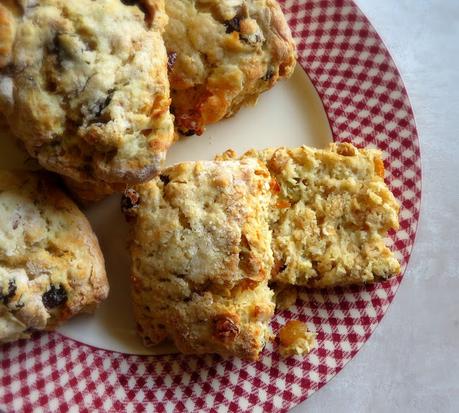 Its not just space either. It is also finding the right time when the light is at its best. I could buy a light box, but then where would I set it up?  
I don't know.  Its all a matter of guess work at the moment.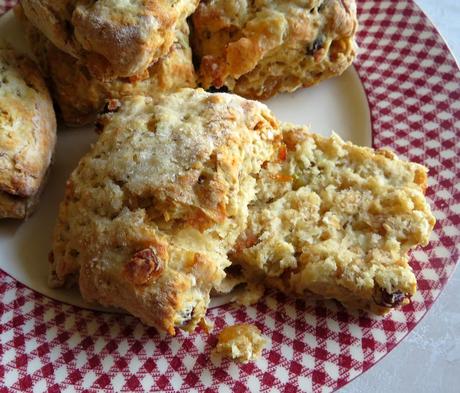 Just look at the beautiful texture of the scones.  Perfect.  
My sister and I had a discussion on the differences between scones and biscuits.  Scones are definitely denser than biscuits and not quite as light.  Of course the oats in these makes them even heartier.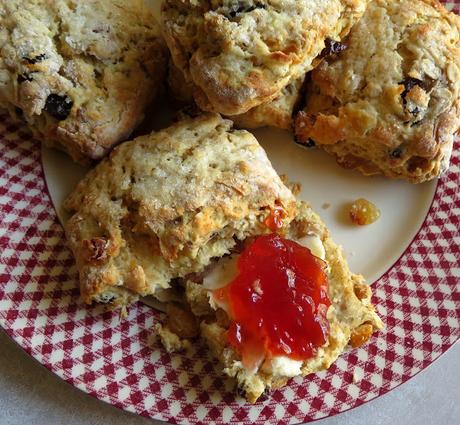 I love this plate of my sisters. It is one of her Yard Sale Finds.  She sells this stuff on her IG page. The pattern for this is "Check" by J & G Meaken of England.
I might ask her if I can buy them.  She has two of them. I really like them and they go well with things like this.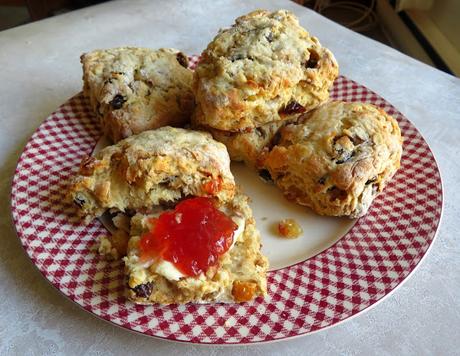 They very much have a "country" feel to them, which I am quite fond of. I love anything rustic and countri-fied.
I used to buy Country Living magazine many years ago and really loved the primitive style of furniture and decor that they shared with their readers.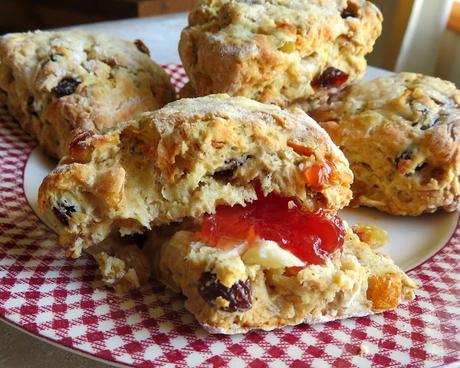 That's where I first got acquainted with Susan Branch and her artwork.  She used to do an illustrated recipe in the magazine each month. 
I fell in love with them.  The artist in me thought they were just precious. I had a huge collection of the magazine at one time, but they all got destroyed in a move.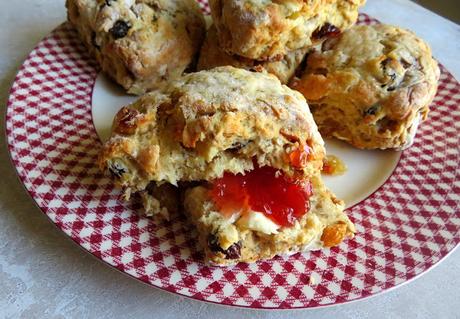 In any case I hope you will be inspired to want to make these scones.  They were really good.  I served the with butter and jam. I had no cream, but cream would be fabulous as would hot cups of whatever you like to drink at teatime.
Do try the festive version, and if you don't like that, then just use raisins.  They will be enjoyed either way I expect!  Not fond of raisins? Why not use chopped dates or apricots?  Both would work very well.  Enjoy!
Christmas Oat Scones
Print
Yield:
10
Author:
Marie Rayner
prep time: 10 Min
cook time: 15 Min
total time: 25 Min
Hearty, delicious and very festive!
Ingredients
2 cups (280g) all purpose flour
2 tsp baking powder
1/2 tsp baking soda
1/4 tp salt
1 cup (80g) old fashioned oats
1/2 cup (120g) cold butter, cut into cubes
1 cup (150g) raisins (I used David Leibowitz's quick mincemeat)
1 cup (240ml) butter milk
buttermilk and granulated sugar to brush
Instructions
Preheat the oven to 225*C/425*F/ gas mark 6.  Line a baking tray with some baking paper.
Sift the flour, soda, baking powder and salt into a bowl. Stir in the oats.  Drop in the butter and cut it in with two round bladed knives or a pastry blender until the mixture resembles coarse meal.
Stir in the raisins or mincemeat.
Stir in the buttermilk to make a soft dough. Knead gently a few times to bring it all together.
Tip out onto a lightly floured surface and pat out to a rectangle about 12 by 10 inches in side.
Using a sharp knife, cut into 10 squares.
Place onto the baking sheet, leaving space between each.  Brush each with a bit of buttermilk and sprinkle with some sugar.
Bake for 15 minutes, until risen and golden brown.  Remove to a wire rack to cool slightly.
Serve warm with butter and jam.
Did you make this recipe?
Tag @marierayner5530 on instagram and hashtag it #EnglishKitchenCreated using
The Recipes Generator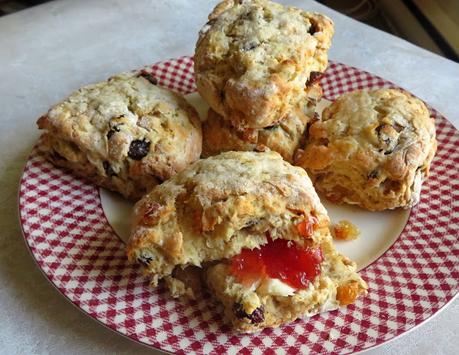 This content (written and photography) is the sole property of The English Kitchen. Any reposting or misuse is not permitted. If you are reading this elsewhere, please know that it is stolen content and you may report it to me at: mariealicejoan at aol dot com Thanks so much for visiting. Do come again!