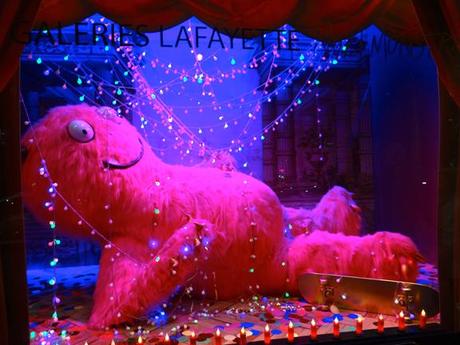 Today is the start of my annual Christmas in Paris series, where I highlight all the great holiday windows and attractions around the city.
This year Galeries Lafayette has the most adorable holiday windows I've seen in a long time. The theme is Monsters, but they aren't the scary ones, they are bright colored, cuddly, friendly creatures. Gustave is the main monster, a lovable furry hot pink creature along with his female companion Gaga who has big eyelashes and delicate white gloves. A live version of Gustave will be greeting kids and adults in the store and making mischief. In fact he got into trouble when he turned the Christmas tree in the middle of the store upside down. The monsters also put on a live show along with dancers, acrobats, and comedians throughout the day on Wednesday, Thursday, and Saturday till November 22 on the first, second, and fifth floor.
For fashion monsters, Fendi has installed a pop up boutique with an exclusive Christmas collection of handbags, leather goods, and shoes. The hungry monsters can munch away on a special éclair with googly eyes created by pastry chef Christophe Adam from L'éclair de Genie.  
Galeries Lafayette
40 Blvd. Haussmann, 75009
Metro: Chausee-d'Antin
Open 9:30AM to 8PM Monday to Saturday, Sunday December 7, 14, and 21
Holiday windows are up till January 4, 2015  
http://www.galerieslafayette.com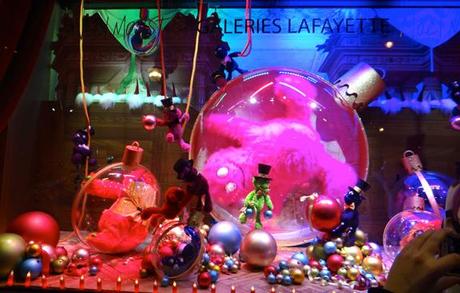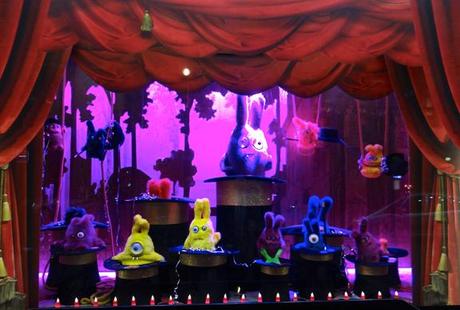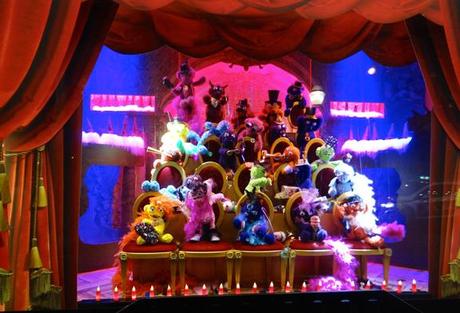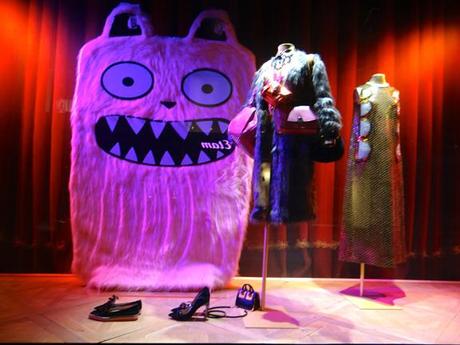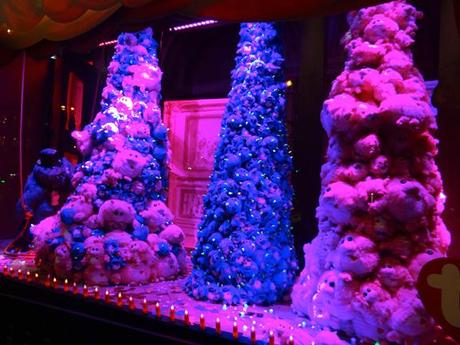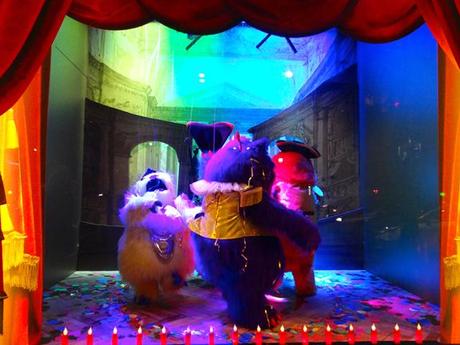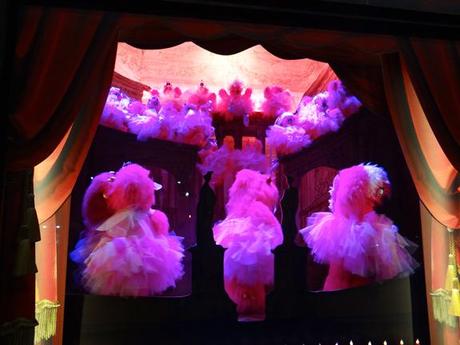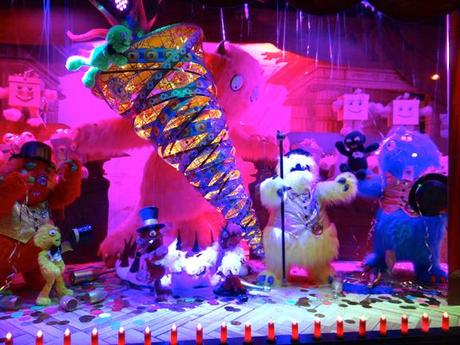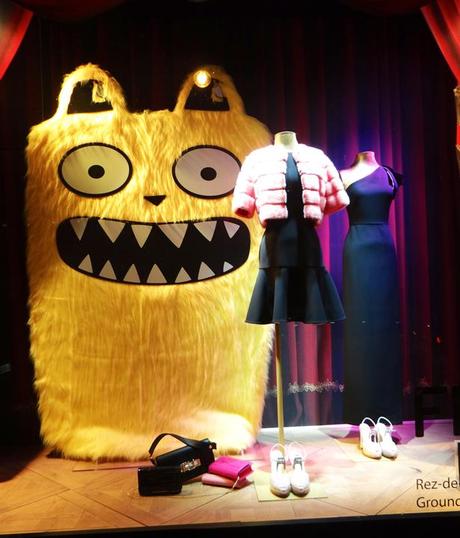 Christmas/Holiday Tour of Paris for 2014

Paris is magical during the holidays and I am happy to announce a special Christmas/Holiday Tour of Paris for 2014. Clients will experience the marvelous shop windows, gleaming outdoor lights, beautifully decorated trees, and festive Christmas markets. The tour includes a visit to Galeries Lafayette and Printemps department stores, the Champs Elysees Holiday market, the yummy gourmet shops Fauchon and Hediard on Place Madeleine overflowing with delicious holiday goodies, and the rue St. Honoré, with designer shops Hermes and Lanvin. To warm up, we stop for an authentic hot chocolate at one of the top Paris chocolate shops.
Tour times 10AM-1PM or 2PM-5PM
Cost: 225 euros for 1-3 people, 75 euros each additional person. Hot chocolate is not included in price. Click here to book the tour or for more information.
Tours will be conducted everyday from December 20, 2014 to January 5, 2015 except on Christmas and New Years Day.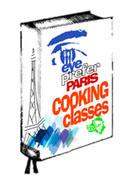 New! Eye Prefer Paris Cooking Classes
I am happy to announce the launch of Eye Prefer Paris Cooking Classes. Come take an ethnic culinary journey with me and chef and caterer Charlotte Puckette, co-author of the bestseller The Ethnic Paris Cookbook (with Olivia Kiang-Snaije). First we will shop at a Paris green-market for the freshest ingredients and then return to Charlotte's professional kitchen near the Eiffel Tower to cook a three-course lunch. After, we will indulge in the delicious feast we prepared along with hand-selected wines.
Cost: 185 euros per person (about $240)
Time: 9:30AM- 2PM (approximately 4 1/2 hours)
Location: We will meet by a metro station close to the market
Class days: Tuesday,Wednesday, Thursday,Friday, Saturday, and Sunday
Minimum of 2 students, maximum 6 students.
Click here to sign up for the next class or for more info.
 

I am pleased as punch to announce the launch of Eye Prefer Paris Tours, which are 3-hour walking tours I will personally be leading. The Eye Prefer Paris Tour includes many of the places I have written about such as small museums & galleries, restaurants, cafes & food markets, secret addresses, fashion & home boutiques, parks, and much more.
Tours cost 210 euros for up to 3 people, and 70 euros for each additional person. I look forward to meeting you on my tours and it will be my pleasure and delight to show you my insiders Paris.
 Check it out at www.eyepreferparistours.com 
Click here to watch a video of our famous Marais tour