Holidays are the worst. Honestly.
Its hard to return home to spend time with our folks specially when you have to work between Christmas and New Years and staying away from home is a mess- emotionally. This becomes even harder if you are a Christmas junkie like me.
Hailing from a family of mixed faiths, Christmas was the greatest joy every year brought. Even more than my birthday. My grandfather- whom I generally spent every holiday with, hatched elaborate plans with me and we got cake, we mummified the entire house with fairy lights and the entire day was spent cooking the most delicious spread to be feasted upon. Both my grandparents have been wonderful cooks all their lives and my childhood was spent admiring their cooking.
After an afternoon of gorging till our bellies burst, we fell into a deep Bong slumber- something that should never be messed with. The evenings generally meant guests coming over, cutting the cake that we woefully kept eyeing the entire day and cheering into the festive spirit.
When my grandfather died, naturally, the joy of Christmas slightly turned sour for a new years till I decided to bring back the lost glory once again. Thus began a tradition of me cooking fusion roasts, Anglo- Indian spreads and loads of desserts for lunch. We would mostly go out in the evenings or end the day low key, around near and dear ones.
This year however, I ended up being completely alone and although its not the first time. I have spent a few Christmas alone in Delhi too but with friends by my side the impact wasn't as hard. Completely at a loss for activities to fill me emotionally, I headed out on Christmas eve to enjoy a day by myself. I picked out one of the oldest joints in the city to have a rustic Irani meal.
Followed by that, I sat at Starbucks sipping some hot cocoa and staring at people of all sorts- the lovestruck kind, the nearly dating ones, the friends and loads of families. The day ended with some fiery Naga cuisine.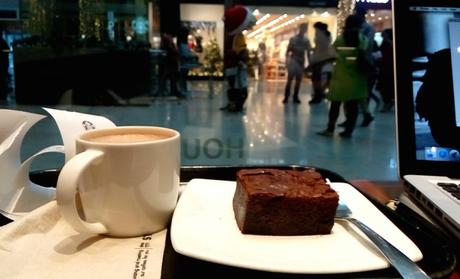 The next day I was at an all time low. My spirits were completely dampened and I didn't feel up for anything at all. I really began to miss home and it is at this point that one should make some plans with friends, catch up for lunch/ dinner, get some wine and do anything but don't stay at home. Unless you want to stay at home.
Christmas is a festival that is best enjoyed by being around family and I know it gets incredibly hard but don't cave in. You deserve to be happy on this day!