There is nothing more fun at Christmas time than creating magical worlds out of candy! I love the simplicity and the charm of candy topiary trees. Who wouldn't love a project that starts with a table filled with candy?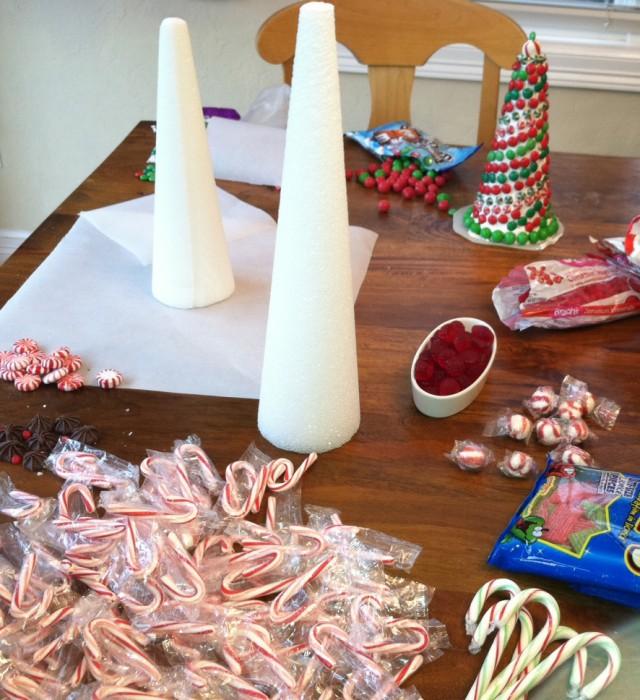 To make the trees purchase foam forms at your local craft store, collect some of your favorite candy, and whip up some Royal Icing. I like to choose candy that has a cohesive color theme to tie the trees together.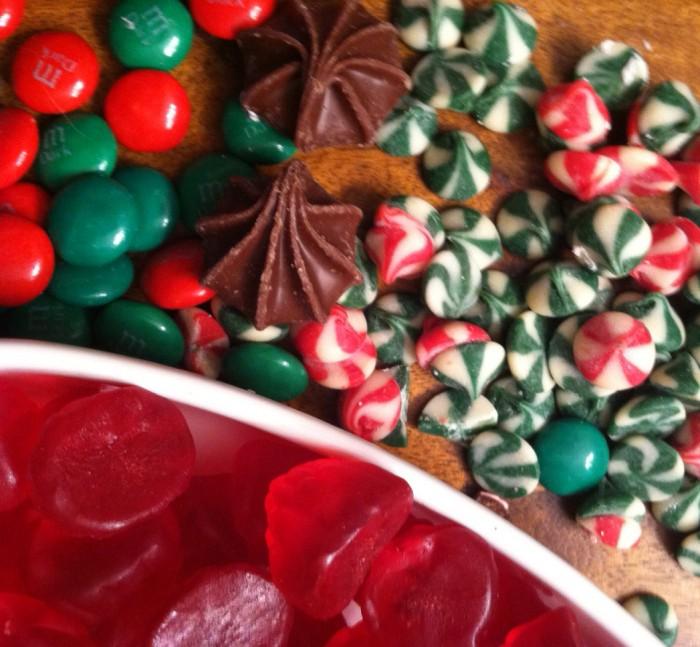 Then mix up a batch of Royal Icing. I will list out the ingredients for you here but to see the secret to creating icing that will prevent the candy from sliding down the tree watch the video!
Royal Icing
3 egg whites (at room temperature in the mixing bowl)
4 cups of powdered sugar
1/4 teaspoon Cream of Tartar (I accidentally say Arrowroot in the video! Don't use that!)
Start with the egg whites in the bowl at room temperature. Begin mixing slowly to incorporate the powdered sugar and Cream of Tartar. Once the dry ingredients are fully incorporated then beat for 8 to 10 minutes until the frosting is extremely stiff!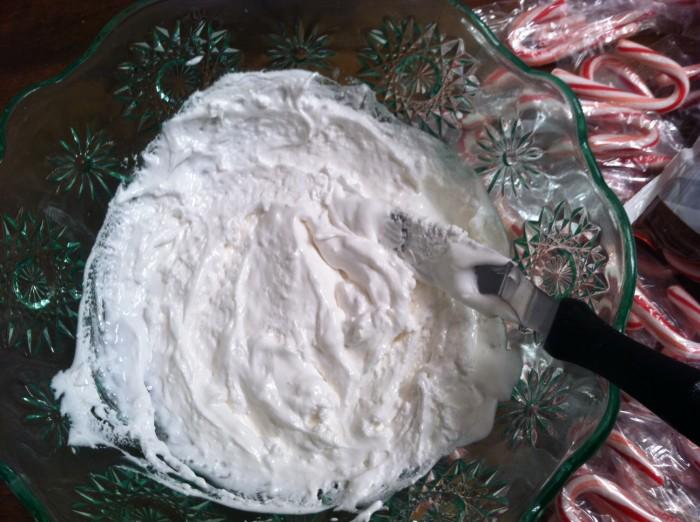 I like to lay the patterns for the candy out on the table before covering the tree – easier to rearrange! Parchment paper is a great table cover for this project.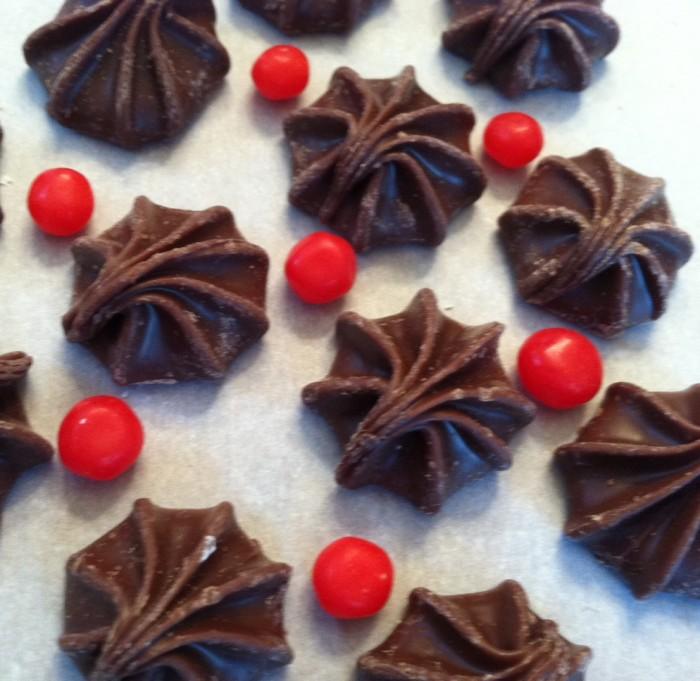 Laying out the pattern in advance makes table to tree an easy transition.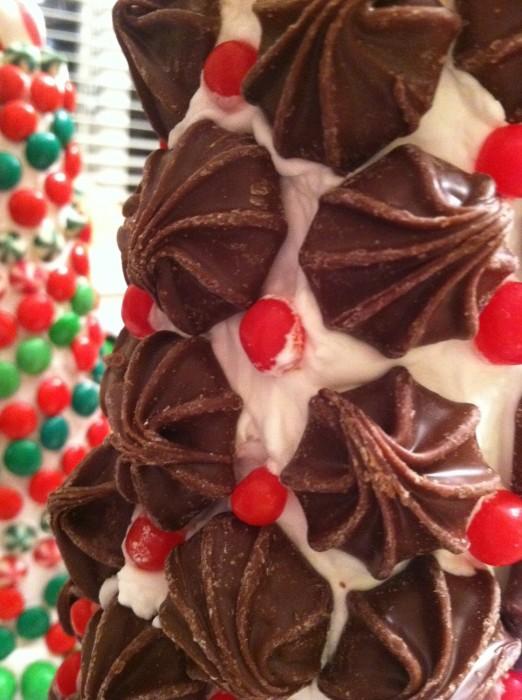 As a final touch I like to add tree toppers to the otherwise flat foam forms as well as a decorative rim around the top.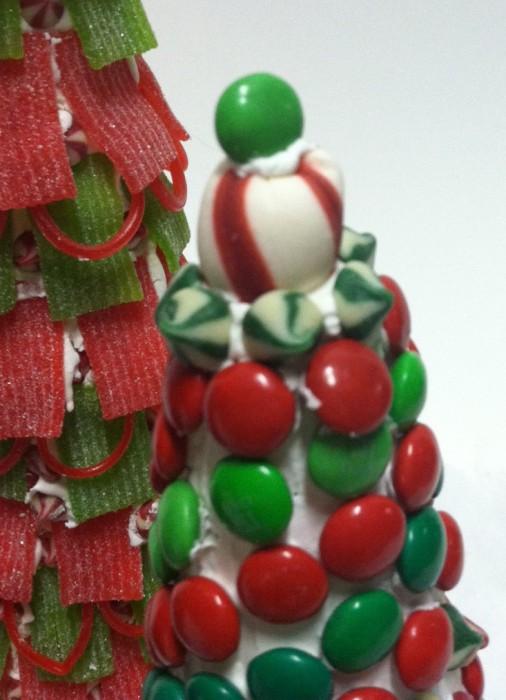 Using more than one kind of candy to build your tree topper helps them really stand out!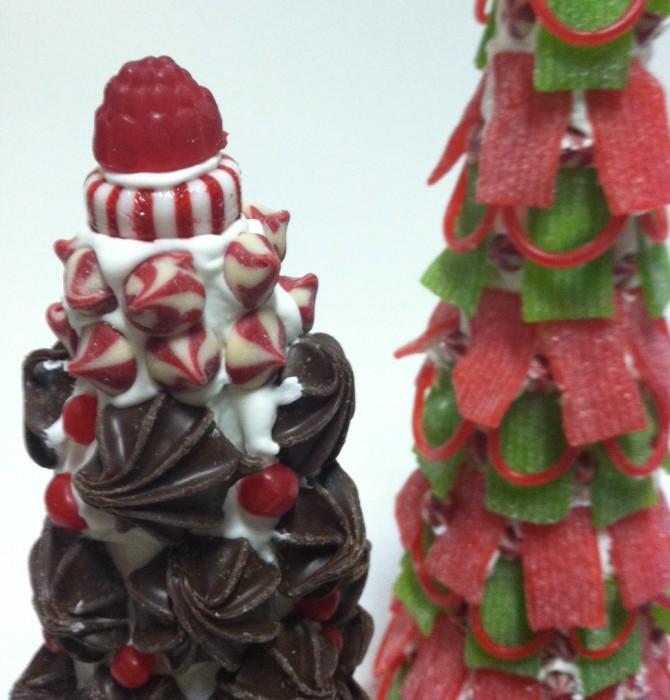 These trees are made with holiday M&M's (both regular and pretzel), holiday chocolate chips, Twizzlers, gumdrops, Brach's chocolate stars, red hots, Brach's peppermints,  and sweet and sour squares (the red and green came mixed together in one bag and it took two bags to cover the 14″ tree)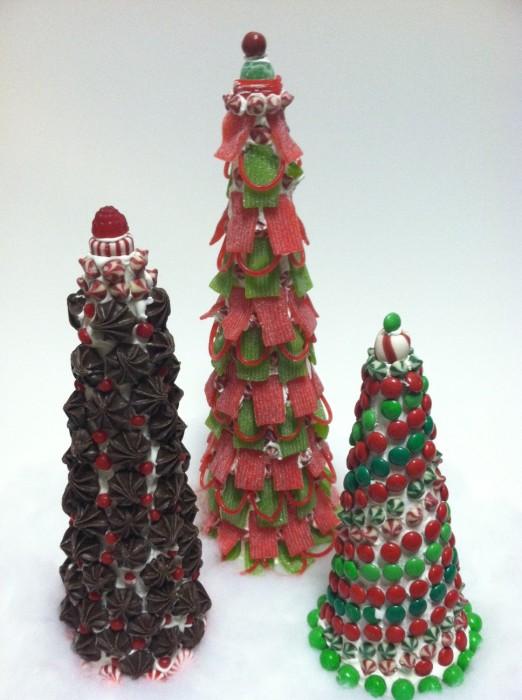 I use these trees as centerpieces, in groupings with gingerbread houses (check back next week!) and as gifts. They are much faster to make than a gingerbread house and just different enough that they stand out.
Happy frosting!