This year we celebrated Christmas a day early.  We were getting picked up for the airport at 2:30 Monday morning, so Brandon and I decided that we would have a much better Christmas if it didn't finish with furious packing.  Thankfully Christmas was on Sunday this year which made a Saturday Christmas very easy.
I decided this year (with Brandon's encouragement) to not cook anything on Christmas day.  I've tried through the years to recreate my childhood Christmas dinners with candlelight and lovely table arrangements and beautiful music.  Our dinners have usually ended much too late and the children are hastily shoved into bed so I can do the dishes.  I'm not sure how my mom did it, but I finally realized that I'm not my mother.
So we had a nice Christmas Eve dinner instead.  I spent all Christmas Eve (eve) cooking sweet potatoes and pecan pie and rolls and mashed potatoes and ham (yes, ham!  Just don't ask me how much it cost to get it) and croissant breakfast ring for the next day.  The children had a great time playing and happily anticipating the next day.  I listened to Christmas music and looked forward to not cooking the next day.  By the time Brandon walked in the door around five, the house was clean, table set, and kitchen floor swept.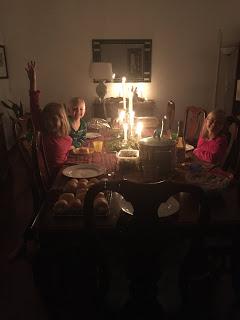 The children all enjoyed their ham (Mom, this tastes just like bacon!), we had a nice devotional, and everyone was in bed by seven.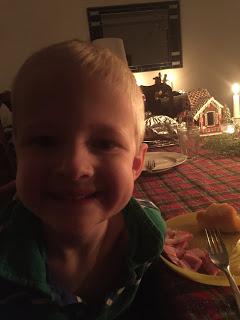 The next morning everyone enjoyed breakfast and stockings and presents and I enjoyed sitting around and reading my book while eating candy.  The children read their books and played with their toys (legos) and ate their candy and we all had a perfectly lazy Christmas day.  It was wonderful.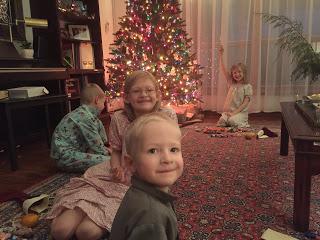 We finished off the day with Harry Potter (the children received all eight movies this year) and snacks for dinner.  I fell asleep around eight and Brandon sent me to bed and finished off the movie with the children.  Everyone agreed it was a great Christmas.  Even if it was a day early.