The last week of school was dicey to say the least.  Jayden's teacher let us know that they have been learning about a different country every day in class & when it was time to do the days lesson on China Jayden was not happy!  He wanted to learn about Japan, he LOVES Japan!  Needless to say it didn't go over well.  One outburst & a tipped over chair later he was on his way down to his cool down room! (The special needs teacher's class) Later the same day he was tasked with a math paper that was just addition & subtraction, basically busy work for the last couple of days before holiday break.  According to the teacher he let her know that he didn't want to do this work because this was the kind of math he did in 1st & 2nd grade!  Okay, that was kind of funny but when she told me he scribbled all over the paper it stopped being funny. It REALLY stopped being funny when she told me that after sending him to the special needs class to chill out with a second copy of the same paper he ripped it up! This was with out a doubt one of those moments where I didn't really know what to do.  When I talked to him about it he wasn't worried to tell me about most of it at all because to him it was ridiculous that he had to do math that he already knew how to do from previous years in school.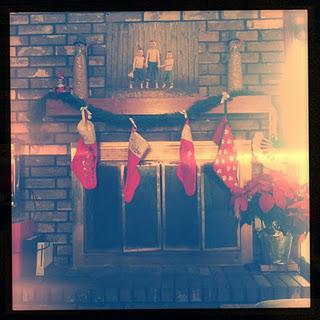 Our Fireplace
   On a bit of a happier note we are chopping at the bit for Christmas to get here, my wife & I couldn't help ourselves from letting the kids open one early gift this morning. It would be easier to wait if they weren't so damn cute!  Last night when Jayden opened his gift from his grandmother he went to her after & told her 'Thanks for the Mad Scientist Lab! I really like it, it's what I wanted forever!" I can't help but break myself spoiling these kids! Granted last week when they were screaming, fighting, & school was calling I just wanted to crawl into a hold & never come out! I'm sure I'm not the only one who feels like that day to day, one day it's "Maybe I'll just drive away & never return, I'm sure they will turn out alright!"(
but not really)
and the next day it's "Wow! I have the sweetest little angels in the world, it really is all worth it!!" Today is a "it's all worth it!" day. Kids are helping mom make cookies, Elf on the Shelf is playing on DVR, all our shopping is done! I hope you all have a great holiday!