I have a long and troubled history with Christmas.  Well not technically with Christmas - I love Christmas, I love the sweets, I love decorating, I love listening to Bing Crosby until I don't want to hear him for another year, I even enjoy the holiday parties.  But Christmas dinner is something else.
One of my favorite memories of Christmas is sitting around all morning, watching a movie, and then gathering in the kitchen to cook a delicious dinner that was enjoyed over candle light with enough Martinellis for everyone to drink their own bottle.  Those three things defined Christmas (the secular part) for me: lazy morning, a movie, and tasty dinner.
Then I got married.  My first Christmas with Brandon was on our way back from Cairo to school in Utah.  I was pregnant with Kathleen and not very interested in food.  Which was fine because we were mooching off Brandon's parents so I didn't have to cook anyway.
Our second Christmas was in Utah with a small Kathleen who didn't care a fig about neglect, so we had a dinner that I don't remember much about other than it included lamb.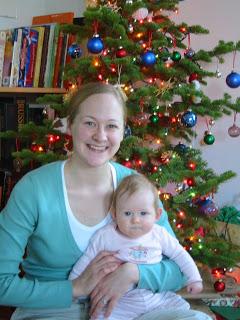 The third Christmas I bought everything for another delicious dinner and then got so caught up in lazing around reading a good book that I couldn't bring myself to cook the lamb.  Instead we had leftover Chinese food.  It was that Christmas that I realized that yes, a good dinner is an integral part of my Christmas experience.
The fourth Christmas was in Raleigh at my parents' house, ten days after Edwin was born.  Once again, I was off the hook for cooking.  There's nothing like post-partum sleep deprivation to get you out of almost anything.  We were back in Cairo for the next one, with three small children, recovering from the Thanksgiving disaster a month earlier.  I attempted to go 'easy' by making as much as possible ahead of time, but there was a little too much cooking and not nearly enough lazing around.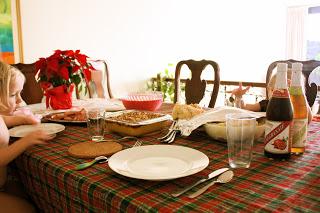 Last Christmas we were getting ready for a packout in two days and it was on a Sunday, so we had leftover lasagna.  Almost as bad as leftover Chinese takeout.  But hey, it worked for dinner two days in a row and I was postpartum (again) with nobody to mooch off.
So this Christmas I gathered all of my years of expertise and planned ahead.  I had two requirements: a tasty dinner with as little preparation as possible.  Brandon pointed out that I could have someone else cook it for me, but the truth is that food isn't nearly as tasty if I didn't cook it.  Hubris?  Probably.
So instead I just moved the preparations a day in advance and cooked food that could sit overnight without any ill effects.  Thankfully Brandon was given Monday off, so he was able to help cook beef bourgignon, bavarian creme, croissant breakfast ring, vegetable dip, a cheese ball, salsa, guacamole, and corn chips.  As we cooked and washed dishes and cooked and told the kids to watch The Grinch another time and washed some more dishes I kept telling myself that it would be worth it the next day when I got to laze around reading books and eating candy.
And you know what?  It was.  It was a perfect Christmas.