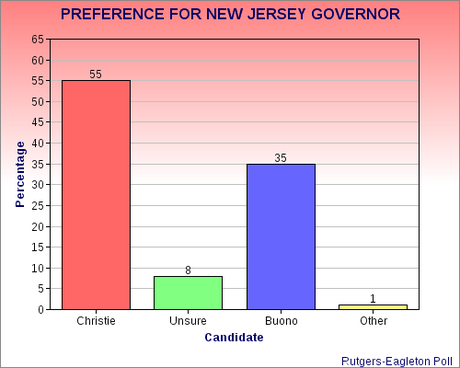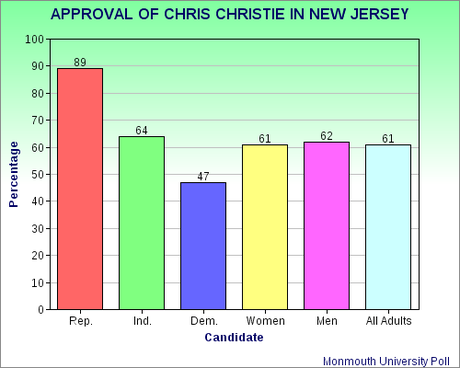 I am not a big fan of New Jersey Governor Chris Christie. He has been personified in the media as a moderate. He is not. He is a corporate-owned right-winger. He may not be as far right as the nut-jobs in the Republican Party (like Ted Cruz, Mike Lee, Rand Paul, etc.), but he is not now (and never has been) a moderate.
But like him or not, Christie still looks like he will easily win re-election in New Jersey -- a state that is normally very blue (and is set to send a Democrat to the U.S. Congress). A new Rutgers University-Eagleton Poll, conducted between September 3rd and 9th of a random sample of 925 New Jersey adults (with a margin of error of 3.4 points), shows that Christie currently has a 20 point lead over his Democratic opponent (Barbara Buono).
Christie has had this large lead for quite a while now, and it seems unlikely at this point that Buono is going to be able to make up that difference. A second poll, this one a Monmouth University Poll (conducted between September 6th and 10th of 783 New Jersey adults, with a margin of error of 3.5 points), shows why Christie is easily cruising toward re-election. He is popular with the voters, and has a very high approval rating for his job performance (a rating most other politicians would love to have). Hell, even 47% of New Jersey Democratic approve of him.
As much as I'd like to see Ms. Buono win the governorship, it just ain't gonna happen this year.