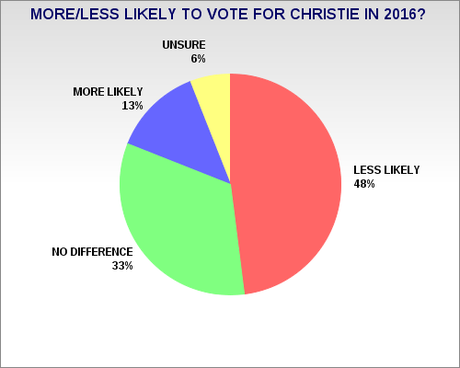 Governor Chris Christie was already having problems with a possible bid for the presidency in 2016. Republican voters in the South (and much of the West and Midwest) consider him to be an "Eastern liberal", and are still mad at him for embracing President Obama after Hurricane Sandy hit his state. Now it looks like the George Washington Bridge scandal may actually have cost him more support.
The chart above was made from information gleaned from a new Rasmussen Poll (conducted on January 9th and 10th of 1,000 likely voters nationwide, with a margin of error of 3 points). The question asked of these voters was would they be more or less likely to vote for Christie in 2016 if it was proven that his office knew about the bridge lane closings. And since if Christie admits that his Deputy Chief Aide was involved, that seems like something that has already been proven.
Nearly one half of nationwide voters (48%) say they would be less likely to vote for Christie (and another 6% aren't sure). It seems to me that this scandal has put a serious dent in his ability to get the Republican nomination, or to win a general election in 2016 (if he could somehow wrangle that nomination). And this story is far from over.
But that's not his only problem. It seems that a new scandal is rearing its ugly head. Federal officials are investigating Christie over the possible misuse of federal disaster relief funds. He used some of that money to run tourism ads for the state of New Jersey (starring himself, of course). The problem is that those funds weren't meant to be used to promote tourism -- but to help the state rebuild after Hurricane Sandy.
It's looking more and more like Christie doesn't think rules apply to him anymore, now that he is governor of a large state -- and I shudder to think how he would abuse the power of the presidency if elected.