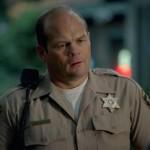 True Blood's Chris Bauer (Andy Bellefleur) will be starring alongside Keira Sedgwick (The Closer) and Edie Falco (The Sopranos) in a benefit reading of 'Columbus and Amsterdam' on August 17th.  The event, which will start at 8:00pm at East Hampton's Guild Hall, will benefit Guild Hall and The Felix Organization/Adoptees for Children.
In Columbus and Amsterdam, a chance encounter with a woman from their past inadvertently turns upside down the emotional and sexual lives of two Manhattan couples.
Tickets for the event range from $30 – $75 and can be purchased by clicking here.
The Felix Organization/Adoptees for Children enriches the lives of foster children who are growing up in the system.  It was started by former foster children who were adopted but wanted to give back to those who were not so fortunate.  For more information on this wonderful organization click here.
Source: BroadwayWorld.com – Kyra Sedgwick, Chris Bauer, and More to Star in Columbus and Amsterdam Benefit Reading
Image Credit: HBO.com