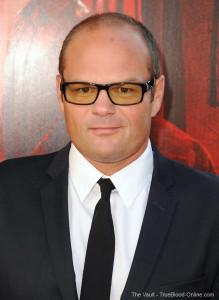 Chris Bauer is our favorite detective on True Blood, but this year he's sure having a tough time dealing with his new addition to "V".  
We feel for Andy, because we like him so much and that may be because Chris Bauer does such a fabulous job of playing him. In the recent episode when he called Jason and got his voicemail, I truly could feel the pain he was going through when he leaft Jason that message.
The Huffington Post has now interviewed Chris and we offer a portion of it and a video, below.
Fact: Chris Bauer looks — and sounds — nothing like Bon Temps' resident drunken detective, Andy Bellefleur — the troubled character he currently plays on the hit HBO series "True Blood."
And even though he may have perfectly embodied the corrupted union boss Frank Sobotka on the critically acclaimed show "The Wire," in person, Bauer comes off as much more confident, kind-hearted and stable than the deeply flawed characters he's known for playing.
In fact, Bauer is a true thespian at heart. He enjoys the challenge of playing new and interesting characters on both the stage and the small screen, and for Bauer, Andy Bellefleur was an exciting — and intriguing — challenge. Over the past four seasons, fans have watched Andy evolve from a fumbling, drunken deputy to an unlikely dark hero, who often tries to understand the twisted world of vampires, shapeshifters, werewolves, witches and fairies around him.
"Andy Bellefleur, by no means, had any particular comedic traits to begin with, but as the first and second seasons evolved and he was put into this postion to have the plausible reaction to the insanity around him, it made a lot of sense for him to have some humor," Bauer told Huffington Post Entertainment, regarding his character's dark comedic appeal.
However, in season four of "True Blood," Bon Temps' favorite deputy is struggling with a pretty serious and debilitating V addiction — and it's anything but funny. It looks like this could be officer Andy's darkest season yet.
"It's just going to get worse and worse," Bauer said. "In this season Andy has fallen into the proverbial hole, and I think he won't be able to get out unless someone gives him a hand."
And that helping hand may come from Andy's cousin Terry (Todd Lowe). Over the past three seasons, Andy and Terry have struggled to build a relationship, but somehow, as "True Blood" fans know, Terry's always there when Andy needs him the most.
source: huffingtonpost.com