To celebrate the release of the seventh and final season's home release today, Chris Bauer, (Andy Bellefleur) talks about the show's ending and legacy in an interview.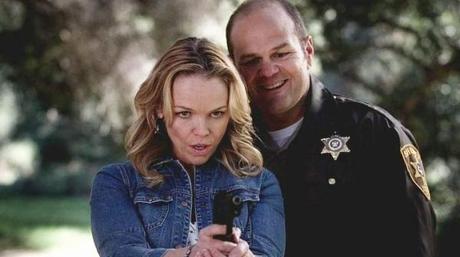 Read part of that interview below:
The right time to bow out?
"Seven years is a pretty damn good run. Eventually we had to address that this insane town must be taking its toll on the few citizens that have survived!

"In that seventh season, it was fun to have that little glimpse of plausibility leak into the plot. We had to end it after that."
Andy's transition from buffoon to hero
"I was happy because I was a content human being! I had worked for seven years with people that I grew to admire and love, and I felt that my character was able to evolve and change more so than he may have in other heavy genre-type shows. That's because I'm an actor, thank god! I might as well be a blacksmith, I have one skill, so I never let myself get distracted by the could-have-beens and what might have happened. "It's amazing to look over your shoulder as the guy who played that part and see how Andy started, without really ever having a single conversation with a writer or inferring where I'd like him to go. "I feel that the True Blood writers were very sensitive and took Andy in a direction that became more and more interesting to me. He was more human, and less of a buffoon or one-note clown about to slip on a banana peel. He became a guy who struggled to keep his world together, which I identify with."
Who is Sookie with at the end?
"I think it doesn't matter. With the benefit of time, the way the show ended, you are at least invited to consider that the best case scenario of any tale is that life goes on."
True Blood's popularity and 'Truebies'
"You can never discount how fun it was to watch True Blood. On a pop culture level, it had a lot to enjoy, it was like the candy drawer. You can put your hand in and pull out something that tastes good, no matter what. Then it had the fundamental myth, which is the struggle of life and death, and in the face of death, what do we have available to us as a consolation?

"The vampires really just challenge our humanity, in that all they have going for them is that they're never gonna die, and apparently they're phenomenal in bed! I think it's the very modern conundrum to consider that we may be willing to trade anything for those two things to be true, but the fact of the matter is nothing is more precious or valuable or familiar than our humanity. That vibe permeated throughout, which must have been something that appealed to our audience."
Read the rest of this interview with Chris at: digitalspy.com