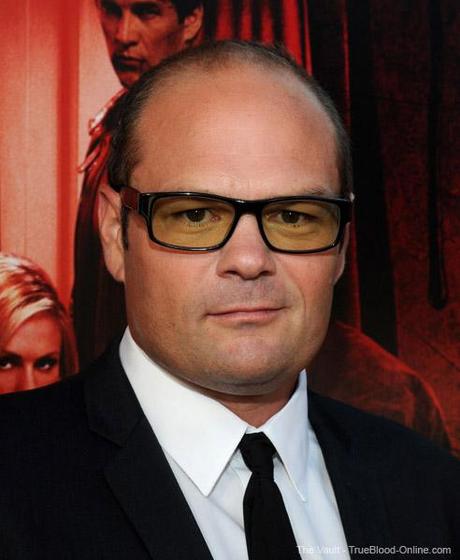 Having just done an interview with Chris Bauer here, I was keen to read this one. In this interview, Chris talks mostly about Andy and True Blood's Emmy chances, his limited screen time, and V's real-life drug equivalent. He's just as witty and charming as he was for us and below we share part of their interview:
What did you think of your big intervention episode?
You know, it feels so good just to get a few extra minutes of screen time.
Is that frustrating, to share screen time with so many actors?
It could be a lot worse. But in such a good scenario, yeah, that's what's hard about it. I still have the challenge of trying to do the best work I can, whether I have to do that with one syllable or five scenes. At least that's how I console myself.
But there are no hard feelings among the cast?
Absolutely not. It's a really great group, and everybody's in the same boat, more or less. I think from the point of view of the audience, they love their supernatural creatures, they love their vampires, they love their shape-shifters. And I totally understand that, but you gotta have the humans in there, too, to give it some plausibility.
This season Andy is addicted to V. When you were figuring out how to get into that character, what sort of drug were you imagining V to be? Ecstasy meets steroids? Heroin meets acid?
I considered it sort of like the best drug salad you could make [laughs]. You know, if drugs were healthy, it's everything good like steroids, Viagra, ecstasy, cocaine, heroin. Basically anything but pot.
It's funny you mention Viagra, because when Jason Stackhouse was addicted to V, he spent a lot more time in bed than Andy. Do you feel slighted?
[Laughs.] I consider myself a perfectly sexy guy, but in the vocabulary of popular television, it's much more likely that guys like Ryan [Kwanten] and Joe [Manganiello] and Alex [Skarsgård] and Steve [Moyer] and Sam [Trammell] are gonna get those little chunks of story. But I gotta say, my impression of Alan Ball as a writer is that he's a total humanist and by no means would he discern who can be sexy and who can't. But, realistically, they're gonna hang those scenes on those other guys, and so be it.
Besides, it makes sense that Jason would tap into that effect of the drug whereas Andy, who has to work through such a different set of emotional issues, would get the more aggressive effects.
Well, he's a complete rager. He's got major rage issues. But like most rage, it comes from a profound sadness and solitude and resentment. He's such a solitary character that his ability to form a relationship long enough to even have a sexual connection is almost impossible.
Read the rest of this interview by going to nymag.com