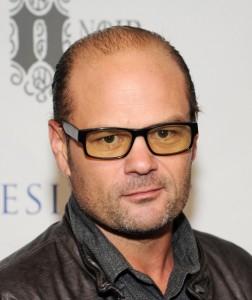 True Blood's Chris Bauer is one of our favorites on True Blood, playing Andy Bellefleur to perfection. The lovable,  but flawed Sheriff Andy just fits perfectly into the ensemble cast that is True Blood. However, before Chris took on his job as Sheriff of Bon Temps, he was seen in a lot of roles at the Atlantic Theater company where he and his wife, costume designer, Laura Bauer are ensemble members there.  
Right now, Chris is starring in the production of What Rhymes With America and he was recently interviewed by Broadway.com where he talked about his new play, but he also shared some rather "revealing" information about his True Blood experience.
Below are the portions of Chris' interview about True Blood.
When you signed on for True Blood, did you think the show would succeed, and that Andy would become a fan favorite?
No, I had no idea where the show or Andy was going to go. Like everybody else, the only material I had was the pilot script. My wife, interestingly enough, was the one who said, "You have to do this show. This show's going to be a hit." I make a joke a lot that I do whatever she says, but it's true—she's almost always right. That being said, it's really cool to be heading into the sixth season and looking back seeing a character that really started off one-note, but as we left off in the fifth season, I'm the father of several babies born to a supernatural creature.
What's the craziest thing they've asked you do?
From my perspective—I'm 46 years old—the craziest thing they asked me to do was take off my clothes. Especially with some of those guys I work with; you almost want to poke your finger in them to see if they're actually computer generated, because they're just these genetic specimens. So it was a little crazy. I doubled up on the physical trainer and cut out the carbs.
Is there a limit to what you'll do on camera?
I am the kind of actor who will do just about anything. However, I am really unable to do things that cause any duress in children. [Note: This interview was conducted before the tragic events in Newtown, CT.] There was a scene in True Blood when I was addicted to vampire blood. I pull up to this shack in the cop car, screaming and running around, and there was a five-year-old boy, an extra [on the set], who didn't know that was going to happen. He burst into tears and got so upset. I walked up to him and said, "You know this is all pretend, and this is going to be a really fun day. Watch me: Next time I'm going to scream even louder." It actually turned into kind of a fun little connection. But I can't do anything that freaks kids out. They're too precious. I mean, my kids don't even watch the show.
Do you think having a lot of theater veterans on True Blood makes a difference?
Beside the fact that they tend to be solid actors, it makes for a very respectful workplace. It's very professional—no divas allowed, be prepared, hang up your costumes at the end of the day—because we all have a background in theater.
What's next for you in 2013?
I will be going back to L.A. and jumping right back into season six of True Blood, and I'm on the board of Bay Street Theatre in Sag Harbor, so maybe we can put something together for me to do there next season. But the bottom line is, doing What Rhymes with America has just been a straight-up transfusion, and I'm really excited to see where that impulse to create takes me next.
To read the other parts of this interview with Chris relating to his current production, go to: broadway.com