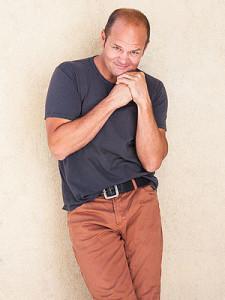 His TV alter ego, Sheriff Andy Bellefleur on HBO's True Blood, has seen his share of mysterious pasts. But in real life, Chris Bauer has been harboring a dark secret of his own.
The actor, 47, has been sober for seven years, following a decades-long battle with drugs and alcohol.
"It was a slow-motion catastrophe," Bauer says "I wasn't just out of control, I was 100 percent off my path."
Finally choosing to reveal his story is "intuitive and spontaneous," Bauer says. "I got sober right after I shot the pilot for True Blood. Now that it's winding down, I'm in touch with how much my life has changed from getting my act together."
He had his first drink at 14, and very quickly developed an obsession with alcohol, Bauer says.
"I think I abused it from the beginning," he admits. "The idea of taking one drink for me was on par with aliens and Bigfoot. It was always more than one. I drank to change how I felt inside, and that's basically a one-way ride to oblivion."
As an adult, and despite his growing success as an actor, the abuse continued. Bauer also dabbled in drugs. "Think of me as the person at the salad bar," he says, admitting that he used cocaine and marijuana. "I took whatever there was to offer."
The Hollywood scene only contributed to his addiction. "My business obviously collects all sorts of fringe and untraditional personalities," says Bauer. "It was never hard, whether it was at a dinner party, a nightclub or a premiere, to find somebody to share their drugs with me."
Still, alcohol remained Bauer's drug of choice, and his dependence soon went from bad to worse.
"Alcoholism is extremely progressive," he says. "I went from being the life of the party to not being able to make it to the party. All my energy was going into covering how drunk I was, how hung over I was or how quickly I could get out of a situation so I could go have a drink."
Path to Sobriety
And so, with the guidance of sober friends and aid from 12-step meetings (he never went to rehab), Bauer climbed his way out of addiction. 
"It had to get so bad that my willingness to change and allow others to help me change had to override my obsession with drugs and alcohol." 
Along with the clarity that came with his sobriety, Bauer discovered other positive results. He lost 40 lbs., thanks in part to dedicated workouts with trainer Bobby Strom, and watched his blood pressure and cholesterol levels drop dramatically. 
What's more, "I can bench press more at 47 years old than I could playing football my senior year in high school!" he says. 
But perhaps the happiest outcome has been a newfound appreciation for life. "It could have been so much worse," Bauer says. "I have been incredibly blessed. And now I wake up in the morning and smile before I even have a chance to think." 
The actor stays "tuned up" by remaining dedicated to his program, focused on avoiding relapse. "I keep it fresh because I don't want to go back there," he says. "The solitude, the darkness, the inertia, it's all waiting for me." 
Calm and clear, Bauer is resolute about the healthy direction his path has followed – and appreciates others who might just be coming out of their own dark depths. 
"I'm a regular guy," he says. "I look like a regular guy, people treat me like a regular guy, I've never had that star vibe. And I think there are millions of me who don't have a particularly glamorous circumstance to pin recovery on. They're just in the forest of trees. And their stories need to be told."
Read this entire interview with Chris at People.com