PopWrap catches up with Chris Bauer about True Blood Season 4 and Andy Bellefleur.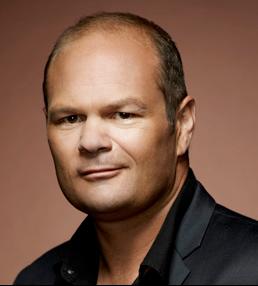 PopWrap: First of all, you sound totally different from Andy — I bet that's the first thing fans say when they approach you.
Chris Bauer: Yep! That's after I've grabbed them by the shirt, shaken them and screamed in their face: "don't you know I'm Andy Bellefleur?!?!" [laughs] I can talk to people who say they've seen every episode of "True Blood" twice and I'll tell them I act on it and inevitably they always ask, "who do you play?" I swear to god, their jaws drop when I tell them Andy. They eventually get it, but I don't understand – do I look that different? I guess I do.
PW: It's probably a combination of the voice and the physicality — Andy carries himself in a very distinct way.
Chris: It's funny — everything I do in terms of character traits is very intuitive but always last minute. Andy's voice came from shooting the pilot. We went to rehearse with Ryan Kwanten, who I'd just met, and couldn't believe what he looked like. Dude is 160lbs, less than zero percent body fat, has perfectly but naturally lit hair. I literally growled in disgust – "uggggggggh" – and that's where the character came from. Andy is so unbelievably jealous that he can barely mumble anything, because he's just dying to scream, "mrrraaaagh, I want that body!"
PW: Who knew we had Ryan's abs to thank for Andy's distinct mannerisms!
Chris: [laughs] Yep! And every second working with Ryan is a party. Our chemistry is so genuine. I love that guy. If you guys have fun watching them, just think how much fun I have playing them!
PW: Let's talk about that. Last season ended with Andy on the verge of V addiction — are fans right in thinking that's one of his big storylines this year?
Chris: Yes, I think they would be on the right path because we've established that he's an addict and the nature of an addict is that they're always an addict. One day at a time is very true and every day is different.
PW: What else can you tease about Andy's season four journey?
Chris: This year, Andy makes great strides towards evolving in a little more complicated way and finding out his biographical detail and getting him involved more with others. Everything in that direction, to me, enhances the character and enhances the story.
PW: Ooh, biographical detail? Does that mean we'll get more Terry/Andy scenes?
Chris: Yea, Andy & Terry really remind themselves this season how important they are to one another. And I love every second of it – Todd [Lowe] is a total mix of contradictions and I love how he plays the part. I think it totally adds to the Bellefleur presence.
PW: Lastly, looking at the season as a whole, how would you describe it?
Chris: I think it's an especially great year for the fans. It's just a really nice kind of ideal combination of all the highlights of the first three seasons – in terms of story, character and sensibility. There's some great twists where people you've come to know a certain way reveal something about themselves that are genuinely surprising. It's one of the glories of making it to the fourth season – we can start to play with your expectations of the characters and really surprise you with where they go.
Read the complete interview here.