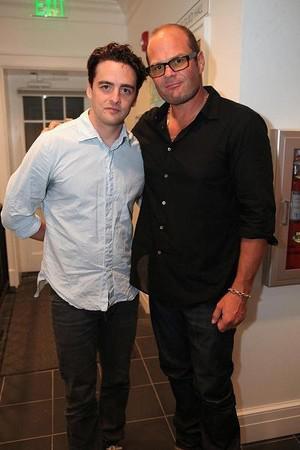 Vincent Piazza and Chris Bauer. photo: Zigis Switzer
True Blood's Andy Bellefleur, was at the Guild Hall Word Theatre to put on "Speaking in Tongues," an evening of performances in support of the Pushcart Prize Fellowships. The event brought the stars of "Boardwalk Empire," "Glee," "Law & Order," "True Blood" and others to share the stage.
The evening featured performances by Amy Irving, CCH Pounder of "Avatar," Dennis O'Hare (sorry no photo) and Chris Bauer of "True Blood," Jessalyn Gilsig of "Glee," and Kathryn Erbe of "Law & Order: Criminal Intent" and more.
Cedering Fox, who founded WordTheatre in 2003, produced and directed the performances. WordTheatre each year presents live performances of contemporary short stories by renowned actors and authors, and in the past has organized a handful of events at Guild Hall, the most recent in 2009. The group is stationed in New York, Los Angeles, and London.
The evening benefited endowments for the Pushcart Prize, an annual literary project that each year honors the best poetry short fiction, essays, and other short works published in small presses. This year is the 35th anniversary of the Pushcart Prize, considered "one of the most important publishing projects in American History" by "Publishers Weekly."
source: easthampton.patch.com