It is important to select an engagement ring that you will enjoy wearing for the rest of your life. The ring will always hold sentimental value, and your wedding photographer will want to showcase it when you have your pictures taken. There are several factors to consider when you are selecting an engagement ring. If you are not picking out your ring, then you can certainly offer some valuable guidance to your future spouse. Here are some suggestions for qualities to look for when you begin your search.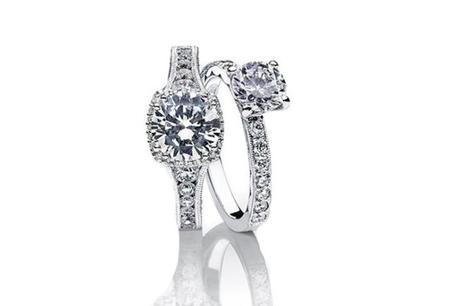 Choose a Shape
Diamonds are available in several different shapes. The shape that will be best for you is largely a matter of personal preference. The size and length of your finger can also be considered. Some shapes are better suited for longer fingers, but the right setting can look wonderful on any finger. Some of the most popular diamond shapes include round, princess, pear, oval and emerald shapes. Many jewelers, such as Mervis Diamond, have a wide variety of shapes and sizes available. Leading diamond professionals such as Mervis, will help you find the perfect shape that best suits your personality.
Round diamonds are one of the most classic choices available. The shape of a round diamond enables it to reflect light wonderfully, which means even smaller round diamonds can still look incredible. Pear and oval diamonds have a longer shape, and this shape can look stunning on shorter fingers. A slim band paired with an oval or pear diamond can help a finger appear longer. Princess diamonds can be excellent choices for women who have long fingers.
Select a Setting
Once you have chosen the shape that you prefer, then you can determine which setting is best. You may want a solitaire setting that places the focus solely on the diamond, or you may want a setting that features multiple diamonds. Settings with a smaller stone on each side of the primary diamond are a popular option. Many people prefer settings that feature three stones because there are several options for customizing the ring. You can pick diamonds that are a variety of sizes, and you can choose different shapes if you prefer. If you want a traditional ring, then the solitaire setting may be your favorite.
Browse Wedding Bands
When you are selecting your engagement ring, try to choose your wedding band as well. This way you can pair your band with your engagement ring to see the final appearance. Choosing your band may help you decide which engagement ring you like the most. Seeing the rings together can help you make your final decision. For example, you may decide that you prefer a different setting once you wear your engagement ring along with the wedding band.
The best way to find the perfect ring for you is to consider several options. You want to be sure that you have found the perfect diamond for your ring. Many websites can help lead you to the diamond that you will enjoy wearing during your years of wedded bliss. Take time to choose a ring that you will love forever.