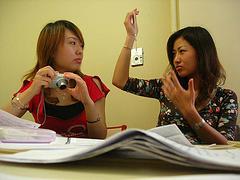 Image by malias via Flickr
French language is a very interesting language to learn. You agree with this right? Everyone views this romantic language as very inspiring especially to those who are native English speakers. If your mother tongue is English, I'm sure French language is fascinating to you. You just love how this language is being pronounced, and it sure makes you feel ticked when your love one would whisper je t'aime to your ear, right? It's more romantic and it perfectly expresses love passionately.
If you're interested to learn French, you don't just learn how to say "I love you", but you will learn every word in this language systematically, especially when you choose to learn French at language school! And when you choose to learn French in a language school, you will be provided with the necessary courses that will serve as your factory in manufacturing your French language skills! And the best part is, you will be choosing your prospect French course according to your age, comfort, and flexibility to learn!
French language schools have versatility in terms of their courses. With the variety of their lessons, they are all summed up into two categories: Courses for Adults and Teen French Courses. Each of these courses is specifically designed to suite a learner's need.
General French is one of the most common yet most effective courses intended for adults. It has various options from a 20-lesson course (Standard), 25-lesson course (Mini-group Conversation), and 30-lesson course (Intensive). The General French Courses also include Executive French courses, Individual courses and 2/1, CSN course particular for Swedish Students, and Language stays for the 50 +. Lastly, the DELF Preparation Course is given to those who want to pass the exam provided by the DELF.
Lastly, the Teen French Courses are not that school-oriented compared to the adults'. Such courses include Antibes teen's camp, Cannes teen's camp, Biarritz teen's camp and Paris teen's courses are just few of those courses that teaches French in a more child-friendly way.
Do you find other places that offer French courses as versatile as the courses mentioned earlier? Don't find other options to learn French language but in our language schools!