If you are looking for a convenient bag or belt to keep all your professional tools and accessories at one place at hands reach, then we would like to offer you to review the most comfortable carriers that are featured with a big number of pockets and air ventilated paddings.
Find the carrier with a great fixation, the necessary number of pockets, their size and consider what material will be the most durable and serve you for many years.
Think how often you will need to use the carrier and how many tools you will need to charge in pockets. Watch video reviews and read about belts' manufacturers to select the best one.
Review and comparison of 5 belts and kits for electricians of 2017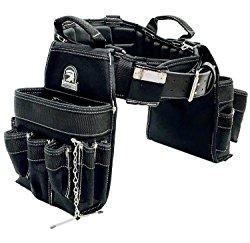 Stand out features:
Convenient and lightweight belt
2 pouches and 27 pockets
Handles for transporting the belt
Made of breathable memory foam padding
Provides air-channel ventilation
Great countered back support
This is a great belt that will become your best assistant at work as long as it provides all necessary tools at hands reach. The belt is super and made especially for carrying it with pockets stuffed with tools. Even when all pockets are full, you will not feel the heavy weight on your hips.
The belt is made of breathable memory foam padding and provides air-channel ventilation and countered back support.
The belt offers two heavy-duty pouches and 27 pockets that are made of durable material to match different tools size and weight. TradeGear is an e-commerce business operating since 2015 that sells a variety of products ranging from tool belts, tool bags and accessories.
The company is dedicated to serving the needs of customers by providing exceptional service and innovative solutions at a competitive price.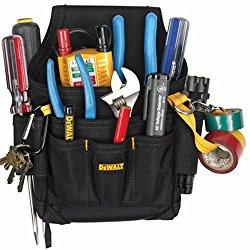 Stand out features:
Lightweight
Convenient
Hands-free
Easily attached to a belt
Large and small pockets
Carabiner for keys
This is a nice and well-designed bag for tools that comes at affordable price. The bag has a large main pocket and a smaller front pocket for parts and tools. The bag offers web loops and sleeve pockets that allow you to carry a variety of tools and parts of different size. The bag provides a handy flashlight or large tool sleeve and electrical tape strap plus carabiner for keys that guarantee to keep your tools and accessories in place.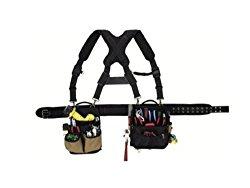 Stand out features:
Convenient belt and suspenders
No pressure on back or hips
Handles for transporting the belt
Zipped pockets
This is one of the most durable and convenient simple the best electrician tool belt that will impress you with its quality and offered comfort. The belt offers padded suspenders specially designed to carry loads comfortably and distribute weight evenly without strain on lower back and hips.
There are also handles to transport the belt. The pockets on the bag are zippered, therefore, your tools will not fall off. The belt is easily adjustable to your waist size.
Take a better look at the belt and watch its video review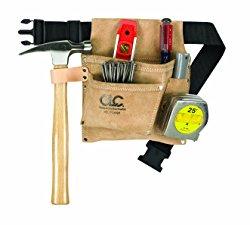 Stand out features:
Convenient and lightweight belt
Made of 100% leather
Nice design
3 pockets
Adjustable to waist size from 29 to 46 inches
Quick release buckle
This is a good-looking best small tool pouch that is made if heavy-duty suede leather. The item offers 3 pockets: two main nail and tool pockets and one smaller pocket that fits small accessories like nails or pencils.
A poly web belt with quick release buckle is very convenient, also you can adjust the belt to your waist size.
Excellent quality and years of service are guaranteed. CLC is one of the popular and recommended manufacturers of work gear for reasonable prices including work gloves, toolboxes, bag trays, kneepads, etc.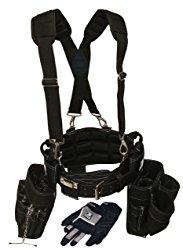 Stand out features:
Extremely durable
Big number of pockets on right and left sides of the belt
Tape chain
Easy access to tools and accessories
Air ventilated padding
This is without a doubt the best and recommended packages ever because it impresses from the first sight. The carrier is the most expensive compared with the previous products, however, its features will make you buy it.
This professional kit carrier is made of tough with DuraTek 1250 fabric with bar-tack stitching and metal rivets at every stress point. The carrier provides 18 pockets on the right side, 9 pockets on the left side, and a tape chain.
It is smartly designed to provide hassle-free work when you cannot hold anything in your hands and need all tools at hands reach. The carrier is featured with air ventilated padding that is made of a breathable material.
Watch gatorback electrician tool belt review in the video below and find out more about its features

So, this was a review of 5 excellent tool carriers that will ensure you a hassle-free work and let you have all your necessary tools and accessories for work really close. Choose one of the belts specially designed for professional electricians and enjoy a convenient work.
Keep all your tools at one place charged and organized in pockets and never lose one item. Out choice is the product number 5 because it offers the biggest choice of various pockets that will definitely fit all your tools.
If you are a professional electrician, then owning this kit will be your best support at work.