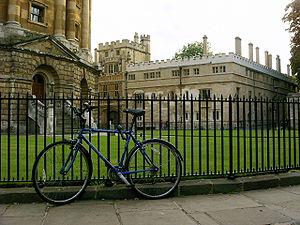 A Bicycle in Oxford (Photo credit: Wikipedia)
Throughout our updates in this Abroad Languages blog, we have been sturdily encouraging students to learn English in an English language school; not just for the sake of letting learners go to a formal institution but to encourage them that they can really get an edge when they choose such language schools. Testimonials can approve to it, and so does this blog.
Besides, the importance of learning English reaches to the nth level already. English is playing a very important role here, not just in the field of communication but for almost everything already. Considering that there are already 375 million people in the world speak English as a mother tongue, an equally large number of people speak English as a second language, and around 750 million people speak English as a foreign language, English is a must to be learned at all. Not to mention the increasing number of people learning the same language, the total number could reach to billions!
You and I both know that English should be learned and should be learned efficiently. As you can see, English is the Universal Language Online. In our globalize world, English is the most important tool for communication, and this is due, in part, to the influence of the Internet. Moreover, it is also the language of science and technology, and of business and finance.
Exploring the numerous destinations is not very hard, so as we provide the following options to you. You can go to the USA and learn English in Miami, New York, Boston, Chicago, Honolulu, San Francisco, Sta. Barbara, Philadelphia, Irvine, and more! In England, you can go to Bournemouth, Oxford, Salisbury, or Cambridge if you like. Other places to go also include Scotland, England, Canada, Australia, and New Zealand.
So again and again, we will continue to encourage you that it is not a fail decision to learn English at language school in England if you are looking forward to an outstanding result of language learning. Everyone is generally expecting for an optimistic result on any kind of learning. And as far as English language learning is concerned, our school in England may not claim to be the number one, but we're definitely second to none.