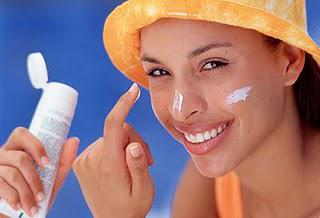 You know wearing sunscreen out on the tennis court, or anywhere in the sun, is critically important. The big questions has always been - how do you pick the right one? SPF 15 or 150? UVA or UVB protection? Broad spectrum? Waterproof? It can be more than a little confusing.
Well, good news for all of us mystified sun-lovers. After 33 years (!) of study and consideration, the Food and Drug Administration has finally come up with some new rules to help make choosing the right sunscreen a lot easier. Beginning in 2012, only sunscreens that protect against both UVA rays (that cause burning) and UVB rays (that cause wrinkling) can claim to offer "broad spectrum" protection. This will definitely become the phrase we'll all be looking for on our sunscreen. And only sunscreens with an SPF of 15 or higher can claim that they prevent sunburn and help reduce the risks of skin cancer and early aging.
Sunscreens with an SPF of less than 15 will now have to include a warning that they may not prevent skin cancer or skin aging. And, sunscreens may no longer claim to be "waterproof" or "sweatproof" (since none actually are) but instead can show the number of minutes for which they are "water-resistant."
While these FDA rules don't go into effect until 2012, I expect we'll see a lot of sunscreens updating their labels right away to reflect these changes. And with sunscreen labels easier to understand, I hope I can spend less time deciding what to use and more time safely enjoying the sun! 


© Kim Selzman 2011 All Rights Reserved