During your school years, you are likely to be invited to at least one fancy dance or prom.  It's the kind of event that you will never forget and these are some of the finest memories you will have with your friends.  Although fashion has changed over time, the prom tradition has remained year after year.  We have seen different types and colours of dresses go in and out of style and the same can be said for prom flowers.  Since prom is such an important event, the last thing you want is to choose the wrong florist flowers for your date.  So, before placing your flower order, you should take the time to consider all of your options.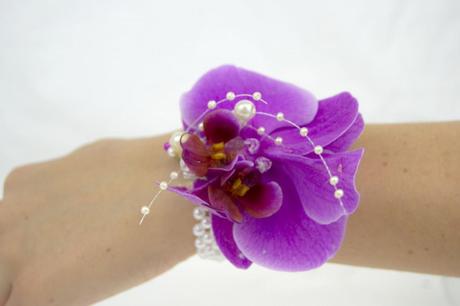 The first thing you need to know is that junior students attending a junior prom should present their dates with a corsage.  When shopping for the perfect corsage, remember to keep it simple and small.  You want the attention to fall on your date and not the forest she has strapped to her wrist.  It's also important to ask her what color her dress is.  Not only will you need to co-ordinate your outfit accordingly (like with a tie to match her dress) but you will also need to find the perfect flowers to match.
Now, if your date tells you that she's wearing pink, it is a bit vague since there are so many different shades of pink.  Ask about the particular shade of pink and/or the type of fabric.  If your date is having her dress custom made, you could even ask for a sample of the fabric to help your florist make the perfect corsage to match.  That said, no matter what color she is wearing, you should never try to match the color of the flowers to the dress.  So, if she is wearing purple, for example, you should opt for white or yellow flowers instead of trying to match the shade of purple.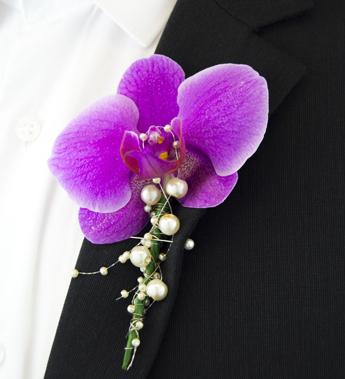 Your corsage should be made up of miniature flowers like roses and carnations.  Mini roses and other miniature flowers look just as lovely as the larger varieties but they won't overcrowd her wrist.  You can also give your florist a piece of material matching that of your date's dress.  She can use this piece of material as a ribbon to secure the corsage to your date's wrist.
Senior girls may tend to prefer something other than the traditional wrist corsage.  Make sure that you ask your date what she likes best.  There's no need to go into too much detail about the types of flowers but you can ask what type of arrangement she would prefer.  If your date wishes to opt out of a corsage for whatever reason, you can give her a small hand-held bouquet, also called a nosegay.  The main advantage of these kinds of bouquets is that they allow you to really choose the kinds of flowers you want. 
The best thing to do when it comes to choosing colour(s) is to ask your florist for their professional advice.  Tell them what color your date's dress is and they will couple it with the perfect fresh flowers.  Blue and red dresses are usually the most difficult to match with flowers.  Blue dresses can look lovely with white, dark blue and lime green flowers.  Red dresses are best complimented by a red, pink and white bouquet.  Orange and coral coloured dresses look great with a bouquet composed of pink, orange, purple, yellow and even blue flowers.  As for light coloured dresses like lavender, aqua or light green, you would be best off choosing a citrus green, lavender and pastel pink bouquet.  Black and white dresses can go with just about anything.  Be sure to ask her what color her shoes are and, if they too are black or white, then you can really choose any color flowers you like.