Times have changed and so have the so-called rules.  In the past, the pressure was usually on the man to send flowers to his lady friend but, these days, the tables have turned!  It is becoming more and more acceptable for women to spoil men with a fresh flower delivery and even florists are coming up with special creative designs perfect for even the most masculine of men.
If you are wondering when you should give a man flowers, well it's quite simple.  You would present a man with flowers for any occasion that you would a woman.  Whether it's his birthday, anniversary, Father's Day, to celebrate an achievement, as a get well so on gift or even just because.  In terms of style and colour, men usually prefer monochromatic arrangements.  What this means is that they should consist of a single color (i.e. an elegant display of white orchids).  Men are also more inclined to appreciate stronger, bolder colours rather than soft pastels.  A contemporary style of bouquet will usually fit in better with their office space and home design as well.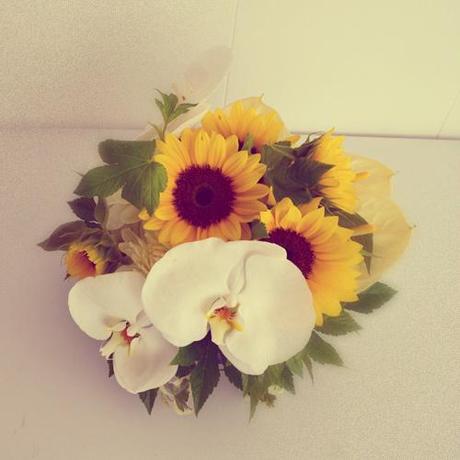 The best types of flowers to send to men include orchids, peace lilies and even sunflowers.  Remember that the container or vase also plays a huge role.  In many cases, it's the container that really determines the style of the arrangement.  Women are generally happy with anything but are usually happier with something more delicate and feminine.  Men like practical vases and flower containers.  Look for rectangular shaped vases or even a square pot,for example.  If he has a particular hobby that he is truly passionate about, you can use an alternative object to reflect this hobby and show that you pay attention to the things he cares about.  For example, if he enjoys golf, you might find a container in the shape of a golf ball.  You can look at craft stores, your local florist or even your supermarket for ideas.
Choosing the right kind of flower arrangement will also depend on the occasion you are celebrating.  If it's his birthday, you may want to give him something that will look good in his office.  Choose the right style according to his line of work.  If you are sending a get well soon bouquet of flowers, then you should find something that will make him smile.  Perhaps choose a funny vase or add a comical balloon for laughs.
Plants also make great gifts and, if he enjoys caring for potted plants, then you could have a look around at your local nursery or florist for the best choice.  For men who don't have too much time for plant care, a succulent or any kind of cactus is quite a safe bet since they don't require much care at all.
If you are still wondering what kind of floral gift is best for him and you are under some serious time constraints, you could always check out the baskets and hampers section online at your favorite florist.  They have everything from sweet or savoury treats to fine wines, chocolates and whiskey.  No matter what his preferences, there's got to be something he will love.