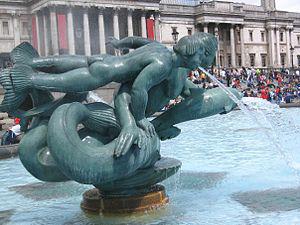 Trafalgar Square, London, England.(Photo credit: Wikipedia)
English has been widely spoken in various places from all over the world already. In fact, even to those places to which English is scarcely being spoken, you can still find at least one person who can actually speak out the English. No wonder it is called the universal language. You could hardly find a person who cannot speak the idiom no matter where you are in the world.
That's why it is highly essential to learn English language. And as far as language learning is concerned, to study English abroad is one of the most recommended ways of mastering the language. You can even make a career out of it. So if you are currently looking out for a destination where you can master the language abroad, England is a definite place to stay.
Why England? For a basic reason, England is among the most common places where English is widely spoken. Of course, British accent will be the obvious audio manifestation. And for the other reasons, well let's read the whole article.
Choosing England means you also chose to enter in touch with an English speaking cultural melting pot. As what I've mentioned a while ago, English is immersed with the English language.
Other details also cover the following reasons, as written from a language site:
To discover the many surprises that big cities and small villages offer to their visitors;
To discover the interesting history and culture of this country;
To study English in small groups;
To taste and share the friendly relationship between students and teachers;
To learn speak English fluently in a short period of time;
To improve quickly your knowledge of English both for personal or professional reasons;
To gain a British Diploma acknowledged everywhere in the world;
To build a solid basis for your future in any field;
To become more independent and confident.
For more details about your interests in learning English language, feel free to explore our site about our language schools in England.