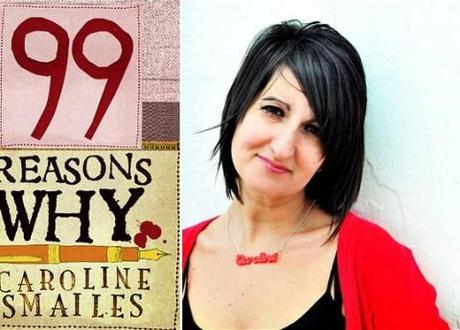 Caroline Smailes and her new, interactive book
Do you remember those choose your own adventure books? Well now they've come to the more literary echelons of the publishing world, in the form of Caroline Smailes's 99 Reasons Why. The novelist, who became popular through her blog, has written an ebook only work which allows readers a smorgasbord of possible outcomes – 11, in fact. 11 endings! Imagine.
It's not a new idea, says Periscope, despite The Daily Telegraph's branding it as a "radical departure from literary tradition." Aside from the aforementioned choose your own books, Evelyn Waugh wrote an alternative ending to A Handful of Dust; young novelist Richard Milward's new book, Kimberly's Capital Punishment, due out soon, has six possible endings. Comedian John Robertson has produced a choose your own adventure game for Youtube.
Smailes's work has 99 chapters, and is a drama about obsession. It will allow the user to "influence" the ending by responding to questions about the reader's taste. The endings range, according to the Telegraph, from a " 'happily ever after' to a grisly Tarantino-style finale." The Independent reported that Smailes came up with the idea after her previous books came under fire from readers for their melancholy finales.
Much potential. Scott Pack, her publisher, and head of The Friday Project (a digital imprint of HarperCollins) is veritably excited, seeing huge potential for interactive books for adults and children.
"I have been a bit of a nuisance." Liam O'Brien on The Independent  imagined the endings of some popular novels differently. Wuthering Heights, for instance: "Yes, Heathcliff thought. I have been a bit of a nuisance, what with locking Cathy in a room for five days and forcing her into a loveless marriage." Or 1984, in with the proles raze the Ministeries of Peace, Plenty, Love and Truth to the ground.
Worth a look? Benedicte Page on The Guardian reviewed the novel, saying it "works quite successfully", which is damning with faint praise if ever Periscope did see. The novel sees 22-year old Kate stuck in her bedroom watching what goes on outside her window, whilst fantasising about being Princess Diana's daughter. It's "witty and touching."