ONGOING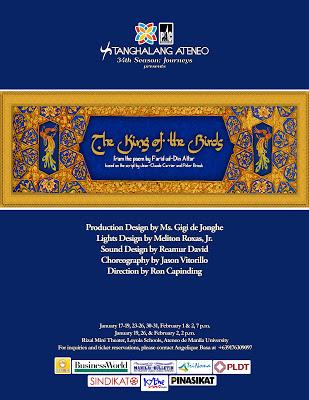 Tanghalang Ateneo's 'The King of the Birds' at Rizal Mini Theater, until Feb. 2
Tanghalang Ateneo closes its 34th season with the first Philippine staging of "The King of the Birds," from the classic Persian poem by Farid ud-Din Attar, as scripted by Jean Claude Carriere and Peter Brook. It tells the story of a nation of birds embarking on a difficult journey to meet their one true King.
Capinding, Gawad Buhay! 2012's Outstanding Original Script awardee for Peta's "William," directs. Production design by Gigi de Jonghe and choreography by Jason Vitorillo, with Ricky Abad as artistic adviser.
"The King of the Birds" runs Jan. 17-19, 23-26, and Jan. 30 to Feb. 2 at 7 p.m., with 2 p.m. on Saturday matinees on Jan. 19 and 26 and Feb. 2 at the Rizal Mini Theater, Ateneo de Manila University.
For tickets, call Angelique Basa 0917-6309097.
OPENING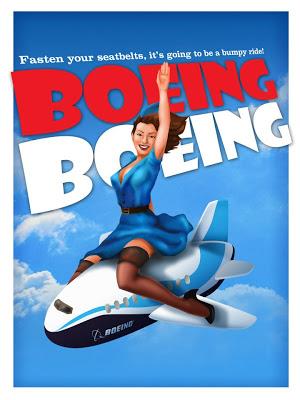 Repertory Philippines' 'Boeing Boeing' at OnStage Greenbelt 1, Jan. 25
Rep's first production for 2013 is the award-winning comedy "Boeing Boeing", which won the 2008 Tony Awards and Drama Desk Awards for Best Actor (Mark Rylance) and also received four additional Tony nominations.
Directed by Miguel Faustmann, "Boeing Boeing" runs Jan. 25-Feb. 17 at OnStage, Greenbelt 1. It stars David Bianco and Topper Fabregas, joined by Giannina Ocampo, Carla Dunareanu and Jen Bianco. Rep artistic director Baby Barredo (alternating with Joy Virata) returns to the stage in featured role.
The creative team also includes John Batalla (lighting designer), Miguel Faustmann (set designer) and Raven Ong (costume designer). "Boeing Boeing" is presented through special arrangement with Eric Glass Ltd.
For inquiries, call Repertory Philippines 5716926 or 5714941, or 8919999. Visit www.ticketworld.com.ph.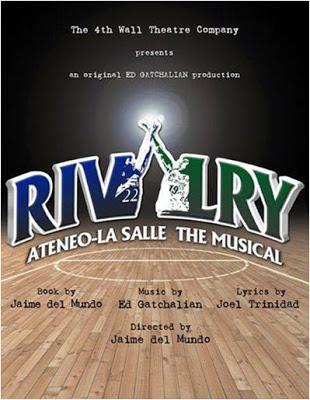 4th Wall Theater Company's 'Rivalry: Ateneo-La Salle, The Musical' at Meralco Theater, Jan. 25
4TH WALL Theater Company's "Rivalry: Ateneo-La Salle The Musical" is back onstage starting Jan. 25, 2013, at the Meralco Theater in Ortigas Avenue, Pasig City.
The creative team responsible for the production—musical director Ed Gatchalian, lyricist Joel Trinidad and director Jaime del Mundo—continue to make fresh adjustments to make the show even more compelling.
A fresh face will also grace the return of "Rivalry" with the addition to the cast of Cara Barredo (most recently, Dorothy in Repertory Philippines' "The Wizard of Oz" and one of the leads in "Camp Rock, The Musical"). The lead cast composed of theater actors Athena Tibi, Red Concepcion and Mako Alonso will reprise their roles.
Ryan Cayabyab was one of the many who enjoyed the first run of "Rivalry." "It's a thoroughly enjoyable, professional and polished production," he said. "The music was great and I found myself singing already in some parts. It was a good show."
Tickets are now available at all Ticketworld outlets. Call tel. 8919999 or visit www.ticketworld.com.ph.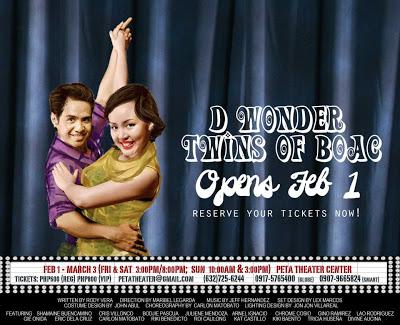 PETA's 'D Wonder Twins of Boac' at PETA Theater Center, Feb. 1
The Philippine Educational Theater Association (Peta) closes its 45th theater season with "D Wonder Twins of Boac," a modern adaptation of William Shakespeare's comedy of errors, "Twelfth Night."
Adapted by Rody Vera and directed by Peta artistic director Maribel Legarda, the play transposes "Twelfth Night" into the Philippine film industry in the late '60s, during its transition years from the first golden age of local cinema.
The play stars Cris Villonco and Chrome Cosio as Viola and Bastian, joined by theater veterans Sharmaine Centenera-Buencamino, Bodjie Pascua and seasoned actor Arnel Ignacio. They are joined by Juliene Mendoza, Gino Ramirez, Paolo Rodriguez, Carlon Matobato, Riki Benedicto, Gie Onida, Eric de la Cruz, Roi Calilong, Kiki Baento, Kat Castillo, Tricia Huseña and Divine Aucina.
Music by Jeff Hernandez, choreography by Carlon Matobato, costumes by John Abul, set design by Lex Marcos and lighting design by Jon Jon Villareal.
"D Wonder Twins of Boac" will have 30 shows from Feb. 1 to March 3 at the Peta Theater Center. Call 7256244, 0916-5675400, or [email protected]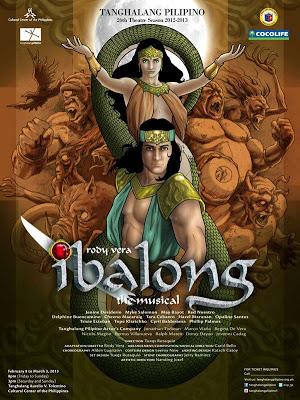 Tanghalang Pilipino's 'Ibalong' at CCP Little Theater, Feb. 8
Tanghalang Pilipino caps its 26th season with a dance-musical adaptation of the Bicolano epic "Ibalong," adapted for the stage by playwright Rody Vera and directed by Tuxqs Rutaquio, with musical direction by Carol Bello and choreography by Alden Lugnasin.
"Ibalong" opens with a gala premiere on February 8, 8 p.m., at the Tanghalang Aurelio V. Tolentino, Cultural Center of the Philippines. The musical runs until March 3, 2013.
"Ibalong" tells the story of Handyong and his warriors who come to Bicol, formerly known as Ibalon, and wage war against beasts and monsters pillaging the land.
The cast includes Jenine Desiderio, May Bayot, Myke Salomon, Red Nuestro, Delphine Buencamino, Trixie Esteban, Cheeno Macaraig, Tara Cabaero, Hazel Maranan, Opaline Santos, Kristofer Kliatchko, Cyril Balderama and Philip Palmos, with the TP Actors' Company as ensemble, featuring Jonathan Tadioan, Marco Viaña, Remus Villanueva, Nicolo Magno, Ralph Mateo, Regina De Vera, Jovanni Cadag and Doray Dayao.
For tickets, call 8919999, 8323704, 832-1125 local 1620/1621; 0917-7500107, 0918-9593949. Visit www.tanghalangpilipino.org.ph or email [email protected] or [email protected]

9 Works Theatrical's 'They're Playing Our Song' at RCBC Theater, Feb. 8
9 Works Theatrical's first production for 2013 is the Marvin Hamlisch-Carole Bayer Sager musical "They're Playing Our Song," copresented by The Rockwell Club and The Peninsula Manila.
The musical will star Nikki Gil and Lorenz Martinez, under Robbie Guevara's direction. Other cast members are James Stacey, Reb Atadero, Noel Rayos, Peachy Atilano, Anna Santamaria and Jill Peña.
"They're Playing Our Song" will run at the Carlos P. Romulo Auditorium, RCBC Plaza, Makati City, Feb. 8 to March 3, 2013.
For tickets, call 9 Works Theatrical 5867105, 0917-5545560 or Ticketworld at 8919999. Visit www.9workstheatrical.com or follow on Facebook (9workstheatrical) or Twitter (@9WT).
Presented by special arrangement with Samuel French Inc.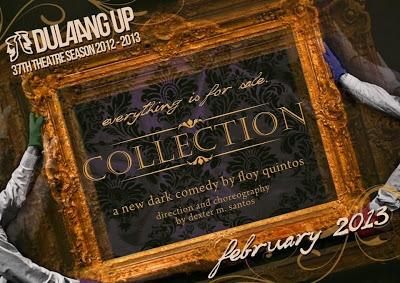 Dulaang UP's 'Collection' at Guerrero Theater, Feb. 13
To end its 37th Season, Dulaang UP presents "Collection," a new play by multiawarded playwright Floy Quintos. This dark comedy, centering on the discovery of a 16th-century ivory image of the Virgin, paints a picture of a society obsessed with conspicuous consumption, surface glamour, and the endless pursuit of the next big thing.
The cast includes Jeremy Domingo, Alya Honasan, Adele Victorino, Charlene Elechi, Arkel Mendoza, Jean Judith Javier, Janine Santos, Leo Rialp, Red Concepcion, Sigmund Pecho, Roeder Camanag, William Manzano, Via Antonio, Teetin Villanueva, Natasha Cabrera, Jules Dela Paz, Fitz Bitana, Mark Dalacat and Marynor Madamesila. Director is Dexter Santos.
"Collection" runs Feb. 13-March 3 at the Wilfrido Ma. Guerrero Theater, Palma Hall, University of the Philippines Diliman. For sponsorship and ticket inquiries, contact the Dulaang UP Office 9261349, 9818500 local 2449 or 4337840 (look for Camille Guevarra or Samanta Clarin).